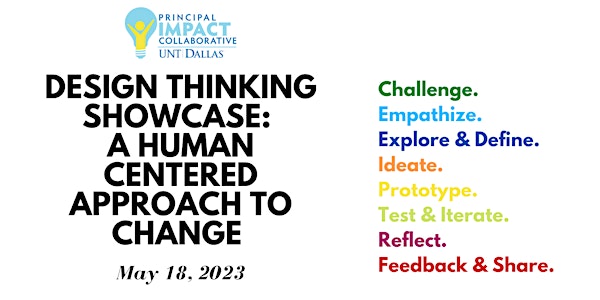 PIC 2023 Leadership Collaboration
Celebrate our 2021 Cohort as they graduate our two-year Principal Fellowship program and showcase their campus design projects.
By Principal Impact Collaborative
Date and time
Thursday, May 18 · 5 - 7pm CDT
Location
UNT Dallas Student Center - Campus Hall Room (Floor 1) 7300 University Hills Boulevard Dallas, TX 75241
About this event
We invite you to join us on Thursday, May 18, 2023 for our 2023 Leadership Collaboration event. This year's theme is Design Thinking: A Human Centered Approach to Change and will highlight the Design Projects completed by our graduating 2021 Cohort leaders from the Principal Fellowship program.
Why join us?
This is a great opportunity to celebrate the incredible innovation created by our 2021 Cohort, to learn from the Human Centered Design approach to problem solving, and to gain inspiration on how to create change through people in your organizations.
Who should attend?
Education leaders who are interested in learning from school principals across Dallas-Fort Worth.
2021 Cohort Leaders
Alicia Iwasko, Dallas ISD
Andrea Kleckner, Garland ISD
Brandy Schneider, Garland ISD
Carol Crowling, Dallas ISD
Cheryl Freeman, Dallas ISD
Gayle Rodgers, Dallas ISD
Jacqueline J. Rhymes, Garland ISD
Jade Hobbs, Garland ISD
Lindsay Staros Guajardo, Fort Worth ISD
Lucia Salinas, Dallas ISD
Marco Antonio Barker, Dallas ISD
Naomi Salas, Fort Worth ISD
Natasha Shaw, Dallas ISD
Olga Romero, Dallas ISD
Oscar Spurlock III, Dallas ISD
Scott Rudes, Dallas ISD
Shae Creel, Garland ISD
Vincent Garcia, Dallas ISD