Description
Piano Talk Season 1
Momentum: At peak
7:30 PM September 30, 2017
Admission $30
Tateuchi Hall @ CSMA
230 San Antonio Cir, Mountain View, CA
[About Piano Talk]
The Piano Talk series kicks off this fall. Like combining two potent elements, national and international award-winning pianists, Hye Won Souh and So-Mang Jeagal present their first Piano Talk, titled 'Momentum: At peak.' Both from South Korea, Hye Won and Somang perform concerts in Los Angeles and Mountain View, CA.
Piano Talk incorporates the classical with the modern, the beloved and familiar styles together with modern and contemporary concepts. Most significantly, it centers on narratives, stories of the past and present which are told in musical languages across genres. The program contrasts masterful pieces of piano solo and duo, ranging from darkly lyrical romantic pieces to vivid edgy modern works.
Piano Talk is also a means of communication. The program desires to nurture deep intellectual and emotional connections as well as conversations among composers, artists, and audience members.
Piano Talk welcomes you to our inaugural performance, sharing precious, personal tales in a warm, intimate setting on a beautiful fall evening.
Please stay for our 'Club Piano Talk' reception after the concert to celebrate the launch of the Piano Talk Concert Series.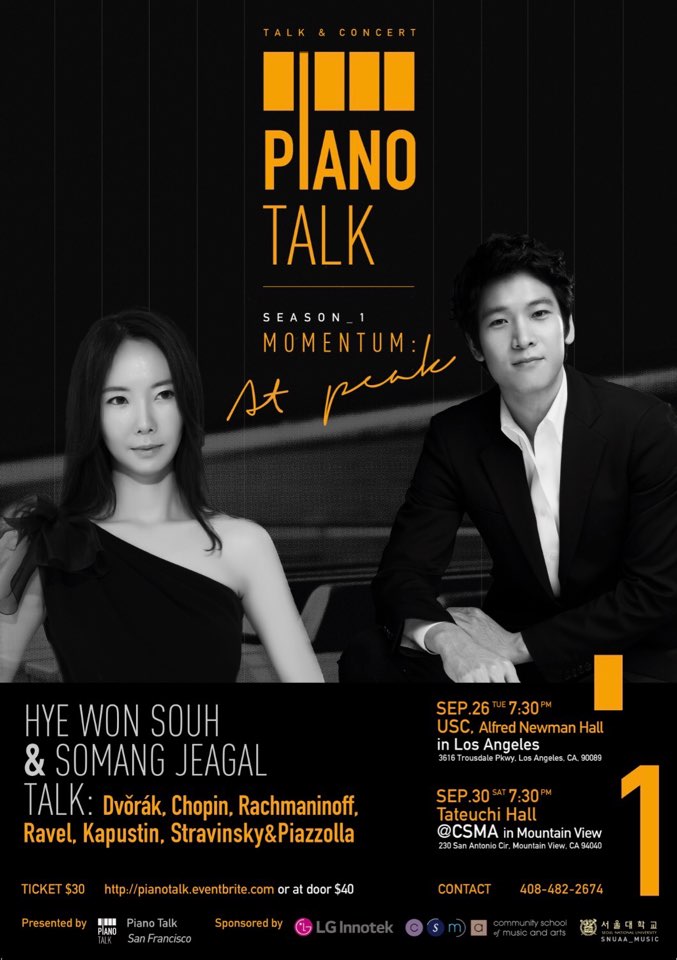 Date and Time
Location
Community School of Music and Arts at Finn Center
230 San Antonio Cir
Mountain View, CA 94040