Description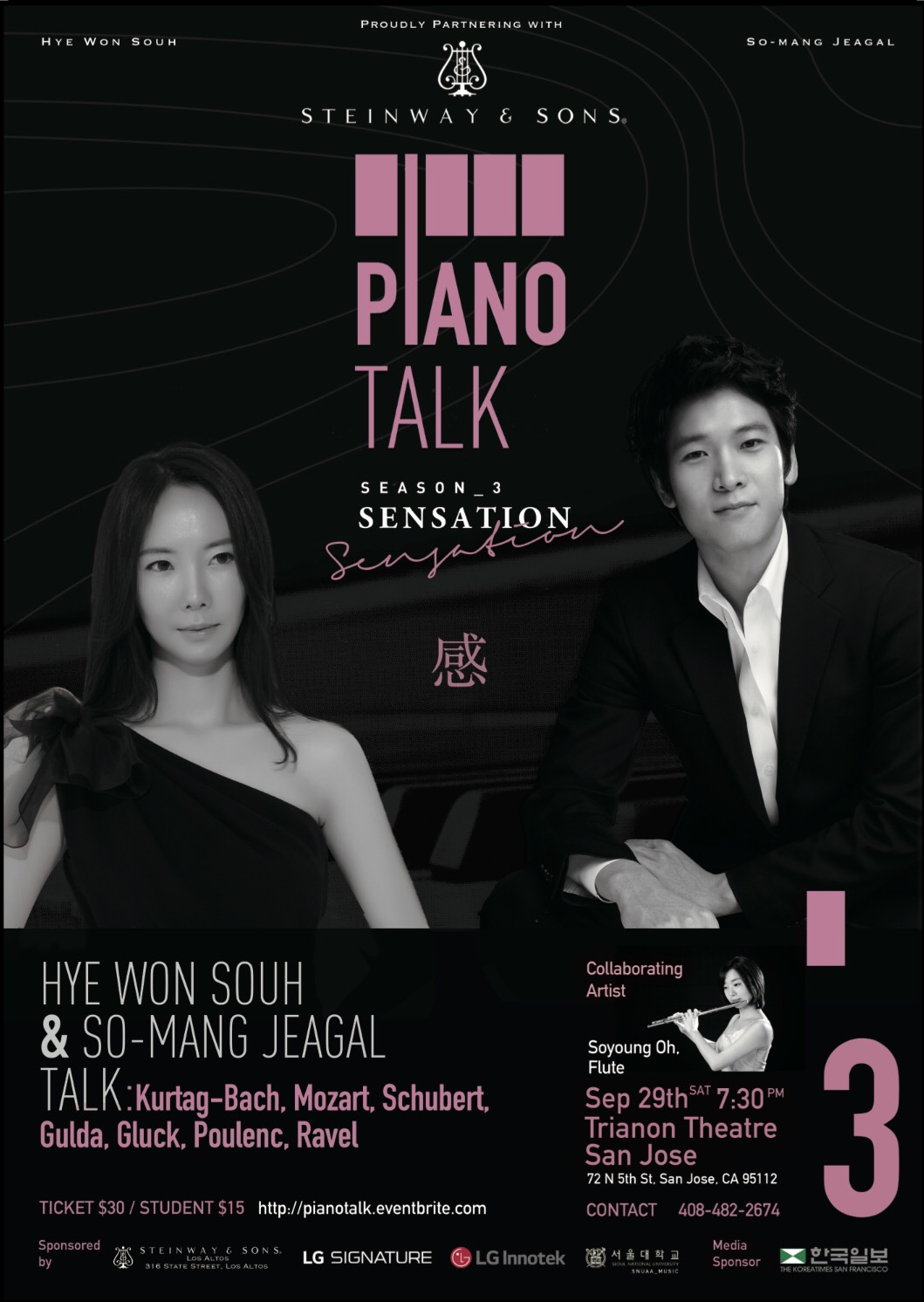 [About Piano Talk]
The most rising piano concert in town, the Piano Talk series, while partnering with Steinway and Sons, returns to the Bay Area this Fall, now proudly sponsored by LG Electronics as well as the Korea Times, SF.
Like combining two potent elements, national and international award-winning pianists, Hye Won Souh and So-Mang Jeagal present Piano Talk Season 3, titled "Sensation,"
Piano Talk incorporates the classical with the modern, beloved and familiar styles together with modern and contemporary concepts. Most significantly, it centers on narratives, stories of the past and present which are told in musical languages across genres.
Piano Talk is also a means of communication. The program desires to nurture deep intellectual and emotional connections as well as conversations among composers, artists, and audience members.
In Season 3, the program promises to fascinate the audience by allowing them to feel tremendous piano works through an assortment of senses. The selection represents the masterful piano pieces from two major countries in Europe, Austria and France, highlighting the pure, innocent and caramelized tones of Viennese literature to the vivid, edgy Parisian fashion: delicate and sensuous.
As you sense the tones and structure, touch and fragrance, balance and complexity and the mood and colors of Viennese and French pieces written by Bach, Mozart, Schubert, Gulda, Poulenc and Ravel, an extraordinary contemporary figure, as well as new brilliant works by György Kurtág from Hungary, you will notice that these qualities will delightfully garnish and ornament the entire program, making the experience even more sophisticated and sensational.
Piano Talk welcomes our audience to this sensational and unforgettable performance, touching and sharing precious, personal tales in a warm, intimate setting on a beautiful, sentimental fall evening.
[Program]
Mozart
Grand Scherzo: Based on the Finale to Act 1 of Opera 'Cosi Fan Tutte'
Gluck
Based on the Act 2, Scene 2 from the Opera, Orphée et Eurydice
Schubert
D.940, Fantasy in F minor
Gulda
Play Piano Play
Kurtág
Selected works from
Bach transcriptions & Játékok
Poulenc
Piano Sonata for four hands
Ravel
La Valse