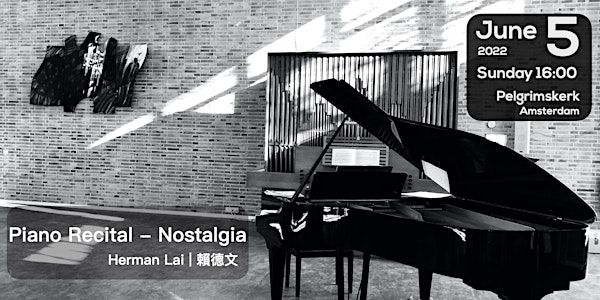 Piano Recital | Herman Lai - Nostalgia
Location
Pelgrimskerk Amsterdam
Van Boshuizenstraat 560
1082GT Amsterdam
Netherlands
To summarise these two years in Amsterdam before the church is demolished, also to reflect myself and the music dream.
About this event
This is an amazing journey as an expat in Amsterdam. Let's meet-up and enjoy the music from Beethoven, Poulenc, Barber and Chopin.
Performer:
Piano: Herman Lai |賴德文
Story
In October of 2020, I knocked at the door of Pelgrimskerk and asked if I could practice the piano here. In July of 2022, the church is going to close down soon and be demolished.
This is an amazing journey that I never ever dare to dream that I could have a such big hall and grand piano to practice, especially as an expat in the Netherlands.
Program
Beethoven: Piano Sonata No.8 "Pathetique" Op. 13
Poulenc: Melancholy
Poulenc: Nocturne No.1
Barber: Fresh from West Chester, No. 2
Chopin: Waltz No.6, op 64 Nr. 1
Chopin: Waltz No.12, op. Post. 70 Nr.2
Chopin: Polonaise-Fantaisie