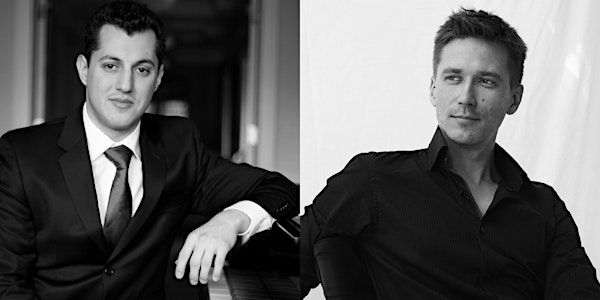 PIANO DUO, VYACHESLAV & HAKOBYAN - Pegasus at Mana: Piano Series
When and where
Location
Mana Contemporary, Mana Theater 1st Floor 888 Newark Avenue Jersey City, NJ 07306
Description
Pegasus at Mana: Piano Series
PIANO DUO, VYACHESLAV & HAKOBYAN
Award winning pianist-composers Vyacheslav Gryaznov and Karén Hakobyan will join forces as a powerhouse duo of virtuosic tour de force in the only piano series concert of the season. Together, they will present Mr. Gryaznov's original composition Rhapsody in Black in three movements based on Gershwin's Porgy and Bess in the first half and Rachmaninov's beloved Suite No. No. 1 Op. 5 for two pianos in the second half.
"The art of the piano transcription is alive and kicking – or, more accurately, alive and singing in the hands of Vyacheslav Gryaznov."
Jed Distler, Gramophone UK
"Hakobyan's precocious enthusiasm for making and writing music is infectious."
New York Concert Review
---
PROGRAM
V. GRYAZNOV Rhapsody "In Black" for two pianos (based on Gershwin's Porgy and Bess)
I. Day in New York. Porgy (Introduction, 1st Piano cadenza – Porgy's hope, Porgy's Story, Final)
II. Bess. Night (Bess alone – Recitative, Bess theme, cocaine theme; Variations – Night club)
III. Bess and Porgy (2nd Piano cadenza – Bess & Porgy's Duet, Sunrise, Lullaby, Epilogue)
INTERMISSION
S. RACHMANINOFF Suite No. 1 Op. 5 in G Minor for two pianos
I. Barcarolle - Allegretto (G minor)
II. Oh Night, Oh Love- Adagio sostenuto (D major)
III. Tears - Largo di molto (G minor)
IV. Easter - Allegro maestoso (G minor)
---
RECEPTION | 6:30-7:00
CONCERT | 7:00-8:30
---
"I believe that it is no exaggeration to say that this is an absolutely magnificent piece of work. It quite simply does not get any better than this – a composition brimming with virtuosity and explosive creativity."
Nikolai Petrov
The two-piano version of Rhapsody In Black on themes from George Gershwin's opera Porgy and Bess was written for the famous piano duo of Nikolai Petrov and Alexander Ghindin. Sadly, Petrov had a stroke several weeks before the premiere at Tchaikovsky Hall in Moscow and died two months later… He had taken a very active part in the process of creating the Rhapsody, calling me almost every week, wondering how it was going, asking about performance details, urging me on and encouraging me. His death was a real shock for me. The only thing that I could do was to dedicate the Rhapsody to his memory. I made an orchestration this summer. Now the Rhapsody has two versions: for piano and orchestra, like a piano concerto, and the original version for piano duo.
My idea for the Rhapsody was to create a coherent piece with its own story. It is about a man with a disabled body but a fervent soul; about his dreams, beliefs, and journey to his goal. It is also about a beautiful woman with a beautiful soul, but torn by passions and limited by her weakness. It is about the end of her inner turmoil, the end of his dreams.
Dedicated to Nikolai Petrov.