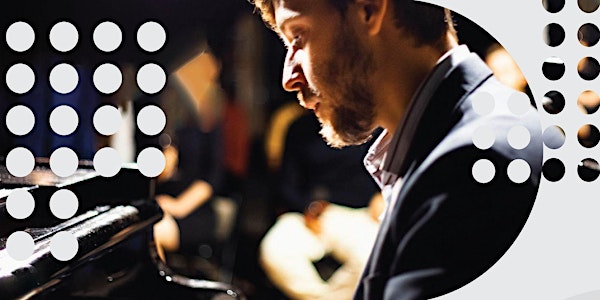 PIANIST VLADIMIR RUMYANTSEV PERFORMS VIRTUOSIC SOLO RECITAL IN BOSTON
Vladimir Rumyantsev will make a rare Boston recital appearance performing music by pianist-composers who transformed the solo repertoire.
When and where
Location
First Church in Boston 66 Marlborough Street Boston, MA 02116
Refund Policy
Contact the organizer to request a refund.
Eventbrite's fee is nonrefundable.
About this event
PIANIST VLADIMIR RUMYANTSEV PERFORMS VIRTUOSIC SOLO RECITAL IN BOSTON HOSTED BY EMINENT PIANIST & SCHOLAR ELENA SOROKINA
8:00PM DECEMBER 17, 2022 AT FIRST CHURCH BOSTON
Virtuoso pianist Vladimir Rumyantsev won first prize at the Glinka competition in Moscow at the age of seven and subsequently won prizes in every piano competition he entered. A graduate of the Moscow Conservatory, he performs in prestigious venues throughout Europe, Russia, the U.S. and beyond. On Saturday, December 17, 2022 at 8:00 p.m., he will make a rare Massachusetts recital appearance at First Church Boston, 66 Marlborough Street, performing music by pianist-composers who transformed the solo repertoire. Presented by Boston-based non-profit Sound Ways, Inc., the event will be hosted by the celebrated artist-scholar Elena Sorokina, who was one of Rumyantsev's professors in Moscow.
The first half of the program, "Piano Pioneers," features music by four eminent pianist-composers who established distinctive compositional styles and influential performance careers. In the opening piece, Prelude and Nocturne for the Left Hand by Alexander Scriabin, listeners will hear Chopin-like gestures revolutionized by a novel harmonic language. Then, the Islamey of Mily Balakirev delivers energetic rhythms and dramatic harmonies that evoke Russian theatrical dancing. Four Preludes from Op. 23 by Rachmaninoff follow, replete with aching lyricism, lush pianism, and unbridled emotion. Listz's beloved Hungarian Rhapsody No. 2 concludes the first half, with a cadenza by Rachmaninoff.
In the second half, "Ingenious Arrangements," Rumyantsev unleashes dazzling works, primarily by pianists who were household names in their day but may be less well-known to contemporary audiences. They include, Pavel Pabst, Ignaz Friedman, and Samuel Feinberg, who arranged, paraphrased, and otherwise reimagined compositions by Tchaikovsky, Johann Strauss II, and others. Event host Elena Sorokina will share historical insights and personal anecdotes about each of them, further making the recital a must-attend event of Boston's 2022-2023 concert season.
Seating in the acoustically sublime and wheelchair-accessible First Church sanctuary is limited; listeners are encouraged to secure tickets in advance. Parking can be found in close proximity to First Church at various garages, and street parking may also be available. There are multiple options for public transportation.
Vladimir Rumyantsev has performed at prestigious venues such as the Bolshoi Theater, Great Hall of the Moscow Conservatory, and Moscow Philharmonic Hall. In New York, where he currently resides, he has appeared at Weill Hall at Carnegie Hall, Steinway Hall, Le Poisson Rouge, and the Frick Museum, to name a few. He has performed at festivals such as the Baltic Sea Festival in Stockholm, the International Keyboard Institute and Festival in New York, and the Golden Mask Festival in Moscow. His triumphant performances of piano concerti by Shostakovich and Stravinsky brought him into active collaboration with the Mariinsky Ballet, with which he has performed numerous times.
Beginning in the late 1960s, Elena Sorokina and her late husband and longtime duo partner Alexander Bakhchiev revived the genre of piano duo in Russia, they established themselves as the leading piano duo, retaining their elite status for more than four decades. She holds a Doctor of Music History from the Moscow Conservatory and is the author of the book Piano Duet: History of the Genre, published in Russian by "Muzyka" Publishing House. From 1992-2011, she was head of the Russian Music History Department at the Moscow Conservatory, where, from 2001 through 2009, she also served as Vice-President for Research and Performing Arts. In 2016, she retired from her position as Professor of Music History and Chamber Music. Now living in New York, she often presents talks at leading American universities such as Cornell, Yale, and Princeton.
Sound Ways Inc. is a Boston non-profit organization established in 2015 for the advancement and support of exceptional classical musicians, especially those from former Soviet republics. For additional information, please email Maria Eliseeva, Executive Director of Sound Ways Inc. at info@soundways.net