Description
Join us on Pi(e) Day at the Public Library of Brookline to learn about the history and evolution of the Boston Cream Pie, and come prepared to sample a few from local eateries!
It will be a Modern versus Mike's Pastry taste test competition, who will win?!
Boston Cream Pie. Massachusetts's state dessert. Not a pie at all, in fact, but two light-as-air sponge cake layers sandwiching a rich and delicate pastry cream, and topped with a thin glaze of chocolate. When made properly, the dessert seems to defy all laws of gravity.
As the story goes, the simultaneously simple and decadent cake was invented by a chef from Parker House Restaurant in Boston, Massachusetts in preparation for the restaurant's 1856 grand opening. True of nearly every food-related origin story, there is much debate surrounding the question: where did the Boston Cream Pie come from? No matter which story you believe, it is hard to argue the Boston Cream Pie's position as a quintessential New England dessert. Over the years, it has inspired a seemingly endless number of variations from donuts to an ice cream flavor to a local spin on beer. It's easy to see that the Boston Cream Pie has come a long way since its debut.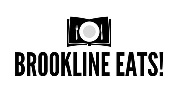 Part of the Brookline Eats! series.
Supported by a grant from the Brookline Community Foundation. Generously sponsored by the Friends and Trustees of the Brookline Library.