Join us for the PHR National Student Conference to learn about and discuss critical human rights issues in the age of the pandemic!
About this event
In this year's virtual format, we will be covering a broad range of topics related to COVID-19's impact on vulnerable populations. We focus on the pandemic's accentuation and exposure of existing disparities in America and throughout the world.
We hope that this conference can serve to deepen our collective human rights knowledge and teach us about what we can all do to advocate for the most vulnerable populations among us.
FRIDAY, NOV. 20
4pm-5pm: Poster Session: Learn about student research!
5pm-6pm: COVID-19, healthcare, and social disparities in the age of the pandemic
Discussion with Dr. Abdul El-Sayed, physician, epidemiologist, progressive activist, educator, author, podcast host, political contributor at CNN; moderated by Dr. Victoria Frye, DrPH, Associate Medical Professor, Department of Community Health and Social Medicine at CSOM
6pm-7pm: COVID-19's Impact on Children and the Role of Student Advocacy
by Dr. Katherine Peeler, MD, pediatric critical care physician at Boston Children's and medical director of Harvard Medical School's Asylum Clinic
SATURDAY, NOV. 21
9am-9:20am: Greetings & Opening Remarks by Dr. Holly Atkinson, CSOM Clinical Professor and Past-President, PHR; and Susannah Sirkin, PHR Director of Policy and Senior Advisor
9:20am-9:30am: Welcome & Update from PHR Board Chair Alan Jones
9:30am-10:15am: On Moral Injury: a War Correspondent's Perspective
by Janine di Giovanni, multi-award winning journalist and author, Senior Fellow and Professor at Yale University's Jackson Institute for Global Affairs
10:15-10:30am: Engaging in Social Justice as a Physician - with Dr. Francisco G. Cigarroa, MD
10:35am-11:20am: Moral Injury in Medicine and Healthcare
11:25am-11:55am: Brief encounters that last a lifetime: an immigrant neurosurgeon's reflections on American exceptionalism, George Floyd, sunlight, and race
by Jacques J. Morcos, MD, Professor and Co-Chairman, Department of Neurological Surgery, University of Miami
12:15pm-1:00pm: Lunch & Extra Breakout Sessions:
Climate Change & Human Rights by CSOM Green for Gaea
COVID-19 & Women's Reproductive Health & Gender Based Violence by Dr. Deborah Ottenheimer, MD, director of the Women's Holistic Health Initiative at Harlem United
Asylum Session - PHR's Asylum Program, Medical Student Advocacy, Virtual Evaluations, and more
1:00pm-1:45pm: Breakout Session: Refugees International
COVID-19 & Asylum Seekers, Detention Centers, & Immigrant Essential Workers at the U.S.-Mexico Border by Yael Schacher, senior U.S. advocate at Refugees International
COVID-19 & Global Refugee Populations by Devon Cone, senior advocate for women and girls at Refugees International
1:45pm-2:30pm: Breakout Session: Amnesty International
COVID-19 & Yemen's Humanitarian Crisis by Philippe Nassif, Advocacy Director, Middle East and North Africa
Censorship & Uyghur Muslims by Joanne Lin, National Director, Advocacy & Government Affairs
2:45pm - 3:45pm: Panel : Attacks on Healthcare, Treatment of Healthcare Workers in the Pandemic, and COVID-19's Impact on Global Healthcare Systems; moderated by Susannah Sirkin, PHR Senior Advisor and Director of Policy
4:00pm-5:30pm: PHR Advocacy & Discussion Session including Crowd Control Weapon Use by U.S Law Enforcement, Attacks on Medics and Peaceful Protestors, Post-Election Safety, and more!; with Michael Payne, PHR interim Advocacy Director; Dr. Rohini Haar, PHR Medical Advisory; Kevin Short, Media Relations Manager
5:30pm-6:00pm: Remembering the Opioid Epidemic: Naloxone Opioid Overdose Prevention Training with Maya Nussenzweig, MPH. Register: https://tinyurl.com/PHRConferenceOpioid
Stay tuned for more updates!
Contact us at physiciansforhumanrights@gtest.ccny.cuny.edu should you have any questions.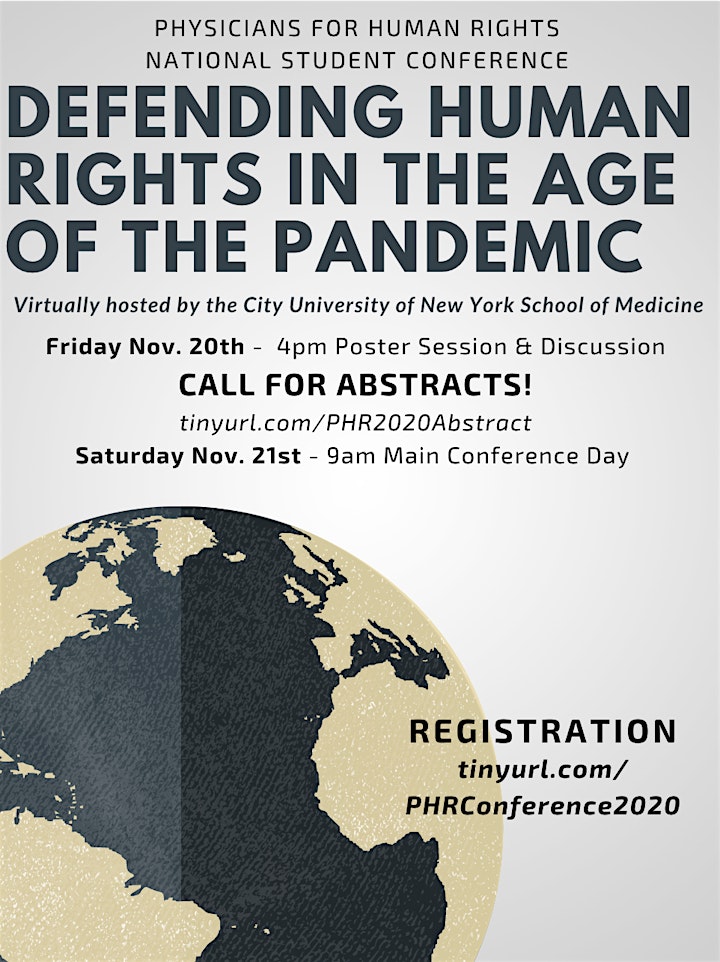 Organizer of Physicians for Human Rights National Student Conference