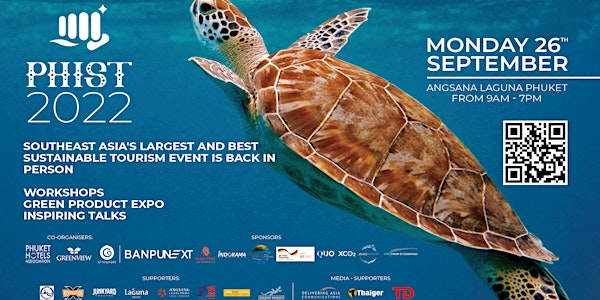 Phuket Hotels for Islands Sustaining Tourism (PHIST 5)
PHIST is an innovative event rallying the hotel industry and its stakeholders to discuss environmental sustainability and community benefit
When and where
Location
Angsana Convention & Exhibition Space, Angsana Laguna Phuket. 10 Moo 4, Srisoonthorn road Cherngtalay Thalang District, Phuket 83110 Thailand
About this event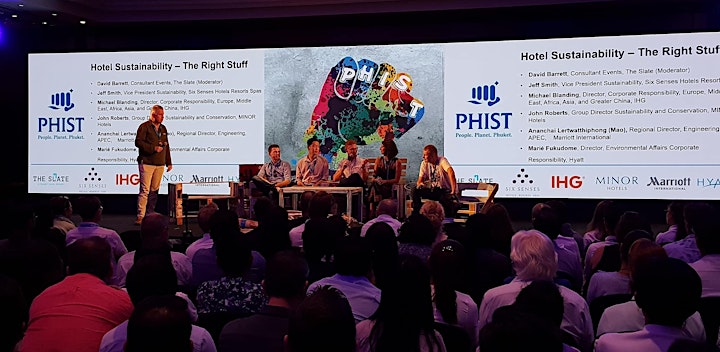 PHIST (Phuket Hotels for Islands Sustaining Tourism) 2022 is an innovative event rallying the hotel industry and its stakeholders to discuss both environmental sustainability and social impact and governance.
The conference day will feature an exhibition area, showcasing sustainability products and services, and offer attendees a mix of short expert panels and thematic discussions, covering topics including destination development, ocean health and impacts, hotel sustainability governance, community tourism, and global trends on sustainability. Speakers include a mix of industry experts from both local and international organizations.
Date Monday, 26 September 2022
Venue ACES, Angsana Laguna Phuket
Organizer Phuket Hotels Association, Greenview, C9 Hotelworks
Registration Attendance is complimentary. Advance registration is required and only those with confirmed Eventbrite registration QR codes along with supporting documentation for at least two (2) vaccinations will be allowed entry. Registered delegates are also requested to follow SHA guidelines. Please register here.
---------------------------------------------------------------------------
Event Schedule
9:00 am 5:30 pm Registration and Green Groove Exhibition opens
10:00 am to 12:00 pm Morning Session Workshops
Session 1: 10:00 am – 10:50 am
Drastic Measures with Plastic - Breaking up is hard to do – (Workshop A)
The Workshop will give a Brief on Single-Use Policy recommendations to Phuket Province. Introduce the "Re-Use Packaging as a Service Model" for food delivery and look at hotel best practices and tools developed by the CAP SEA Thailand project including a new online Single-Use Plastic self-audit tool for hotels.
Christoffer Brick, Team Lead for CAP SEA, GIZ
Napaporn Yuberk, Advisor/National Coordinator, for CAP SEA Thailand
Jayne MacDougall, Consultant for CAP SEA Thailand
Green Finance for Hotels in Practical Terms – (Workshop B)
The session is meant to be for businesses who are looking at raising finance for sustainability related objectives, for either greenfield projects or retrofits. We will provide a high-level understanding of the alternative sources of fund, from overall process, funding criteria and structure, and active lenders by talking through relevant case studies.
Waleed Saraf, Senior Investment Officer - Manufacturing, Agribusiness and Services - Asia & Pacific, International Finance Corporation
Nikhom Jensiriratanakorn, Director, Horwath HTL
Christopher Seeley, CEO, Climate Change Solutions (CCS)
Session 2: 11:00 am – 11:50 am
From Environmental Upgrades to Grassroots Sustainability - Real Sustainability Starts from Concept Design – (Workshop C)
Sustainable concepts are receiving huge priority in any development, renovation, or adaptive reuse. Our industry experts will shed light on their experiences, share trends and carry a discussion related to grassroots sustainable design. How we operate really affects everyone as users, building designers, owners, and the planet.
Patrick Keane, Founder, Enter Projects Asia (EPA)
Kittiphot Boochangkool, Group Sustainability Leader, Design Worldwide Partnership (DWP)
Asst. Prof. Dr. Thirayu Jumsai na Ayudhya, Executive Vice Dean for Academic Affairs at School of Architecture, Art, and Design, King Mongkut's Institute of Technology
Thanaporn (Gain) Monthakarntivong, Senior Account Manager, Delivering Asia Communications (DAC)
Smart Energy Solutions for Sustainability – Banpu Next – (Workshop D)
This workshop will help you not only to create business growth in line with future energy trends and smart city development and respond to the lifestyle of modern consumers with customers in mind, but Banpu NEXT employs human-centric and data-driven approach in combination with our energy expertise and technology at international standards to develop "Smart Energy Solutions" and provide smart energy management and solution systems that are reliable, cost efficient, eco-friendly and contribute to sustainable betterment of life.
Suntisuk Mathinapitak, General Manager, Banpu NEXT EcoServe Co., Ltd. (Subsidiary of Banpu NEXT)
Session 3: 12:00 – 12:45 pm
Hotel Reprofits for Sustainability (Workshop E) The Covid pandemic has led to a significant reduction of energy consumption and cost since 2020. This session will help you identify areas of cost savings and consumption to help profibility.
John Farrell, Director, XCO2
12:00 pm to 1:30 pm Lunch Farm-to-Table with Graduate Students from Dusit College, Bangkok Farm to table, also known as farm to fork, can be defined as a social movement where restaurants source their ingredients from local farms, usually through direct acquisition from a farmer. At lunch, Dusit College students from the Culinary Department jointly with Angsana kitchen team will demonstrate cooking and with ingredients from Laguna's local farm called Seedlings.
1:30 pm to 2:30 pm Afternoon Session Workshops
Session 4: 1:30 pm to 2:30 pm
All about Sustainability Pledges, Standards, and Criteria – (Workshop F)
Rachel Tan, Head, Government and Corporate Affairs (Southeast Asia and South Asia), Expedia Group
Randy Durband, CEO, Global Sustainable Tourism Council
Waste Hero Hotels: Zero Waste Systems and Materials for Sustainable Tourism – (Workshop G)
Join us in this insightful and interactive workshop aimed to identify the cause and effect of island waste and learn how the hotel sector can close the loop to this growing problem and work towards realistic ways to keep Phuket clean and beautiful.
Topics covered:
o Demystify the misconceptions of what can and cannot be recycled
o Identify the value of different resources currently viewed as waste.
o Distinguish between single-use and multi-use plastics typically used in the hospitality industry.
Callum Mackenzie, Co-founder and Director of Yunus Thailand
Brian Carraway, Circular Economy Lead at Yunus Thailand, and the Founder of Flying Squirrel Outfitters
2:30 pm to 3:30 pm Pre – event warm up by Muay Thai Performance (45 minutes)
3:30 pm to 5:30 pm Afternoon Main Event – ACES (Angsana Convention and Exhibition)
Rumble in the Jungle - The Magnificent Six
Five bouts with 2 speakers on a single subject, culminating in the battle of the heavyweights.
The Voice - Eric Ricaurte, Founder & CEO, Greenview
Ring referee - Eric Levy, Managing Director, Tourism Solutions International
Bout 1: Consistently green across all hotel types
Bjorn Courage, President, Phuket Hotels Association
VS.
Kevin Deisser, Co-founder & CEO, Invest Islands
Bout 2: Squaring the Region's Growth vs. Impact
Jesper Palmqvist, Area Director Asia Pacific, STR
VS.
Maylea Palmqvist, Daughter of Jesper Palmqvist
Bout 3: Ocean Conservation of Hotels
Description: From mangroves to the deep sea, our aquatic environments require our utmost care at the moment when rising sea levels, plastic pollution, overfishing, and irreversible conversions of seascapes and landscapes, among many other issues, are threatening our waters. Siriporn (Vivi) and Maggie talk about how hotels can be part of the conservation effort to help our mangroves and marine environments by making conscious decisions that do not necessarily need to be expensive.
Maggie Lee, Asia Pacific Lead, Global Seafood Traceability, WWF
VS.
Vivi, Siriporn Sriaram, Commission Member and Thailand's focal point of the IUCN Commission on Education and Communication (CEC)
Bout 4: The Most Important Thing to Save Energy
John Farrell, CEO, XCo2
VS.
Pavnesh Kumar, Sustainability and Social Responsibility Program Head, PATA
Bout 5: The Showdown, The Way We Were the Way We Are
Bill Barnett, Managing Director, C9 Hotelworks
VS.
Dusit College Bangkok Students
5:30 pm to 7:00 pm Networking Drinks – Monday is the new Thirsday with Travel Daily