Description


From The Creators of "Bruk Out" Hottest Caribbean Party in NYC & Phuck It Miami"...
Saturday, July 7th, 2018
DCD Hospitality Presents
PHUCK IT ! ! "NEW YORK CITY" PARTY
This is the 3rd installment of the @PhuckItParty that launcehd on #420 and Sold Out #MelroseBallroom in Queens...now the party has returned to the heart of New York City for #PhuckItNewYork
The 1,500+ capacity Indoor venue known as Orbit New York/Freq NYC is located at
641 West 50th Street, New York, NY 10019 (b/t West St & 11th Ave)
---
Details of The Official Phuck It New York College Party
DOORS OPEN AT 10:45 PM.

18+to Party. 21+ to Drink. ID Required

Free Giveaways

DOING CRAZY SH*T WITH OUR PHUCKITTEERS

"PHUCK IT" DRINK OLYMPICS

INFLATABLES

Bosom Shots (Yes It's Legal)

DRINK OLYMPICS Competitions

A LOT MORE OTHER COOL SHXT

WELCOME TO PHUCK IT! !
---
KEEP SCROLLING DOWN FOR DETAILS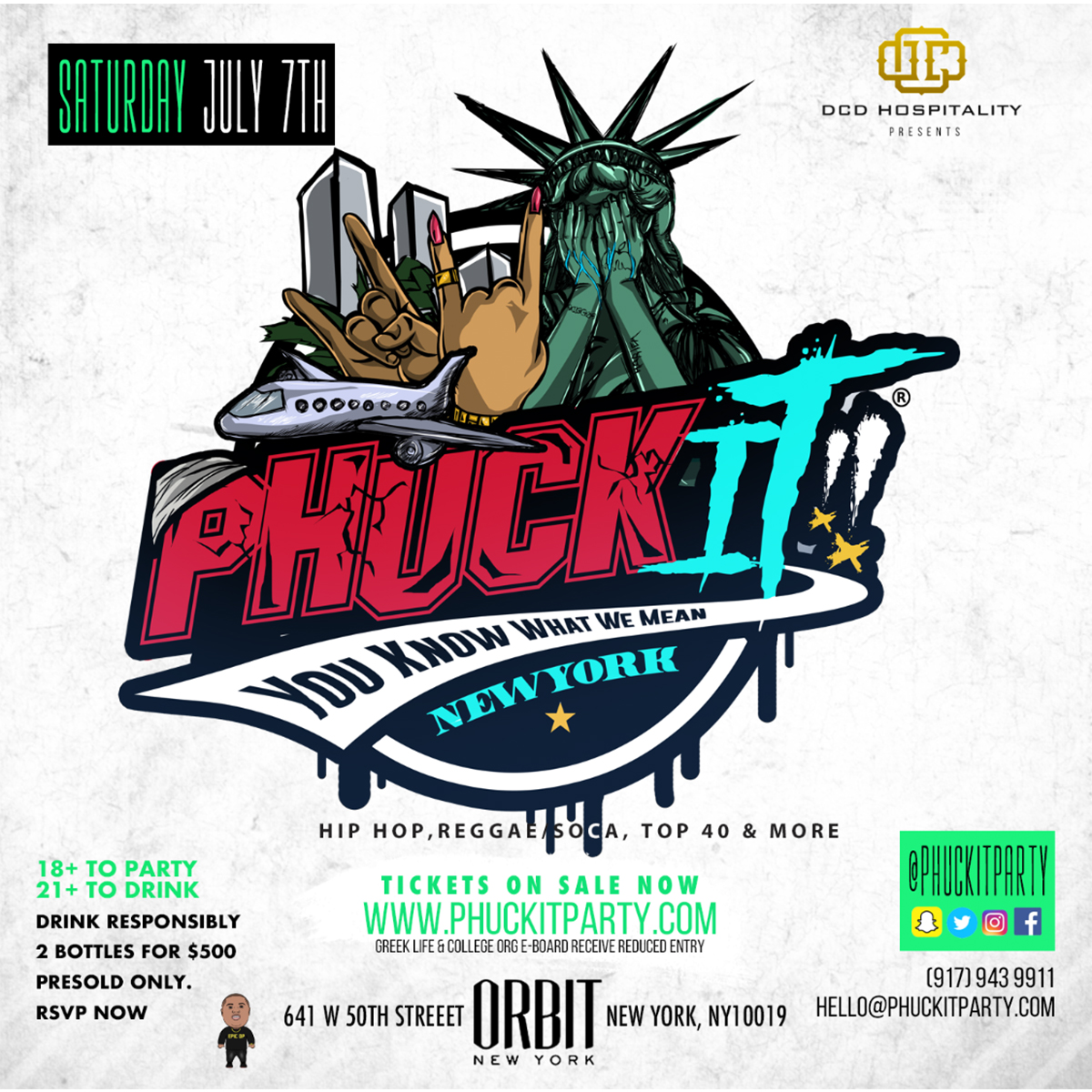 ---
EVENT PRICING LEGEND: PHUCKITJULY.EVENTBRITE.COM
LEVEL PRICE DETAILS
Early Bird $10.00 AVALIABLE UNTIL JUNE 14TH
General Admission $20.00 TIER OPEN
GENERAL ADMISSION ADD - ONS
GA Ticket + Free Drink $25.00 Before 1AM in Terms and Conditions
GA TIcket + Free Bottle of Champagne $85.00 Only in Terms and Conditions
GA Ticket + Free T-Shirt $35.00
GA Ticket + Free Uber/Lyft Ride to Party
$8.00-11.00 From Port Authority, Columbus Circle, Penn Station to Orbit



OTHER
Bottle Service/Birthday Package
Payment Plan Available via website integration at www.phuckitparty.com/bottleservice


---
MAIN FLYER ! !
---
BOTTLE PACKAGES & VIP SECTIONS: TEXT "PHUCKIT" TO 917.943.9911
Pre-Order BOTTLE SERVICE ONLY. MUST PAY IN ADVANCE VIA CASH, PAYPAL OR CASH APP.
1 PREMIUM BOTTLES FOR $250

2 PREMIUM BOTTLES + 1 FREE CHAMPAGNE (3 BOTTLES) FOR $500

4 PREMIUM BOTTLES + 2 FREE CHAMPAGNE (6 BOTTLES) FOR $1,000
Premium Bottles: Henny, Goose, or Ciroc Bottles 4 Ppl Free
All Presold Packages Are Limited !!!!!!!
Bottle Packages + Sections ONLY. RSVP FOR GUARANTEED PACKAGE
BIRTHDAY LIGHTS IN NEW YORK: 2 PREMIUM BOTTLES + 1 FREE CHAMPAGNE + A HOOKAH + BDAY CAKE : $550

KING OF KINGS: 3 PREMIUM BOTTLES + 1 CHAMPAGNE + 1 FREE CHAMPAGNE + HOOKAH: $1,000

PHUCK IT ! SHOWSTOPPERS: 6 PREMIUM BOTTLES + 6 CHAMPAGNES + 3 HOUSE CHAMP: $MARKETPRICE
To Celebrate Your Birthday, Special Occasion, or Bottle Packages:
Please Contact 917.943.9911 | 917.623.5950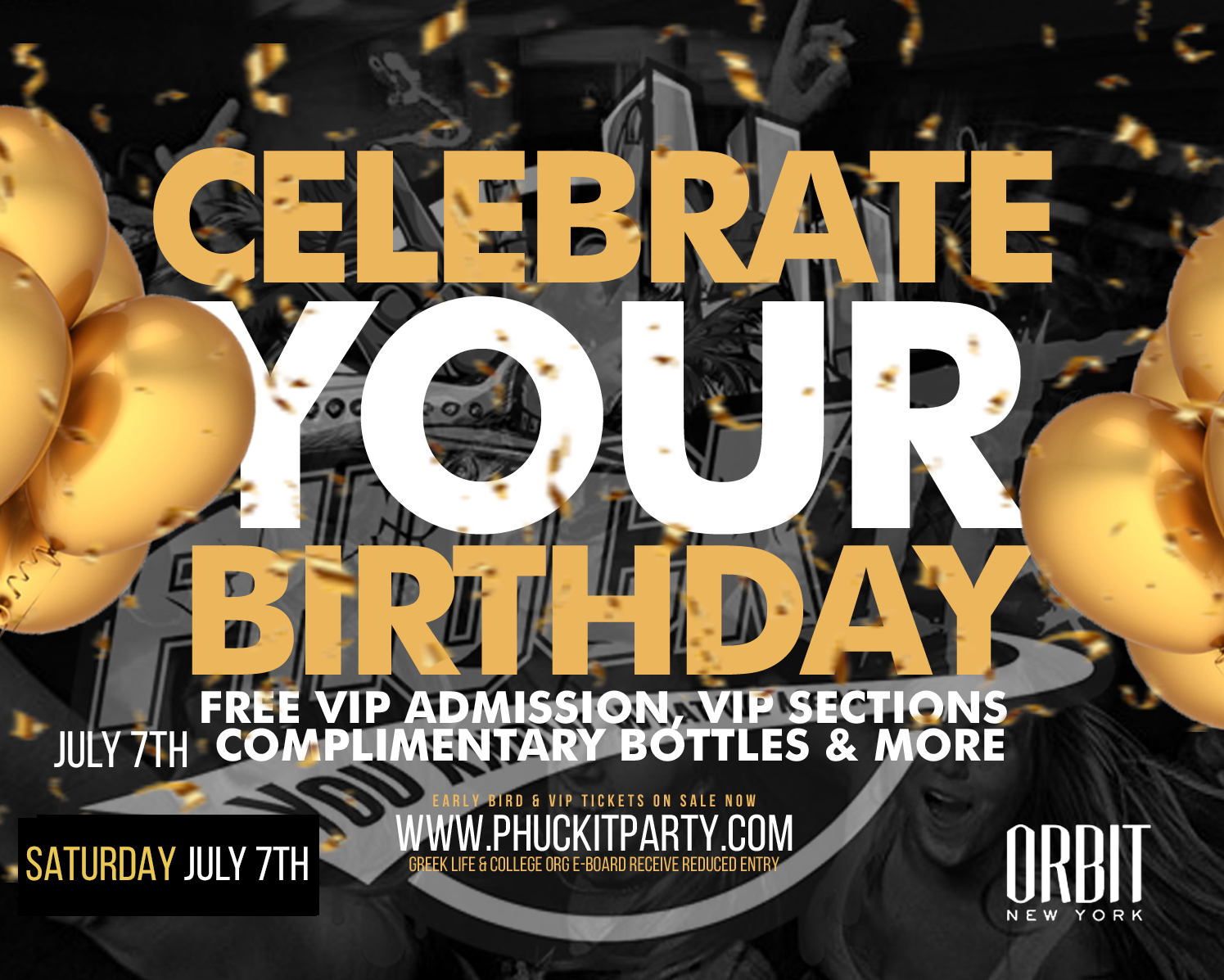 ---
Music By THE HOTTEST DJs in New York City
DJ RICH

DJ HELL RELL

DJ TAZZY

DJ TBA

DJ TBA
& more
---
Location & Transportation Incentives
ORBIT NEW YORK aka FREQ NYC Approx. 5 mins from TIME SQUARE, NYC.
ORBIT NEW YORK is on the edge of the Hudson River & West Side Highway.
Venue: 641 West 50th Street, New York, NY 10019
Parking Garge Next Door to Venue.
TRAVEL SAFE, DRINK RESPONSIBLY, & PHUCK IT ! ! TURN UP
---
PROMOTIONS BY @EPICDP @THEPLUGSHOW @BRUKOUTNYC
FOLLOW US ON SOCIAL MEDIA