A community Webinar by PVWW- Joana Bezerra, PhD, will share her experience conducting a three-day photovoice in South Africa
About this event
This webinar, by Joana Bezerra, PhD, discusses the experience of a Photovoice workshop on plastic pollution facilitated by the Rhodes University Social Innovation Hub and its Mobile Lab for photovoice and other participatory projects in the Eastern Cape, South Africa.
Individuals handling and recycling plastic trash and pollution participated in the three-day photovoice workshop. They took photos to represent their point of view, wrote captions, and identified the information they wanted to share with others. The workshop was an accredited short course at Rhodes University, and participants received a certificate and credit for their full participation (attending all sessions and completing all tasks).
Facilitation challenges included differences in literacy levels, writing skills, and familiarity working digitally. Dr. Bezerra will review some of the challenges faced and how they were overcome. This webinar is intended to help other programs and individuals plan for their work in similar contexts.
--
Joana Bezerra, PhD, completed her doctoral studies in Brazil, a post-doctoral fellowship at Wageningen University in The Netherlands, and has been living and working in South Africa since 2015. After completing a post-doctoral fellowship at Rhodes University in Eastern Cape, South Africa in the Department of Environmental Science, she has been teaching and conducting research through the university's Community Engagement Division. Dr. Bezerra's areas of research and publishing have focused on human's relationship with land, environmental policies, epistemic justice and the environment, and service learning. She has published numerous peer-review papers and book chapters on public health, the environment, and community-engaged research and practice. She was a co-editor on a 2021 book that focuses on social innovation and community engagement. Dr. Bezerra is an expert in qualitative research methods and is an alumna of PhotovoiceWorldwide's Talking with Pictures: Photovoice course.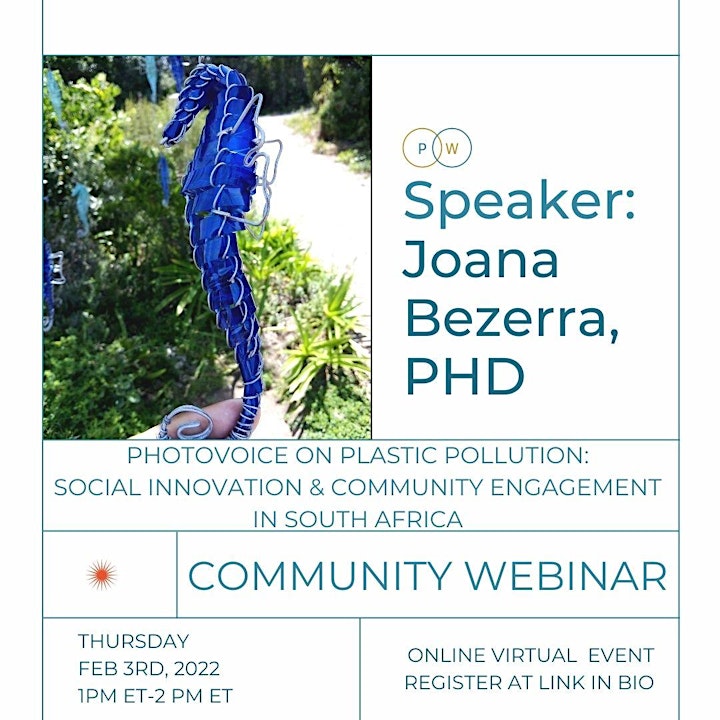 Organizer of Photovoice on Plastic Pollution: Social Innovation and Community Engagement