Description
Adobe Photoshop – Layer Tricks and Blend Modes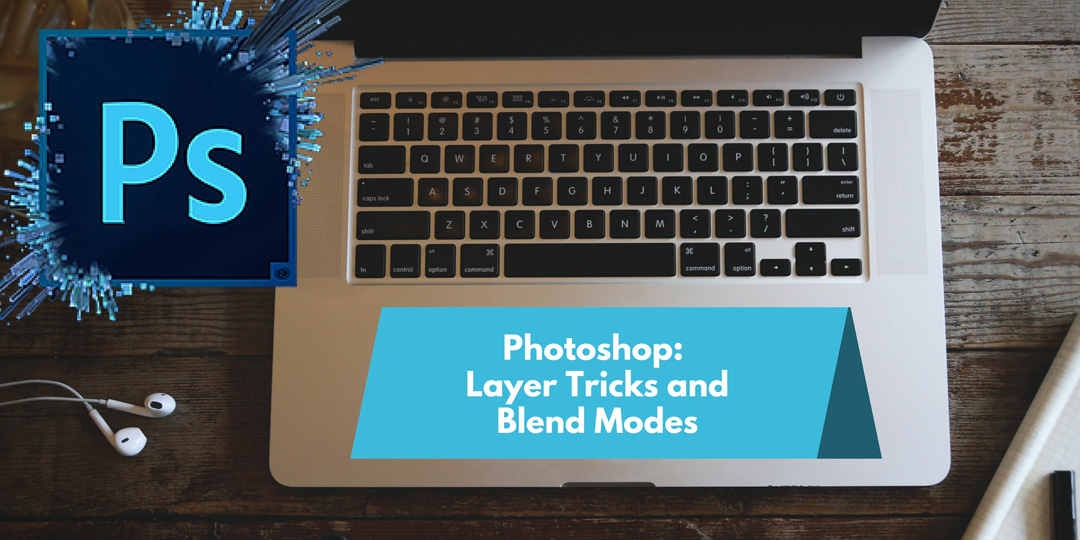 Requirements and Prerequisites: Students participating in this class are encouraged to bring their own laptop, with Adobe Photoshop CS4 or higher installed. While this is not an absolute requirement, students will be provided with sample images to follow along with the classroom presentation. Attendees are expected to have an operational knowledge of the Windows or Mac computer that they will be using. This operational knowledge should include, but is not strictly limited to; ability to navigate to folders on the system's hard drive, ability to copy files between drive locations, working knowledge of system cut / copy / paste / undo functions, as well as an understanding of system provided file / object selection tools (e.g. select all, select range, add to selection, remove from selection).
Recommended prerequisite classes: Photoshop: Learning Layers and Photoshop: Mastering Masks.
In the marketplace today, there is a never-ending selection of image editing tools available to those wishing to do some level of advanced image editing, products with a wide range of prices and an even wider range of features and complexity. No tool stands out more, or is more widely embraced by the photographic community, than Adobe Photoshop.
As you progress forward, learning more and more Photoshop skills, you will quickly realize that Layers and Blend Modes can do more for you than you ever imagined. In this class we are going to explore Photoshop Layers in depth and the Blend Modes that merge those Layers together visually. The key to create visually stunning composite edits lies in understanding both of these features and the effects that they can provide you.
In the first section of this class we are going to explore the Layers Control Panel in depth and gain a truly deep understanding of how Layers work, interact with each other and provide visual "depth" to an image. As an important part of Layers, we will spend time looking at the benefits, feature and interactions of Layer Masks and Clipping Masks with Layers.
I'll bet you didn't know that Photoshop Layers can do tricks, it's true they can and in this section of the course we are going to explore those tricks in depth. We will start off with looking at some of the advanced locking and filtering modes available and then we will continue with Layer tricks that can have some pretty cool effects on your images. When you are done with this section of the class you will be a "Layer Master"
One of the most often misunderstood and least used features of Photoshop is Layer Blend modes. Blend Modes completely control how the pixels from one layer interact with Pixels in the layers underneath and knowing how to use these blend modes can open up entirely new editing paths and image enhancements techniques to the well informed user. We will explore Blend Modes in depth and tackle a number of Photoshop edits where specific Blend Modes make all the difference.
When the participant is done with this class, they will understand Photoshop Layers and Blend Modes completely and this knowledge will open up a whole host of new editing approaches and techniques!

FAQs

How do I know if this class is the right class for my level of interest and/or expertise?

This class is part of the Photoshop series, designed to be taken in sequence, although if you have Photoshop experience you may choose to take these calsses in any sequence.
The Suggested Photoshop sequence is:
Files, Interface, and Tools

Basic Image Editing

Mastering Masks

Learning Layers

Layer Tricks and Blend Modes

Presets, Plug-ins, and Production
What can/can't I bring to the event?
It is highly recommended that each attendee brings their own laptop computer to get full use of this class. If you do not have a laptop, some bring their All-in-one desktop computer. Please contact us with any questions regarding computer issues.
Is my registration/ticket transferrable?
You may request a refund up to two days before the class. For example, your class is on a Saturday, you have until the Thursday before to ask for a refund. Refunds requested the day before or day of the class, will be dealt with on a case by case basis, and are subject to processing fees.