Description
Registration closes 48 hours before the class start time. Please plan accordingly.
Fact: Everyone knows Photoshop. Another fact: Not everyone knows how to use Photoshop to its full potential for UI design. Photoshop is a powerful tool with tons of features but it's overwhelming at times for the same reason. With recent updates, Photoshop has become more capable in web and mobile app design than ever before. In this workshop, you'll learn functionalities around user interface design in Photoshop by building a sample project.
WHY ITHAKAI WORKSHOPS?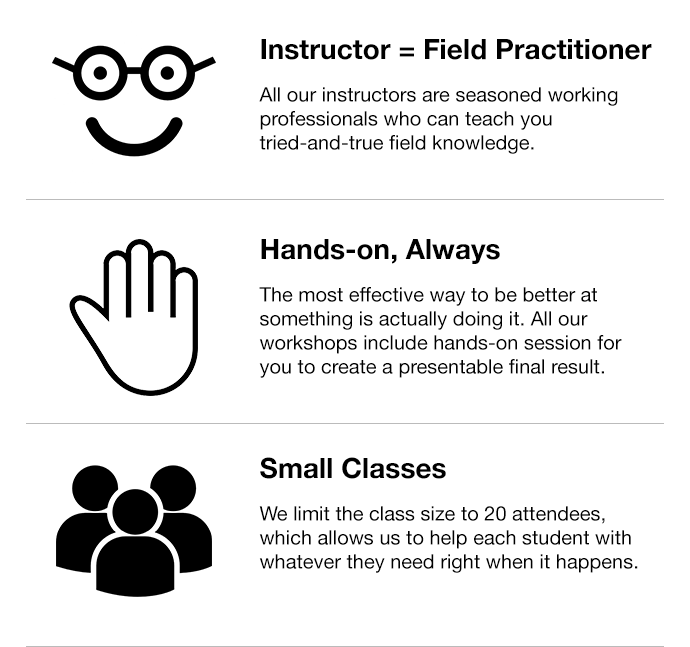 WHO YOU ARE
Designers to learn how to use Photoshop for UI design purposes
Developers to understand how mockups are designed in Photoshop
Startup founders to learn how to use Photoshop for their products
Beginners to learn Photoshop and add it to their skill set
LEARNING OUTCOMES
By the end of this workshop, you will be able to
- comfortably navigate the interface in Photoshop
- understand most essential features for UI Design
- design a mockup and showcase it
WHAT YOU NEED
Bring your laptop.
Install a trial version of Photoshop CC.
No prior experience required.
CURRICULUM
Interface
Photoshop CC interface
Pages, Artboards, Layers
Properties and Tool Bar
Introducing IconJar
Shapes
Create and rename a page
Create an artboard
Creating shapes
Using IconJar to import shapes
Getting Started
Sample project explained
Creating a new document from template
Editing SmartObjects
Creating UI
Creating an artboard for the device
Inserting Symbols, Icons, and Avatars
Exporting screens to add to prototyping tool