Description
Saturday, November 18: 11:00 AM - 2:00 PM
Ever dream of walking across the same field that the five time Super Bowl Champion New England Patriots play on? How about capturing your family holiday photo on that same field? On Saturday, November 18 from 11:00 AM - 2:00 PM you can get your photo taken with Santa on the Gillette Stadium field!* Register above to reserve you time!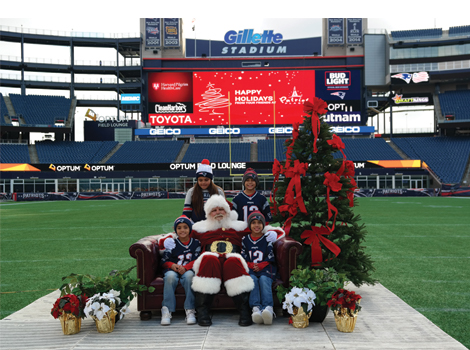 How do you get on the field? You may choose one of the two options below for admission to the field:
- Donate a New or Gently Used Coat or Hat/Glove Set to Cradles to Crayons
- Donate $20 to Cradles to Crayons
All Donations will be collected at Check-In on Day of Event.
*One donation grants field access for up to (4) people, one photo per reserved time. Guests will drop off donations at NRG Plaza and enter the field through the Blue Gate (near the Gillette Stadium lighthouse).
All the registration time slots are full, can I still participate?:
Patriot Place has implemented a new online registration system to help ease lines and long wait times so you and your family may enjoy Patriot Place. Via a standby line, we will allow guests to register onsite with their donation on the day of the event (Saturday, November 18) however, we cannot guarantee a specific time slot or entry. Guest may arrive between 11:00 AM - 2:00 PM with their donation and will be placed in a queue. Patriot Place staff members will escort families to the photo area on an as available basis. The standby line will be on a first come, first serve basis. Patriot Place will try our best to accommodate every guest to the best of our abilities, however the standby line does not guarantee entry.
Additional Activities throughout the Afternoon will Include:
- Live Holiday Cheer from DJ Matty
- Skate while you wait! Winter Skate Presented by Harvard Pilgrim Health Care will be open 11:00 AM - 10:00 PM



About Cradles to Crayons:
Cradles to Crayons was founded in 2002, with the mission of providing to children ages 0 to 12 some of the most important basics of life—free of charge. These basics include clothing, school supplies, toys, and much more. In other words, we provide all the physical goods that children need to be safe, protected from the elements, and ready to learn. And by supplying them with high-quality used or new goods, we make children feel valued.
We partner with social-service organizations to connect communities that have surplus resources—new or used items in good condition—with communities that desperately need access to those resources. When you donate to Cradles to Crayons, you can be absolutely sure that your donation will go to a deserving local child, for whom the donation was specifically requested.
For more information on Cradles to Crayons visit www.cradlestocrayons.org.