Event Information
Location
Miller's Farm Stand (Meeting Place)
10140 Piscataway Rd
Clinton, MD 20735
Description
Our next Carriage House Studio workshop will explore the rural heritage of the Mid-Atlantic as the setting for fine art nude photography. The workshop will be held in a rustic rural setting, featuring an historic farmhouse built between 1750 and 1850, a barn, and 30 acres of adjoining fields and country roads. We will discuss and how to shot art nudes in a rustic, rural environment, using available light and fill flash. After the workshop, those who are interested, may join us for dinner in scenic rural setting.
You can see images of the kind of photography that can be produced in a natural environment in the photo album for this workshop at The Rustic Nude Workshop Gallery
Our model for this workshop will be Amy.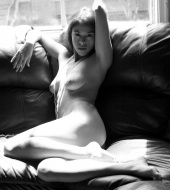 You can see her portfolio at:
https://www.modelmayhem.com/AELopez or
Instagram @kitsujitsu
Cost: $150 Workshop Fee includes instruction and workshop handout, Model fees and Model Release; $50 Reservation Deposit required.
For Questions or Comments please contact: studiopfp@gmail.com
Date and Time
Location
Miller's Farm Stand (Meeting Place)
10140 Piscataway Rd
Clinton, MD 20735