FREE PHOTOGRAPHY WORKSHOP!
About this event
AUG Student Services - Indonesia dan The University of Queensland (UQ) mengadakan sebuah workshop buat kamu yang suka dengan photography. Jangan sampai kelewatan:
Sabtu, 16 July 2022
Pukul 11.00 - 13.00 WIB
Virtual via Zoom
Tema & Pembicara:
COMMUNICATION IN PHOTOGRAPHY
Mr. Meganusa Ludvianto, UQ Alumni - Master of Communication
Ms. Fitria Arsianti, UQ Principal Adviser - South East Asia
Tema dari workshop ini adalah COMMUNICATION IN PHOTOGRAPHY. Kita mau ngebahas tentang cara menyampaikan pesan atau berkomunikasi melalui gambar atau foto yang kita ambil.
Workshop ini terbuka untuk seluruh pelajar SMA di Indonesia yang tertarik ingin mendalami dunia photography dan communication.
Setelah workshop, para peserta bisa mengikuti Photography competition: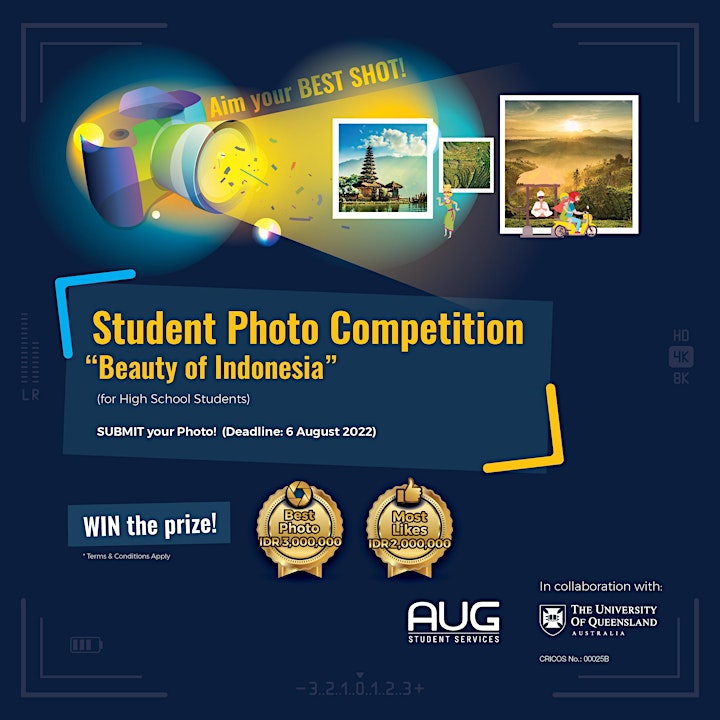 Akan dipilih 2 pemenang, untuk mendapatkan HADIAH sebagai berikut:
BEST PHOTO - IDR 3.000.000,-
MOST LIKES - IDR 2.000.000,-
KLIK REGISTER / DAFTAR UNTUK IKUTAN WORKSHOP/ COMPETITION INI!