Description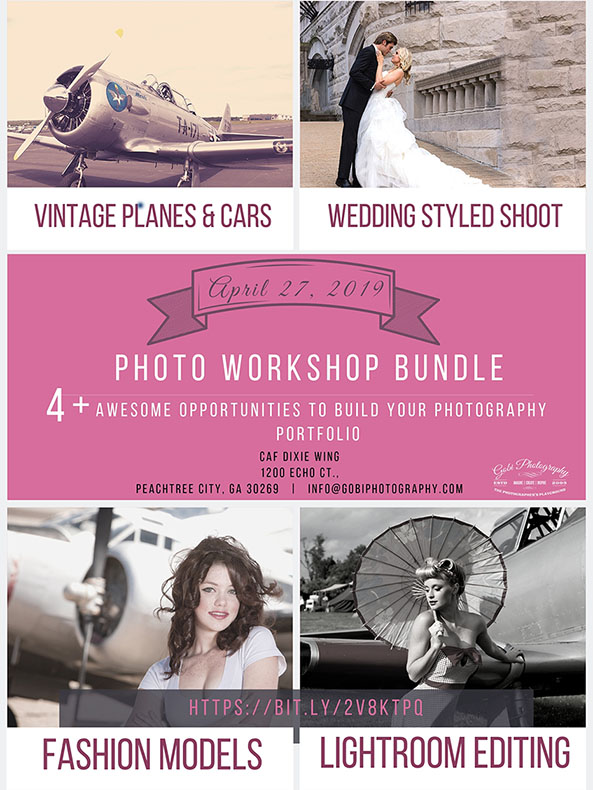 Our workshop will take place at the Dixie Wing Museum at Falcon Field Airport in Peachtree City.
Your chance to get amazing photographs of vintage aircraft and models, during a themed photoshoot that includes a wedding shoot and two aviation stylized scenes. Our photography workshop is designed for photographers of all skill levels. Learn more...
Workshop includes:
Access to lighting equipment & an international group of models
Aviation Themed Photoshoot

Vintage Aircraft
Vintage Car
Aviator Models
Aviation Props
Pre-staged Photography Lighting
Wedding Styled Photoshoot

Bride and Groom
Floral Arrangements
Sweetheart Table
Vintage Airplane and Car
Flat Lay Station
Pre-staged Photography Lighting
Engagement Shoot "The Long Goodbye"

Engagement Couple
Vintage Airplane and Car
Travel Trunk
Travel Props
Suitcases
Pre-Staged Photography Lighting
Lightroom Mini-Workshop On Vintage Editing

Walk through creating your own vintage preset
Hands-on assistance & instructions
All-day access to the 16th Annual WWII Heritage Days Event
Opportunity to photograph :
live parachuting
WWII reenactors
Lunch & refreshments
Check out our models - https://www.gobiphotography.com/aviation-photography-workshop---peachtree-city
In addition to having the opportunity to take incredible photos, you will also learn about lighting and vintage editing your photos in Adobe Lightroom. This shoot also includes access to Heritage Days event in Peachtree City, #1 top cities to visit in 2019 - https://thecitizen.com/2019/01/24/expedia-peachtree-city-top-city-destination-for-2019/
*Cancellation Policy: Because of the costs associated with providing this rare opportunity and the limited availability, the registration fee for this class is non-refundable.