Description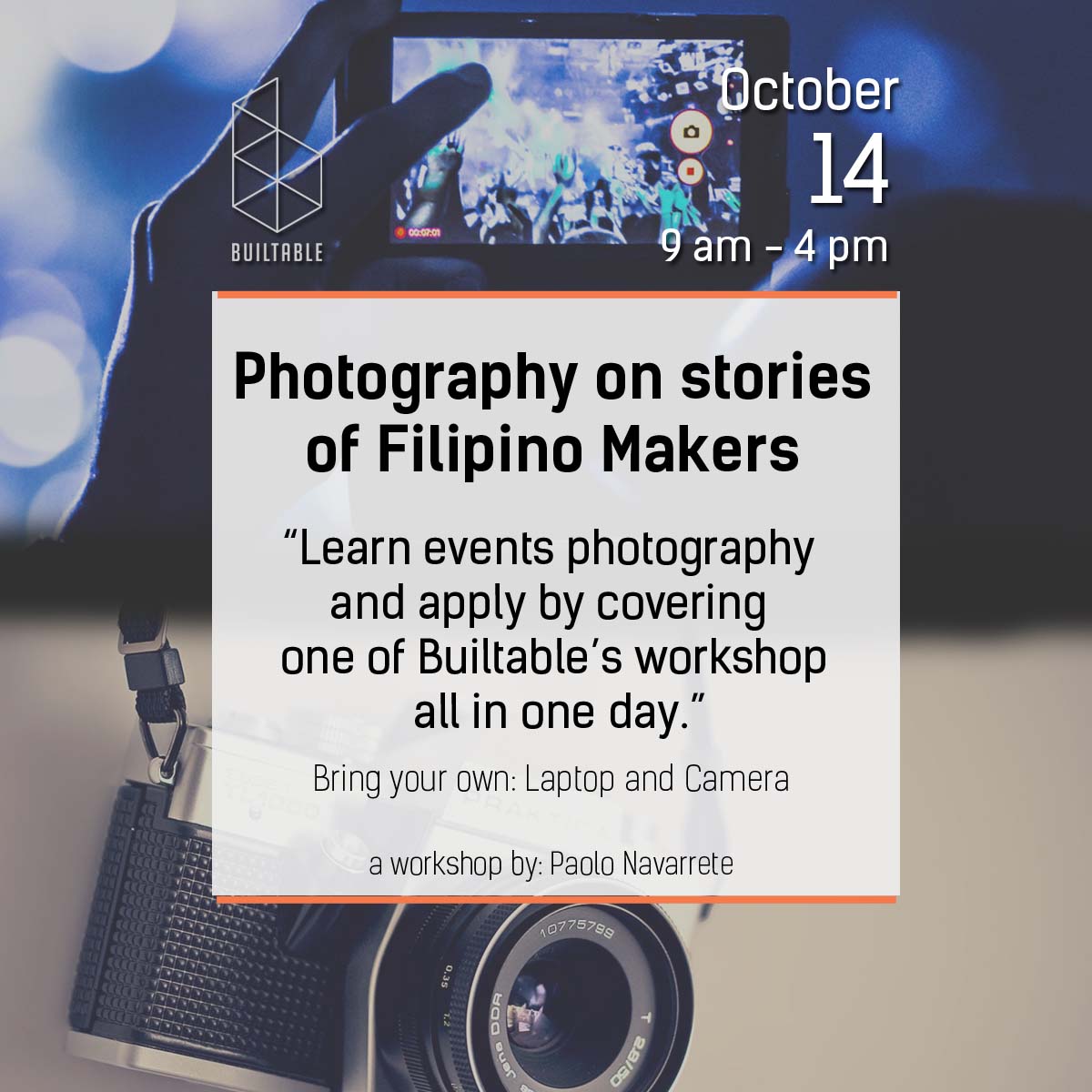 Builtable Workshop: Photography on stories of Filipino Makers
Learn events photography and apply by covering one of Builtable's workshop all in one day.
About the Speaker:
Paolo Navarrete
"Peaking emotions and peak performance, that's what people like to see and what I want to show to others. Events, weddings, portraits, products, and sports are what I want to experience and be in my camera though I will also try new fields and styles of photography.
I like the uncertainty, the unknown, and the unexpected in every assignment.
Plan, practice, and apply experience when you shoot. Never forget the fun and the people."
www.paonavarretephotos.com
EVENT DATE:
October 14, 2017
10:00 AM - 4:00 PM
EVENT FEE:
Early Bird - Php 1,290 (Until October 7,2017)
Normal Rate - Php 1,590 (Until October 14,2017)
**Inclusive of Lunch
THINGS TO BRING:
Camera (SLR) and laptop
PROGRAM:
09:00 – 10:30 crash course on camera settings and features
10:30 – 12:00 lecture for participants
12:00 - 13:00 lunch
13:00 – 14:30 shoot
14:30 - 16:00 presentation and judging
HOW TO RESERVE
1.Confirm slot via SMS, Email, Eventbrite ticket or MeetupPH
CONTACT PERSON
Rizza
+63 917 7270288
EMAIL
connect@builtable.co
2.provide your full payment through bank deposit
Metrobank Acct:
CTT.Synergy Corporation
Metrobank Acct No.
0 007 881 000 616
or
BDO Acct:
CTT.Synery Corporation
BDO Acct No.
000668083218
or
paypal
3.send us a proof of your payment (Scanned/Picture of Deposit Slip or payment)