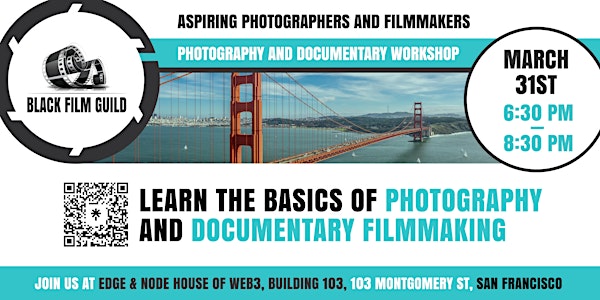 Photography and Documentary Filmmaking Workshop
A free photography and filmmaking workshop! Any questions you have about photography and filmmaking will be answered.
Date and time
Friday, March 31 · 6:30 - 8:30pm PDT
Location
Building 103 103 Montgomery Street San Francisco, CA 94129
About this event
Are you an aspiring movie-maker or documentarian?
Would you like to know more about cameras?
Join Walter Wallace at House of Web3 for a FREE beginner to intermediate level DSLR and documentary filmmaking training.
In this class, you will learn the basics of how to operate a camera, manipulate lighting to create a specific mood, and tips on how to master your cameras settings.
We will also learn about the exposure triangle, understanding your cameras base ISO, and how to shoot video properly for documentary filmmaking.