Description
Join Midwest Photo and instructor Tim Neumann of Softlite Studios for a birding photography workshop and learn the ins and outs of compelling birding imagery.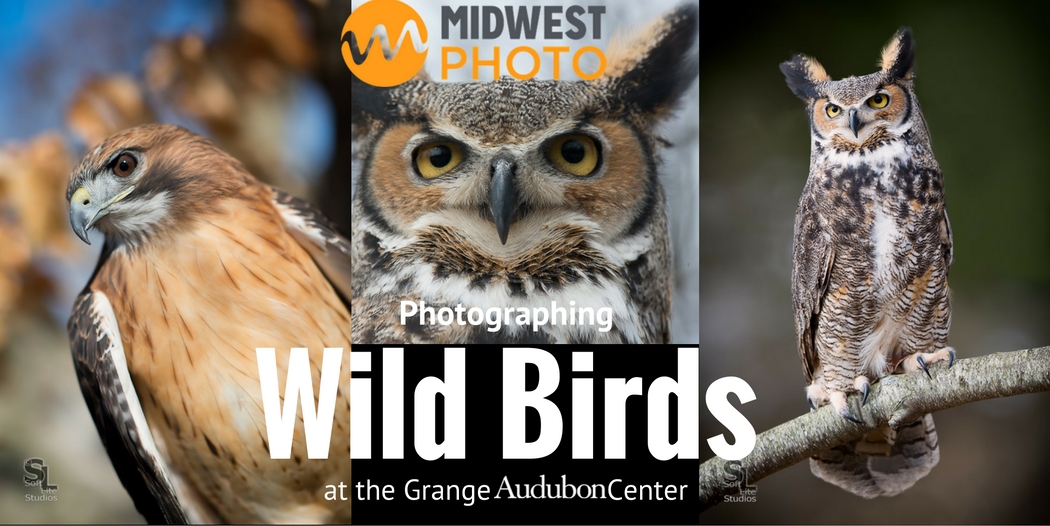 Nothing quite compares with capturing an image of a wild bird in its natural habitat or in winged flight. The graceful avian body curves, the detailed, textured lines of the feathers and the determined, intent filled gaze all make for compelling elements of ideal composition. The correct combination of setting, light and pose can make for a portfolio grade image when done just right.
Our workshop will start with a discussion on the appropriate ways to observe and capture images of birds in their natural habitats, going about their normal day-to-day business. This knowledge will help put you in the ideal position to watch your favorite feathered friends, while not impeding upon their personal space and have you ready to snap that great image when the right moment arrives. Timing is everything when capturing images of birds and we want to provide with the necessary edge to get the right images at the right time.
The workshop continues on with a thorough review of the some of the photography gear that is considered essential by many birding photography enthusiasts. From camera body, to spotting scopes, to long focal length lenses, to camera support systems, we will discuss the gear that's ideally suited for capturing birding images. Birding photography can involve some fairly significant gear and we think it's important to separate what really works from what doesn't and help you in making the right birding photography gear choices.
Ultimately it all comes down to getting the picture and we recognize that is the goal of every birding photographer, so in this, the last section of the workshop, we discuss what makes for a great birding images and approaches to getting exactly that. While not everyone wants to discuss composition, composition is indeed a critical factor in every image and time invested in thinking about the composition of your birding images is a great investment indeed. We will consider composition in a number of sample images and explore the ways by which the photographer got themselves into the right position, at the right time, with the right light, to come away with a winning image. Framing, light quality and exposure are all important components in a compelling image and we will cover aspects of all three components.
Once the workshop session has been completed, it's time to put all this new information to work and we'll be around to answer questions and guide you through the rest of the day's shooting opportunities.
A portion of the cost of every ticket will be donated to the Audubon Center.
When you give to the Audubon Center in Columbus, your gift has a real impact!
When you make a gift to Grange Insurance Audubon Center your support is immediately put to use in numerous ways:
Educating urban and at-risk children through our STEM based Conservation Classroom education programs

Providing enriching summer nature experiences for children in Central Ohio community service agencies

Ensuring we maintain our ability to remain free and open to the public as a year-round conservation education center
FAQs
What are my transport/parking options getting to the event?
Attendees are responsible to get themselves to the Grange Audubon Center at 505 West Whittier Street, Columbus, OH, 43215
What can/can't I bring to the event?
Bring your favorite birding gear: your camera, lenses, tripod, etc.
Will the class be canceled for inclement weather?
This class will be held rain or shine, unless the weather is abnormally volatile. If weather is too bad to run the event, attendees will be notified by email!