Photographer's Paradise- Taking Pictures for Florida Fish and Wildlife! Fal...
Description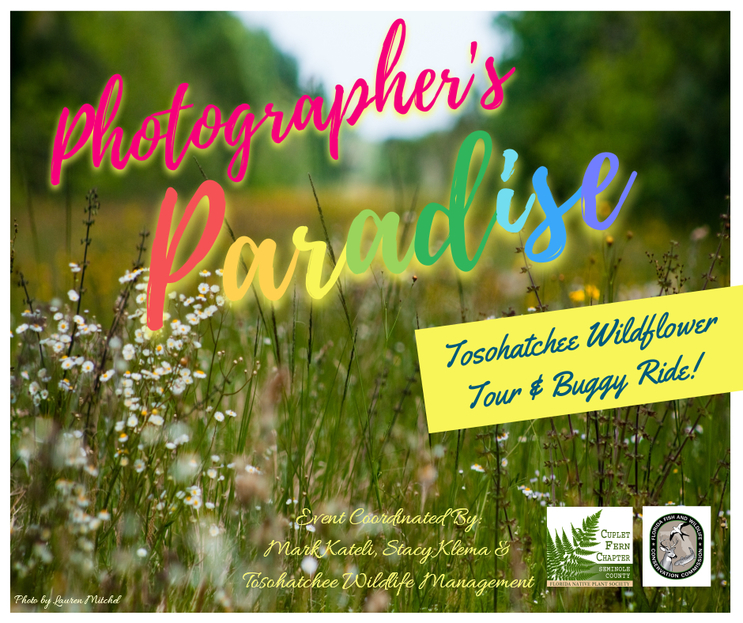 This is our fall photography edition!
Calling all photographers and their best cameras! A buggy ride at Tosohatchee's 30,000 acre property is almost unheard of!
This is an excellent photography experience at one of the most magnificent, expansive wildlife management areas in Central Florida!
Need to get that shutterbug fix taken care of? Need beautiful landscape photographs? Just want to take pictures of wildflowers because you've been wanting to? Want to do something good for the community while engaging in your photography hobby? This is a perfect opportunity!
Don't want to walk around too much searching for photo-ops? You won't have to- it's going to be an enjoyable event!
THIS IS YOUR CHANCE!
Proceeds benefit Cuplet Fern Florida Native Plant Society whose mission is the conservation, preservation, and restoration of native plants and native plant communities. We are honored to showcase Toshohatchee and partner with Florida Fish and Wildlife (FWC)!

PLEASE READ FULL INFORMATION BEFORE PURCHASING BY CLICKING ON THIS LINK (EVENTBRITE HAS LIMITED SPACE FOR COMPLETE DESCRIPTIONS)