Photograph Beautiful Models & Make Money - Featuring Kayman

Saturday, September 22, 2012 from 2:00 PM to 10:00 PM (EDT)
Event Details
Do you have an interest in photography? Would you like to turn that interest into profit? Let us teach you how to combine the two. It's really not that hard to do, all you need are the right tools. The September 22, 2012 workshop features the lovely Kayman. Spend the day shooting one of Florida's hottest alternative/lingerie/nude models.
We will cover all of the following: 
Camera operation (in-house cameras will be available for use if you don't have one)
Lighting concepts and techniques (learn how to both manipulate natural light and use studio flash lighting)
Photograph the female nude for both fine art and playboy styles
Shoot agreements & Model releases (sample lawyer drafted documents included, of which in depth discussion and dissection will occur- a $175 value)
Photographer & Model Interaction (learn the do's and dont's, how to create a comfortable shooting environment)
How to find & negotiate with quality models (its not that hard when you bring something to the table)
Setting up & launching a paysite
Simple & easy ways to MAKE MONEY
ONE on ONE shooting time with Kayman
The shoot location is a beautiful private Orlando area home ideal for intimate glamour photography Refreshments are included. This 8 hour event has limited seating, so hurry and book yours now.
***Location address will be emailed to all attendees 48 hours prior to the event date.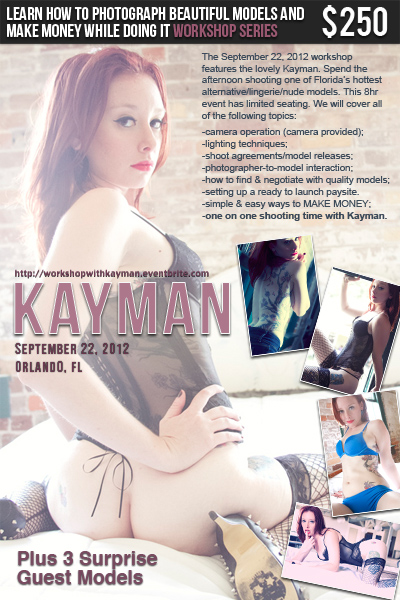 Have questions about Photograph Beautiful Models & Make Money - Featuring Kayman?
Contact PBM3
Organizer
PBM3
The I4 Corridor Model & Photographer Meetup is a bi-monthly event for models and photographers who reside aliong the corridor from Jacksonville, Fl to Tampa, Fl .
The I4 Corridor Model & Photographer Meetup
 strives to provide the best atmosphere possible to connect all those interested in Photography, Modeling, Styling, Hair, Makeup as well as Agencies and Magazines.
The I4 Corridor Model & Photographer Meetup
 is designed to be a low cost way to create a community. We endeavor to create events where you can meet others with a similar interest and to hold these gatherings in locations that are also conducive to shooting.
The I4 Corridor Model & Photographer Meetup
 is for individuals who are about passion for the field and not all about skill and experience. Hopefully through these events you develop the contacts to add to your skills and experiences.