Photoelectric Effect Make-n-Take Workshop

Saturday, April 9, 2016 from 10:00 AM to 1:00 PM (EDT)
Event Details
 Up to 12 teachers paid by NYC DOE can earn compensation at the "per session" hourly rate for this workshop. The first 12 full-time NYC science teachers purchasing NYC DOE tickets are eligible for compensation. Teachers must arrive by 9:30 am to go through security (foto ID required, and picture will be taken) and fill out the required forms. Teachers must bring their DOE "file number."
Photoelectric Effect Make-N-Take Workshop
Workshop Led by: Mark Schober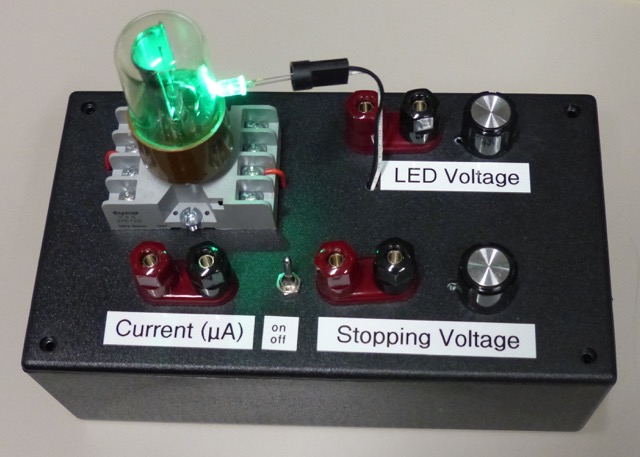 (click image or here to watch a brief video about the apparatus and it's uses in the classroom)
---
The photoelectric effect is one of the central phenomena in our understanding of light and matter. Shine light on a metal, and electrons are ejected . . . sometimes. Why electrons are or aren't ejected is surprising and unexpected: it took Einstein's genius to explain it and his ideas reshaped our conception of both light and matter. In the workshop we'll approach the photoelectric effect in student mode with activities to help your chemistry and physics students reshape their ideas of light and matter. We'll begin by establishing expectations about how the device should work according to a wave model of light. Then we'll collect data using an innovative, low-cost apparatus and consider how to use both the device and simulations to build student intuition and understanding. In teacher mode, we'll also consider the differences in how to approach the lab depending on whether you're teaching chemistry or physics.
$100 gets you an assembled photoelectric effect apparatus, (battery included) phototube, and a half dozen high output LED's of various frequencies. (A big thanks to my engineering students who assembled thirty of them to develop their soldering skills and to serve the science teaching community.) Two digital multimeters for measuring the photoelectric current (in the microamp range) and stopping voltage are available for an additional $12. And, at $100, which is the cost of the parts, it's one-fifth the cost of the cheapest commercially available photoelectric effect apparatus!
Don't miss this chance to bring the quantum into your chem and physics classroom!
Pizza lunch for all at 1 pm!
Note: Please sign up for ONLY 1 workshop on the April 9th NOT BOTH.  As these two workshops are both 3 hours and run simultaneously from 10am to 1pm in separate rooms at Teachers College.
WHITEBOARDS. If you wish to do so, you can order whiteboards ($5 each plus Eventbrite fee) or T-shirts ($10 each plus fee). The whiteboards and T-shirts will be available for pickup after the workshop. We will bundle the whiteboards so you can carry them but a bundle of more than 6 may be heavier than you find comfortable to carry for more than a block or two. You can also buy whiteboards or T-shirts at the workshop, but you must have the exact amount of cash ($5 and $10 each, respectively).
PHOTOGRAPHS AND VIDEO RECORDINGS.
We take photographs and record video of our workshops in order to publicize a positive image of science teaching, and of STEMteachersNYC - a recognized 501(c)(3) non-profit organization. If you register, you are agreeing to be photographed and to have your voice and image video-recorded. You are also agreeing to relinquish all your rights to the photographs and video recordings. 
If you do not wish to be photographed or video-recorded, you must inform us when you check in at the beginning of the workshop. We will take one photograph of your face so that we can erase your image if we happen to catch it by chance during the workshop, and we will do our best to avoid you. We would also appreciate your cooperation in positioning yourself at the edge of the group so as to help us avoid you.  
To join STEMteachersNYC, fill out survey: <tinyurl.com/modelingsurvey>
(Members find out about workshops first and can sign up before others.) 
=================
FAQs 
Is there a fee to attend this workshop?
Yes.  There is a $15 attendance fee.
Is there a special pricing for TC students for this workshop?
Yes. TC students recieve a 50% discount on STEMtNYC workshops. To receive your discount code, please send an email to STEMteachersNYC Registrar (Registration@STEMteachersNYC.org). You will be asked to present a current TC student card at the door on the day of the workshop. 
Where can I contact the organizer with any questions?
Questions about registration and payments for this event should be addressed to

STEMteachersNYC

Registrar (

Registration

@STEMteachersNYC.org).
Is the reservation fee refundable?
It depends, please be sure you are able to attend the workshop prior to registering for it. 
If you for some reason can nolonger attend and let the Registrar know (Registration@STEMteachersNYC.org) one week or more before the workshop, you can get a free credit for a future workshop.  If less than one week notification is given no refund will be issued. However if you want to take it as a donation, you must email and directly request an official acknowledgment of your donation.
If you mistakenly register for 2 workshops that take place at the same time, we will not be able to refund the fee.
Is my reservation/ticket transferrable?
Possibly, please contact STEMteachersNYC Registrar (Registration@STEMteachersNYC.org) if you need to transfer your reservation to a different person/name.
Can I update my reservation information?
Yes, you can update your reservation information.
The name on the reservation/ticket doesn't match the attendee. Is that okay?
No, please contact STEMteachersNYC Registrar (Registration@STEMteachersNYC.org) to address this.

When & Where

Zankel Hall, Teachers College, Columbia University
525 W 120th St
New York, NY 10027


Saturday, April 9, 2016 from 10:00 AM to 1:00 PM (EDT)
Add to my calendar
Organizer
STEMteachersNYC is a 501(c)3 non-profit organization that cultivates excellence in STEM teaching and promotes deep understanding and success for students through innovative, teacher-led professional development. Our weekend workshops for teachers are offered during the school year and multi-week workshop intensives occur in the summer. We welcome and encourage teachers from across the globe, the US, and the local New York City area!

STEMteachersNYC is registered as a Continuing Teacher and Leader Education (CTLE) provider with the New York State Education Department.
STEMteachersNYC is an approved vendor for the New York City Department of Education (#STE-23385).
STEMteachersNYC was founded in the summer of 2011 by a group of educators as a teacher-led study, support, and professional development group.  STEMteachersNYC membership has grown at over 30% per year and now stands at over 1,000 members. STEMteachersNYC is an affiliate of the American Modeling Teachers Association.