Photo Workshop: "Get Down To Business!" by Ann Monteith
Description
Basic Info
The Professional Photographers of East Tennessee (PPETN) is proud to welcome nationally-acclaimed photography business educator Ann Monteith for a two-day photo business workshop intensive from Sunday, November 13 to Monday, November 14, 2016.
The location is at the Comfort Inn & Suites across Kingston Pike from West Town Mall, and the event schedule begins at 8:30 AM and runs until 5:00 PM each day.
Additional details, including possible social events and other information will be published when they become available.

---


Pro Photo Intensive Workshop: Get Down To Business
Presented by Ann Monteith, M.Photog., Cr., CPP
Are you willing to admit that you don't know everything you need to run a profitable photography business?
Guaranteed to cut years off your learning curve, this new workshop by Ann Monteith tackles the key elements that form the framework for success in professional photography.
Ann is known for a teaching style that is direct and to the point, but she also gets high marks for adding a light touch to what could be challenging subject matter for photographers who prefer artistic subject matter much more than business content.
The workshop covers 6 elements that photographers and managers must understand if they are to create a successful business that conforms to the lifestyle they desire. They include:
Demystifying Financial Management
How To Create Profitable Products That Are Easy To Sell
How To Tame Your Workflow
Establishing A Memorable, Meaningful Brand
Pricing For Profit

Selling with Ease and Integrity
LIMITED ATTENDANCE EVENT: This event has limited seating—register now to ensure a ticket!
For more information about our featured educator, check the about section at the bottom.
---

Complimentary Workshop Extras
In addition to the written summary of your key branding elements and marketing message, which you will create in class, all attendees will also leave with these valuable resources that will help you to benefit from your "Get Down To Business!" Workshop for many years to come:
A full-color reference copy of all slides shown during the 2-day workshop
Ann's Guide to Managerial Accounting
A disc containing a PDF and an MS Word file of a template to use when creating your marketing plans for each of your major products
A guide to completing your Key Identity Elements, including your Mission Statement, Sustainable Competitive Advantage, Unique Selling Proposition
Ann's written marketing plan for her most recent business, along with copies of her printed marketing materials
Ann's 36-page, fully illustrated publication, "How Do I Start To Market My Business?" which contains her step-by-step process for creating effective brand-building marketing strategies and materials
Ann's wedding pricing method published in Professional Photographer magazine
A collection of over 100 pre-written marketing texts you can edit for your specific marketing projects
Sales/workflow handouts courtesy of Ron Nichols, which include: Designing a Presentation Room PDF,

Getting It Right With the Click PDF, ProSelect Production Procedures, Ron Nichols Resource List PDF

Ann's Resource List
---

Complimentary PPETN One Year Membership
All PPA Member Passes and Non-Member Passes to this event include a one year PPETN Active Professional Photographer membership (regular cost: $75).
---


Workshop Reviews
"After listening to speakers for over 30 years, you are the only one that held my attention every minute. You were to the point, paid attention to the details, and did not bore me to death with personal stories. I heard and remembered everything you said. It's as if you had a crystal ball and looked right into my studio and were telling how to solve my problems. You are without a doubt the best speaker I've ever heard."
Steve Vento, S. Vento Photography, Olympia, WA


"Honestly, this should have been the VERY first thing I did when I started my business. I can't wait to see the changes coming to my business this year and going forward. Thank you!"
Erica Loeks — Erica Loeks Photography and Design, Minneapolis, MN


"I want to thank you for all the amazing information you shared over the 2-day seminar. I enjoyed your class so much and learned even more. I've already figured the Cost of Sales for all my portraits and products and have my NEW price list completed...Woo Hoo! Now I have a price list that is simple and profitable for me. I'm even getting comments from my clients saying how easy it is to choose their portraits and albums. Your program rocked my world!"
Sherri Noftsinger — Sherri's Portraits, Kennasaw, GA


"I was hoping your presentation would be addressing the current situation in my studio, and I was not disappointed! Thank you so much for your insightful and honest evaluation of our profession."
Michael Thresher, River Street Photography, Cashmere, WA


"I just want to say thank you for the wonderful workshop you put on this week for us in Dallas. Honestly, having been in business for 14 years now, running a profitable event photography business, I didn't expect to learn much. I was mainly there to collect the credits toward my Masters. But I was very impressed with your class. While there were many things that I did already know, there were also great tidbits of wisdom and subtle pieces of information that I have never heard elsewhere. I truly believe that implementing these things is going to make a HUGE difference to the success of our newly growing portrait division."
Kate Caudillo - Caudillo Studios, Austin, TX


"I want to thank you so much for the incredible training...I am working on my list of changes to make to my business as we speak and feeling more confident than I ever have about the direction of my business! It's hard to find direction and solid advice in this business and you gave both, which is so appreciated!"
Jamie Gorby - Jamie Gorby Photography, Stanton, MI


"That was the best two days ever! I am always amazed at your depth of knowledge and your expertise in presenting a detailed and informative workshop on marketing and pricing . I came away with renewed hope and a positive attitude. You are great fun Ann! When I meet a person who professes to be a professional photographer, I always ask if she knows Ann Monteith. When I get a blank stare . . ha . . . there's my answer!"
Linda McCarthy - Visual Concepts Photography, Davidsonville, MD


"I appreciate your transparency with your business - it has been difficult to assess if the advice some of the experts are giving is based on their experience of running a profitable business, or if they have just positioned themselves as an expert in order to sell stuff. When we attended the workshop four years ago we really started running a business that sells portraits - instead of just making decisions based on what seemed right, we started looking at the numbers to see if something made sense. Your marketing materials for Persnickety are inspirational and are helping us now as we revamp our collateral materials. Thanks for all you do!"
Kristin Smith - Parker Smith Photography, Atlanta

---


A Letter From Ann
---


Complimentary Lunches
All attendees will also receive one free catered lunch meal each day.
---


PPA Continuing Education System Class
All attendees that are PPA Members will received two Continuing Education Merits.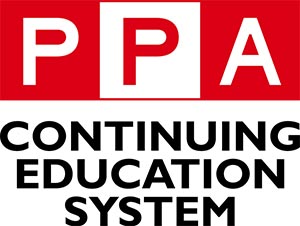 ---


Lodging Info
Our event host, Comfort Inn & Suites, has made a block of rooms available to those traveling to the workshop at a lower rate.
For reservations from Nov. 11, 2016 – Nov. 15, 2016, please ask for your reservation to be made in the Professional Photographers of East Tennessee Group Block. In order to receive the Group Block rate, reservations must be made by October 28, 2016.
Comfort Inn & Suites
7737 Kingston Pike
Knoxville, TN 37919
865.690.0034
(I40 Exit 380, Directly Across from West Town Mall)
---


Laughlin Print Photography Competition
The Pro's Choice "East Tennessee Photographer of the Month" is awarded based on the votes of fellow professional photographers and pays for PPETN's annual scholarship.
The competition has not yet been planned for this event. Stay tuned to see if the workshop will feature a competition.
---


PPETN Event Giveaways
PPETN regularly provides free giveaways at our monthly events (last year, PPETN gave away hundreds of dollars worth of gear and equipment)—all you have to do is be present to win! Giveaways have been generously donated to PPETN by featured speakers, local and national photography labs, education companies, and equipment manufacturers.
As available, we will give one Giveaway out to the first-place entry in the Laughlin Print Photography Competition, and others will be given randomly to an Active, Studio, or Aspiring member in good standing. You MUST be present to win a Giveaway!

---


About the Featured Educator
Ann Monteith, M.Photog., Cr., CPP
Ann Monteith is the industry's leading authority on marketing and studio business management, and she was instrumental in the development of PPA's Studio Management Services. Her "Get Down To Business!" Workshops and Guerrilla Management Workshops are credited with setting some of the country's most successful studios on the road to profitability, and she is a widely read author on subjects of interest to studio owners and managers.
A former chairman of the board of the PPA International School of Professional Photography and a past president of PPA, she received the Gerhard Bakker Award for excellence in teaching, the Charles H. "Bud" Haynes Award "for distinguished service to PPA and its members for encouraging business awareness and practices in the field of professional image-making," and a 2008 Leadership Award from the International Photographic Council, which was presented at the United Nations. In 2010 PPA presented her with the Helen K. Yancy Award, given for distinguished service to photography that represents "an achievement of service of far-reaching value."
Ann was instrumental in developing PPA's Studio Management Services division. Author of the "Findings" of PPA's four Financial Benchmark Surveys, each year Ann instructs hundreds of working pros. She holds the A.B. degree from Bucknell University and the professional degrees and titles of Master of Photography, Photographic Craftsman, Certified Professional Photographer, Approved Business Instructor, Approved Photographic Instructor, International Juror, and Fellow, Irish PPA.
She and her husband, Jim have owned and operated four different studio businesses. Presently they are directors of Monteith's Countryhouse Studios in Annville, PA, and also see clients at their vacation home and studio in Deep Creek Lake, MD. In 2009 they opened Persnickety Pet Portraits as a "warm fuzzy division of Countryhouse Studios."
---