Photo Kickstarter: A Photography Class For Kids (Oct)

Weekly Event - Every Monday: 9:00 AM to 11:00 AM (EDT)
Event Details
Sessions: 2 class sessions, each 2 hours in length
Price: $50.00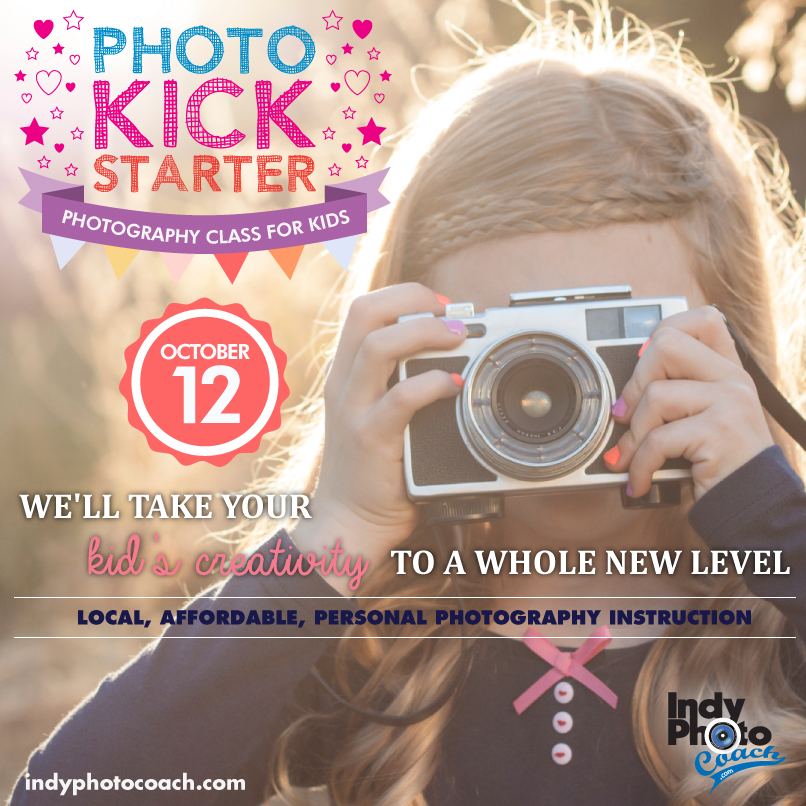 Here at Indy Photo Coach, we recognize that kids are photographers, too! And, kids are capable of a lot more than we sometimes give them credit for. Knowing these two important facts, our instructors put together Photo Kickstarter: Photography Class for Kids.
The Photo Kickstarter curriculum was developed by a team of educator/ photographers with kids in mind. Our expert instructors developed a curriculum that teaches kids many of the same photo principles that we communicate to our adult students. But, Photo Kickstarter teaches these sometimes complicated ideas in a way that is meaningful to kids.
This kids photography class is comprised of two classes, each two hours in length. Kids between the ages of 7 and 13 are broken up into groups so that they receive age-appropriate instruction. This fun, hands-on class will have students looking at the world around them with a whole new perspective. It will teach them to look at things differently and express their individuality through pictures.
Lessons and assignments include: digital camera functions, portraits, sports/movement, perspective, composition, and more.
The photography lessons take place at Founder's Park on the border of Fishers and Carmel. This quiet, scenic park has almost 40 acres of natural beauty, as well as a large shelter with bathrooms and a sizeable play area. Students should bring their own digital point-and-shoot camera. This class wil not cover DSLRs. All other materials are provided. No prior experience necessary!
Give your kids a creative kickstart in photography. And don't be surprised when they start telling YOU how to take a better picture.
Required Equipment: Point and shoot
Suggested equipment: Camera manual
Pre-requisites: None
Only 10 spots per class! Small classes with lots of instructor interaction.
**Photo by April and Jay Photography
Where

Founder's Park
11675 Hazel Dell Parkway
Carmel, IN 46033


Weekly Event - Every Monday: 9:00 AM to 11:00 AM (EDT)
Add to my calendar
Organizer
Indy Photo Coach
Indy Photo Coach is a unique photography school focused on offering personal instruction and exciting photography opportunities to Greater-Indianapolis area residents at an affordable price. IPC has created a community of photographers by implementing our instructors' passion for photography and face-to-face learning.
IPC's mission is to provide a unique, affordable, hands-on experience for individuals and groups interested in improving their digital photography skills by connecting them with expert photographers.
Since our start as Indianapolis' first consumer-focused digital photography school in 2008, we have grown to serve thousands of local photo enthusiasts. We are proud of the fact that many semi-professional and professional photographers in and around Indianapolis got their start with IPC. The deep knowledge pool that our instructors and classes provide keep students coming back. And, the supportive environment that we foster allows our students to forge friendships that outlive the classroom.
Photo Kickstarter: A Photography Class For Kids (Oct)