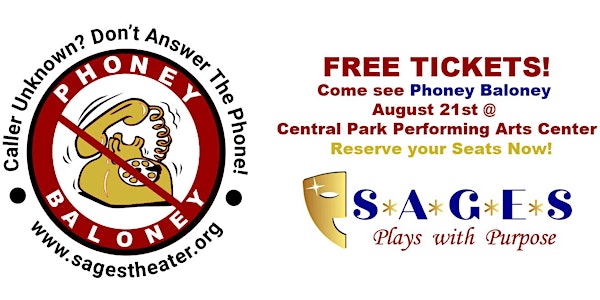 Phoney Baloney -- a Play with Purpose about Stopping Scams!
Location
Central Park Performing Arts Center
105 Central Park Drive
Largo, FL 33771
Join SAGES' talented cast of characters as they expose the dirty, rotten tricks of scammers and show you how to stop them once and for all!
About this event
SAGES (Senior Actors Guild & Education Services) is BACK with a PURPOSE! Join their talented senior cast as they present this FREE & FUN play, Phoney Baloney for the second year in a row.
In comedy, there must be an element of truth to pack a punch. This show is packed with humor! A group of older adults are targeted by phone scammers as "easy marks." They gotta get smart fast AND keep informed. You do, too! Scams evolve. Scammers grow sophisticated. Seniors on stage will have you cheering as the spotlight shines on fraud and how to prevent it. Open to the public with NO COST for admission. Family friendly and handicap accessible. Play runs 60 minutes, followed by 30-minute Q & A with Largo Police Department and Pinellas Consumer Protection Services giving you the low-down on what the low-lifes are up to lately.
Doors open for limited general seating at 1:00 pm with a reservation. No ticket needed, your name will show on our Reservation List. Walk-ins will be seated at 1:45 pm.
Our show will be accessible to the Deaf community through ASL interpreters. If you would like to be seated in that designated area, please let us know when you arrive.
Audience feedback is encouraged and appreciated by SAGES with goody bags and a Prize Drawing at each show!
Questions? Please call SAGES at 727-536-7076.