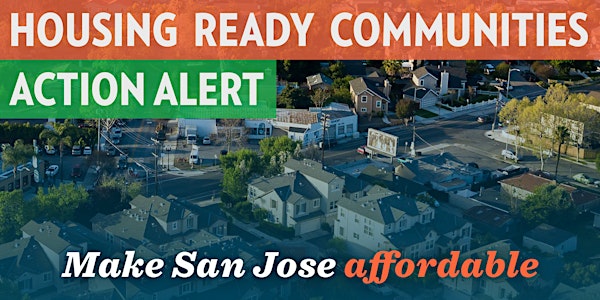 Phone-banking for Measure E
When and where
Location
Measure E Campaign HQ 19 N 2nd St San Jose, CA 95113
Description
Join the campaign to pass Measure E in San Jose
Please join Sacred Heart Community Service and the Housing Ready Communities Action Network on Monday, February 24 at 6:00pm to help build the momentum needed to pass Measure E. We are co-hosting a phone-banking night to call local residents to encourage them to vote YES on Measure E in the March 3 Primary Election.
Venue change
Now meeting at Measure E campaign HQ: 19 North 2nd Street, San Jose, CA 95113
Who
You. Regardless of where you live or work, your voice is valuable and needed to ensure our community raises new funding to move forward with building new homes needed to end and prevent homelessness throughout Santa Clara County.
When
Monday, February 24, 6:00-9:00pm
Registration required. Capacity limited. Snacks provided. To save a spot, please register on this event page.
Can't make it on the 24th? Please sign up for other Measure E action opportunities:
Questions? Contact Bob at 408-961-9895 or action@housingready.org
How
Measure E is a unique opportunity to help make our community more affordable - and we need your help! We'll have everything you need, including training, phones, scripts, and refreshments - so just bring yourself (and a friend or two!), and register here so we have an accurate count.
Please help spread the word and invite others to join us. To make it easy to share, here is a shortcut link for this event registration page: http://feb24.housingready.org
Why
This March, San Jose residents will be voting on Measure E - a transfer tax on properties valued over $2 million to raise significant new funding that can be used to build more affordable housing for our lowest-income residents, expand homelessness prevention programs and fund other critical housing strategies in San Jose (scroll down for more background on Measure E).
Learn More
What is Measure E?
Measure E represents a common-sense solution supported by a broad coalition of neighbors, community groups and housing experts. Measure E will help support investments to provide affordable housing for veterans, seniors, teachers and first responders, will help fund more innovative housing solutions like more housing options near existing transit, and will help support services to transition the homeless off the streets and into housing.
Measure E is a transfer tax on luxury homes and commercial properties valued over $2 million. That means Measure E will only apply when these expensive properties are sold. Measure E affects only two percent of the most valuable properties in San Jose.
San Jose's current transfer tax rate of $3.30 is significantly lower than San Francisco's rates of $5-30 and Oakland's $10-$25 rates. After Measure E passes, San Jose will still have the lowest transfer tax rate of any major city in the Bay Area.

How will the money raised by Measure E be used?
It is expected that, on average, Measure E will raise $50 million a year. On December 10, 2019, the San Jose City Council passed an initial spending plan that would allocate funding:
45% for extremely low income (ELI) households (below 30% of area median income)
35% for very low income (VLI) and low income (LI) households (30-80% of AMI)
About 10% for moderate-income households (80-120% of AMI)
10 percent for homelessness prevention
Any changes to the spending plan would require 60-days' notice for a public hearing and a 2/3 City Council vote.
Why does the City of San Jose need more funding?
The City of San Jose needs an additional $520 million to meet its affordable housing goal of 10,000 new units by 2023. At the time that redevelopment agencies were dissolved in 2011, San Jose generated $40 million annually in funding for affordable housing. Since that time, the city has lacked a consistent revenue source to produce more affordable housing.
San Jose, like the region surrounding the city, has a housing crisis. Homelessness has increased 40% since 2017, which is visible as you move around the city. People are being displaced at an alarming rate due to rising home prices. Renters in San Jose must earn $52 an hour – totaling almost $109,000 a year – to afford the monthly rent for a 2-bedroom apartment, while affording a median priced single-family home demands around $108 an hour, or $224,000 annually. The city's minimum wage currently sits at $15.25 an hour.
The Measure E coalition is led by the SV@Home Action Fund. You can find more Facts and FAQs, as well as the latest news and endorsements, by visiting the Measure E website: http://affordablesj.org
Together, we can make San Jose affordable!