Phoenix Venture Capital Fast Pitch Conference AND City Summit Mastermind
Description

Pitch and network with venture capitalists, angels and accredited investors from Silicon Valley and throughout the country at the Phoenix Venture Capital Fast Pitch Conference AND City Summit Mastermind.
Black Dog Venture Partners has hosted investor events throughout the conntry and has raised millions of dollars for start ups as a direct result of our fast pitch conferences.
The winning pitch wins a VIP sponsorship at the City Gala during Oscar week. A $10,000 value with priceless networking opportunities. YOU WANT THIS!
PLUS you get to participate at the City Summit with world class speakers and networking! We are excited add a special VIP Masternind hosted by our partners at City Summit.
City Summit is a world class, socially conscious business acceleration experience. Our Summit's mission and the outcome is to elevate each of our attendee's business acumen by giving them tools, techniques, knowledge, insights, motivation, and top-level networking relationships. We want our City Summit attendees to learn and grow.
The City Summit invites proven business leaders, strategists, and business owners to teach our community how to increase revenue, generate leads, diversify revenue, establish authority, raise the value of the business, elevate brand awareness and concentrate on hyper-growth. The topics of the City Summit range from leadership, innovation, marketing, business fundamentals, operations, and inspiration.
The ultimate goal of the Summit is to fund the City Gala, and assist non-profit organizations that are solving global challenges such as advancing health and wellness programs, feeding hungry, sheltering homeless, liberating slaves from human sex trafficking, educational opportunities for under-served, and mentorship programs
This year we will support the beneficiaries of the 2019 City Gala. The 2019 beneficiaries are: Giving Hart, Tucker Teens & Tots, Rock Against Trafficking, Journey's Dream, Selah Freedom, United Intentions, From Orphan To CEO. Do not miss your opportunity to grow, share, contribute, and learn!
Investor Panel:
Scott Kelly, Black Dog Venture Partners
Scott Kelly Founder and CEO of Black Dog Venture Partners, is a 25 year fundraising, marketing, sales, training and publicity veteran. Scott has raised millions of dollars in capital for disruptive companies, garnered national media coverage for hundreds of regional and national brands and generated millions of dollars in revenues for the companies he has represented. He has also trained over 1,000 sales people and has taught marketing at the university level in the United States and Europe.
Michael Hool, Hool Coury Law
Michael Hool is our founding Partner and is a pioneer in the field of venture formation and financing in the Southwest and California. Michael works with select companies as an advisor, legal counsel and periodically serves in executive and board capacities. Michael practice is focused primarily on corporate and commercial representation, securities, finance and venture capital, mergers and acquisitions, corporate governance matters, and all aspects of counseling emerging companies. He represents both issuing companies and investors in a large variety of financing transactions. In the past fiscal reporting year, the firm has assisted entrepreneurs in over $187 million in funding transactions and has assisted funds raise over $100 million for investment in emerging companies.
Michael represents or advises accelerators, incubators, and has formed three active angel investment groups, including ATIF (predecessor to AzTech Investors) and Canyon Angels. Michael has chaired or served on the board of Arizona Venture Capital Conference, BioAccel, AzTech Investors, Canyon Angels, and the Indus Entrepreneurs. Mr. Hool is currently active in formation of three separate seed stage investment funds. Mr. Hool is highly sought after as a speaker and author of papers on a broad variety of topics. Michael is also active as an investor in a growing portfolio of emerging companies.
Todd Belfer - Managing Partner of Canal Partners
Mr. Belfer is responsible for all aspects of the company including the identification of potential acquisition targets, due diligence, financial analysis and final investment decision making. Mr. Belfer currently serves on the boards of Allbound, PetDesk, Lightpost Digital, and MobileLogix.
Mr. Belfer has a long history of entrepreneurship and has been involved with a wide range of businesses throughout his career. In 1990 he Co-Founded Employee Solutions, Inc., a professional employer organization which he helped take public in 1993. He also Co-Founded a leading sports nutrition company, M.D. Labs, in 1993 and after realizing triple-digit growth sold his interest to a private equity firm in 2002. He was a founder of the successful Japanese restaurant chain RA, which has grown to more than 30 locations throughout the United States and was sold to Benihana in 2002. In 2002 Mr. Belfer founded NETtime Solutions, LLC – a Software as a Service (SaaS) company dedicated to delivering on-demand time and attendance service, which was sold to Paychex in 2014. Additionally, Mr. Belfer serves on the Board of Directors for Omedix, Deal Current Network, Limos.com, ClickDimensions, and Sauce Pizza & Wine.
Mr. Belfer has been a dedicated volunteer with Big Brothers and Big Sisters for over 10 years. Nationally, he is recognized for his work with The American Israel Public Affairs Committee (AIPAC) and received the prestigious Regional Wings of Memory Society "Excellence in Leadership Award" presented by the United States Holocaust Museum in April 2006 for his ongoing support and dedication to the Holocaust Museum and its efforts. He is also a Board Member of Crossroads, a recovery center for men & women.
Mr. Belfer has a Bachelor's Degree in Finance and a Real Estate Degree from the University of Arizona.
Sasha Talebi - Founder and Managing Partner Sequence Venture Group
Sequence Venture Group is an early-stage venture capital investment and advisory firm headquartered in Newport Beach, California.

Over the past two decades, Mr. Talebi has launched or helped fund operating companies across a range of industries including ecommerce, wireless, mobile, enterprise software, financial services, healthcare services, clean energy, social media, and data analytics.
In conjunction with his work in the startup community, Mr. Talebi plays a critical role in technology transfer and commercialization of advanced integrative science projects through his relationships with university research groups, private think tanks and academic institutions.
Mr. Talebi serves on the boards of several venture-backed companies, non-profit organizations and public-private partnerships.
Prior to launching Sequence, he managed investment portfolios for hedge funds of various strategies on behalf of multinational family offices and private banks.
Mr. Talebi is a graduate of the University of California, Irvine where he earned a bachelor's degree in astrophysics and an MBA from the Paul Merage School of Management.
Tom Lathrop -Venture Capital Investor
Tom is an experienced venture capital investor and board member in privately held companies. Operational experience includes company building, executive management, strategic planning, business models and go to market plans, corporate governance, business development, financial management, liquidation strategies.
Tom is currently an investment director sourcing, structuring and closing venture, private and public equity investments for Intel Corporation. Active as a board of director observer at multiple companies ranging from stealth start-ups to a company with $200M revenue. Examples of private and publicly traded investments closed include: Anobit (Israel): acquired by Apple, DSSD (USA): acquired by EMC, SandForce (USA): acquired by LSI, Nanosys (USA), Neosem (Korea), Persimmon Technologies (USA) acquired by Sumitomo Heavy Industries, Ovonyx (USA) acquired by undisclosed, Pioneer Materials (USA) and Micronics Laser Systems (Sweden).
Tom was a board member of the Sacramento Area Regional Technology Alliance and co-chair of its start-up mentoring program. Tom joined Intel in 1988 and has held multiple positions in finance, marketing and business development before joining Intel Capital in 2007. Tom was the controller for a $2B P&L during which time he founded an internal start up providing end user leasing products for Intel's channel partners. Prior to Intel, Tom worked for McDonnell Douglas supporting shuttle operations for NASA.
Janice Orlando Private Investor - Board of Directors, Pasadena Angels
The Pasadena Angels was founded in 2000 and is one of the longest running angel investing groups in Southern California. We have invested over $75 million in 190 plus companies. Pasadena Angels funded companies have gone on to raise over $500 million from additional funding sources such as venture capital and private equity. Recent notable exits for the Pasadena Angels are Mind Body Software (NASDAQ:MB) reaching $1 billion and Bluebeam Software, acquired by Nemetschek for $100 million.
The Pasadena Angels has been consistently ranked as one of the top ten angel investing groups in the country according to Forbes Magazine (2015) and Angel Resource Institute's HALO report (2017). A nonprofit entity, the Pasadena Angels offers early stage start-ups capital investments; as well as mentoring from the expertise of more than 100 investor members with over 4,000 years of combined business expertise. Our $1.5 million PA Fund 1 was formed in 2016 with the sole purpose of co-investing exclusively in deals subscribed by Pasadena Angels members.
Anthony DiGiandomenico Co-founder of MDB
Co-founder of MDB, Mr. DiGiandomenico focuses on corporate finance and capital formation for growth-oriented companies. Prior to forming MDB Capital, he served as President and CEO of the Digian Company, a real estate development company. Mr. DiGiandomenico holds an MBA from the Haas School of Business at the University of California, Berkeley and a Bachelors of Science Degree in Finance from the University of Colorado.
Dan Farrell Chairman & CEO Privos Capital
Mr. Farrell is the Chairman & CEO of Privos Capital, a global Multi-Family Office (MFO) LP investment firm.
As a multi-family office, our family office partners run successful private equity firms, secondaries, sovereign wealth funds, hedge funds, fund of funds, real estate funds, venture capital firms, wealth and asset management firms, foundations, endowments, multi-national corporations, early stage venture firms, foundations, global and local businesses.
Our family office partners own international corporations, including national airlines, global shipping companies, African mining companies, Hollywood studios, Australian junior mines, US real estate funds, Hong Kong global businesses, US private equity secondary funds, Argentinian vineyards, Canadian oil sands energy companies, London property companies, and Arab surgical centers and hospitals. We bring an impressive club of world wide influence, business experience, and wealth. Our partners are both LPs and GPs mixing it up on the world stage. To work with our firm, you must a family office passionately engaged in changing the world.
Our People have deep experience helping family offices turn highly complex and confidential financial problems into opportunities and successful liquidity events, whether from an IPO or successful trade sale. We are experts in working with the Next Generation, Millennial ("NextGen") family office investors and family members who embrace ESG, SRI and sustainable investments.
Mr. Farrell has lived and worked in New York, London, Europe, and the Middle East. He is one of the leading experts on the world-wide investments and fund allocations of global family offices. Mr. Farrell currently serves as a senior strategic advisor to one of the largest sovereign wealth funds in the world, a leading private equity fund, and is a member of the board of a global investment firm. Prior to joining Privos, Mr. Farrell was a partner in an international law firm. He is a frequent speaker at private equity, hedge fund, venture capital, life science, real estate, energy, impact, ESG, and alternative investment conferences. He has been featured Bloomberg and the international financial press.
Sergio Marrero
Sergio Marrero is an investor, serial entrepreneur, facilitator, researcher, coach, and project manager who graduated from the Harvard Business School and the Kennedy School of Government with experience in strategy and innovation consulting, startups, research, manufacturing, venture capital, and design. He has a breath of background to lead the creation of both physical and digital innovation initiatives. Blockchain consultant and researcher, he is the producer of podcast Blockchain Talks and Innovation Talks covering events with experts and startup founders. He currently is an investor at Venture University, a fund and investor bootcamp based in San Fransisco.
MANY MORE INVESTORS SCHEDULED TO ATTEND!
Testimonials from past conferences: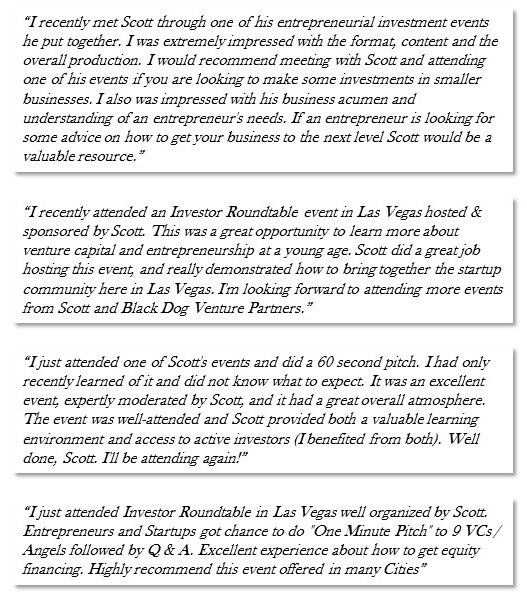 This event will sell out so register today!
Looking forward to meeting you all.
Sincerely,
Scott Kelly, CEO
Black Dog Venture Partners