Sales Have Ended
Ticket sales have ended
Thank you for your chicken love!
Sales Have Ended
Ticket sales have ended
Thank you for your chicken love!
Description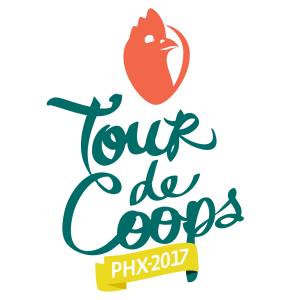 Tour de Coops is a self-guided tour and fun event showcasing backyard hen houses, sustainable gardening practices and small family owned farmers in an urban setting.
Your Farm Foods, a local organization that focuses on connecting consumers directly to local growers through educational and fun events, an online marketplace, and a website.
YFF organizes Tour de Coops with the help of many volunteers and community partners. We hope you will join this year's celebration to make backyard chicken keeping something everyone in the Valley is BAWKING about while supporting our mission to inspire growing food and eating locally grown foods.
when
Sunday, November 5, 2017
Check-In is open from 9:30 am-12 pm
Coops are open from 10 am- 3 pm!
where
All Tour-goers MUST check-in at Tour Headquarters: 2225 N 16th St, just north of McDowell (Southwest Autism Research & Resource Center, SARRC, Vocational & Lifeskills Academy Satellite Office – NOT where Google Maps automatically sends you. Use address, not location name).
At check-in, you will receive a sticker that grants access to all six of the day's coops which are located in Greater Downtown Phoenix (within a 5-mile radius of Tour Headquarters). You will also receive a map that directs you to each of the coops!
Each coop will have a guest speaker or activities!
Coop 1. The Headquarters - SARRC will be our check-in site, complete with SuperFarm SuperTruck. At 10 am Kerry Audisho, Certified Health Coach, Gardener, Foodie, Owner of @YourFarmFoods and The Importance of Sustainable Backyards/Gardens and Local Food.
Coop 2. At 11 am, Laura Ungrvy, Owner of @BloomingRanch, organzier of Chicken Math Club, gardener, farmer, rancher will talk about chicken feed and fermented feed.
Coop 3. At 12 pm, Cricket Aldridge Owner of @gardenvariety.life, organizer of The Arizona Honeybee Festival on Nov. 18, beekeeper, gardener will be talking about bees.
Coop 4. At 1 pm, Steve McCarty Rock Star, Singer, Song Writer, Chicken and Garden Enthusiast and husband to Trish McCarty, Founder of @starshineacademy will be talking about the affects of a school farm/garden.
Coop 5. Will have local farm fresh eggs and produce for sale during the tour.
Coop 6. Will have children activites, complete with coloring, books and more!
what to know:
Pet policy
We are sorry but due to biosecurity measurements, there are no pets on the tour.
Accessibility
The tour is not compliant with general public accessibility standards, due to the private agrarian nature of the sites.
Appropriate Footwear
Please wear closed toed shoes and covered footwear. In order to keep our flocks and animals safe, all attendees must take biosecurity measurements when entering and exiting each property. Which means, you will need to place the soles of your shoes in a bleach like chemical.
Restrooms
There will only be two location with bathrooms available. They will be marked on the tour guide you will be given upon check out. Restaurants and businesses along the route may provide bathrooms at their own discresstion.
Attendees
All children must be guided by their parents and respect the animals and plants on each property. Our coop owners work hard to care for their chickens, yards, and other animals properly. We ask that nothing is moved, misplaced, or removed from the property and that all living plants and animals are not touched but observed and admired.
Access
Please limit access to the indicated public tour areas, please do not just wander around the property.
Sanitation
Please dispose of your own trash.
Parking
Please use designated parking areas. Please respect neighbor's driveway entries when street parking, follow all city regulations when street parking, and no parking in coop site driveways.
Food + hydration
Please stay hydrated / sunscreen / hat
Participants are responsible for their own food and hydration between coop sites. No food or drink shall be brought into any of the coop sites.
what to wear/bring
Please wear shoes that are comfortable for walking around in and stepping in dirt or mud as some farms may have some dirt.

Please bring water as none will be provided.

Tour de Coops will be held rain or shine, so dress according to weather.

Your smile and your friends of all ages!
how
Purchase your tickets online at yourfarmfoods.com or on eventbrite.com/tourdecoops
Advanced ticket pricing:
Adults 13 & up = $18

2-Pack of adults = $30.00

children 12 & under = free