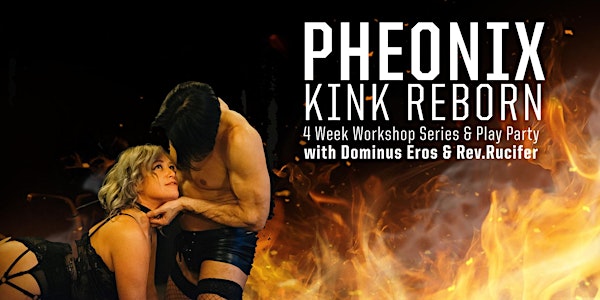 Phoenix - Kink Reborn: 4 Week BDSM Series & Play P
Kink 101 + Workshops that explore all things BDSM, restriction, impact and Kinky Tantra. We conclude with a themed Play Party!
When and where
Date and time
Wednesday, September 22, 2021 · 7 - 9pm EDT
Location
Dawn 1406 38 w 32nd street suite 1406 new york, NY 10001
Refund Policy
Contact the organizer to request a refund.
Eventbrite's fee is nonrefundable.
About this event
Phoenix - Kink Reborn: 4- Week BDSM Workshop Series & Play Party! - Wed 7-9:00 pm
Note: Keeping with Eventbrite guidelines, this event is not sex based, hookup style, explicit or pornographic. This an educational workshop and experience with both theory and practical elements as explained in details below.
Phoenix: Kink Reborn is a 4-week BDSM and Kink workshop series that will explore a range of topics, play, and dynamics to get you back into the swing of things as the world begins to re-open. Whether you are new or familiar with kinky play and BDSM, we will deepen knowledge, explore practical techniques and offer free time to play and practice.
This is our first in-person workshop series after a long 19 months of virtual livestreams and experiences. We are excited to share in knowledge, exploration and play as we begin to come together again. Each session will include an overview and discussion, demonstration, and free play time to practice and ask questions. We will also review the dynamics of how to engage at a play party and what to expect at them with our end of the series Halloween Play Party on Oct. 22nd!
Led by Dominus Eros and Rev. Rucifer!
BDSM can seem intimidating, but play, exploration and curiosity is nothing to be afraid of. We hope to create a space to play in a fun, safe and healthy way.
Week 1: Introduction to Play Sept 22nd 7pm, going over all things Kink and BDSM as well as how to engage at play parties. We focus on scene setting, role playing and power dynamics.
Week 2: Restriction and Sensory Deprivation Sept 29th 7pm, will show the variety of ways to tie down your play partner and take away senses to enhance overall experience.
Week 3: Impact and Sense Play Oct 6th 7pm, demonstrates proper use of tools to elicit erotic responses in your partner for pain and pleasure along luscious sense play.
Week 4: Kinky Tantra Oct 13th 7pm, offers a sacred space where Kink meets the Intimacy of Tantra. You will learn how to blend the best of both worlds.
Halloween Play Party Oct 22nd 8pm, Take all that you learned and bring them to this exciting evening, one that you won't forget!
Tickets & Pricing
Entire 4 Week Series Early Bird $80, Regular $140
Entire 4 Week Series & Play Party Early Bird $95, Regular $170
Drop-in single class Regular $40 (To purchase tickets for weeks 2-4 only, please click on the bold week titles above, contact with any questions)
Play Party only Early Bird $25, Regular $40 (Click to purchase tickets)(Note: You don't have to take the series in order to come to the party, party is open to all)
NOTE: We encourage everyone to have an open mind as this is a fun, open and explorative learning environment. We practice and review informed consent practices with an emphasis on mutual desire. We do not pair people up, and encourage guests to make friends and play to their level of comfort ensuring that all are able to learn and grow. Couples can stay paired the whole time or play with others if you so choose.
This event is perfect for all experience levels and will be our first in-person gathering. To comply with Covid-19 safety precautions, proof of vaccination is required to enter the space. Please bring your vaccination card or Excelsior pass. Note: For Play Party only 21+ age to join, 18+ for workshops. 
What to expect at the workshop?
Introduction to topics and themes in a human, authentic and trauma-informed approach
Practical demonstrations with time to practice skills & techniques
Kink Wear inspired class; however you can dress in any gear/sexy/regular clothing if you want. You will learn how to use all items shown in a safe way.
St. Andrew's Cross and Slapper Bench setup!
Play toys, rope, floggers, paddles and more will be available to add to the scene and to help you be able to create the mood for intense play and fun.
What to bring?
Your favorite tools & toys
Proof of vaccination
Open, curious minds
PagansParadise.com
DaddyRetreat.com
About the organizer
Pagans Paradise hosts events that are Interactive, Educational, Body and Sex positive for all gender identifications, sexual orientations and lifestyles. No discrimination, no judgments and no questions asked!
Our mission is to normalize every kink, fetish and desire and provide a safe atmosphere for all enthusiasts to come play and learn. Most events will be in our studio in Greenwich Village area on 14th St, or via livestream and virtual experiences. 
We invite all walks of life to come and share in our unique experience while we explore human sexuality, touch and connection in fun and exciting ways. We also encourage other enthusiasts, veterans in the field to be able to come up with ideas for new meetups and run them with our Pagans Paradise team.
*Note we find value in all events posted, however for transparency & accountability some instructors may or may not have affiliations with groups that may not fall in line with our mission and what we find important.*