About this Event
It's that time of year again! Join key members of the entrepreneurial community at the 2019 PHL Innovation Picnic for great food, drinks, games, and lots of networking. Taking place at the Philadelphia Navy Yard, the PHL Innovation Picnic connects the area's tech scene, including entrepreneurs, investors, community builders, and enterprise leaders alike. The last two years collectively brought together 1,600 conveners and raised over $22,000 in proceeds for local youth-innovation nonprofits. In 2019, we plan to grow our local roots regionally to an even larger innovation ecosystem.
Every year the PHL Innovation Picnic donates proceeds to a local youth-focused non-profit shaping the innovators of tomorrow. This year we want you to tell us who should receive the picnic proceeds! Be sure to enter your nomination when registering.
Together with our partners, Ben Franklin Technology Partners, PACT, Philly Startup Leaders, University City Science Center, Philly New Tech Meetup, PIDC, New Jersey Tech Council, and Venture for America, we are extending our reach to help grow our region's businesses.
Philadelphia's entrepreneurial ecosystem needs your support. We hope you join us June 27 for our unofficial kick-off to Summer!
*Please note we will not accept refunds for this event. Your purchase will go directly towards supporting future entrepreneurs. Thank you!
***************************************************************************************
The PHL Innovation Picnic Games are Back! Scroll Down for More Info...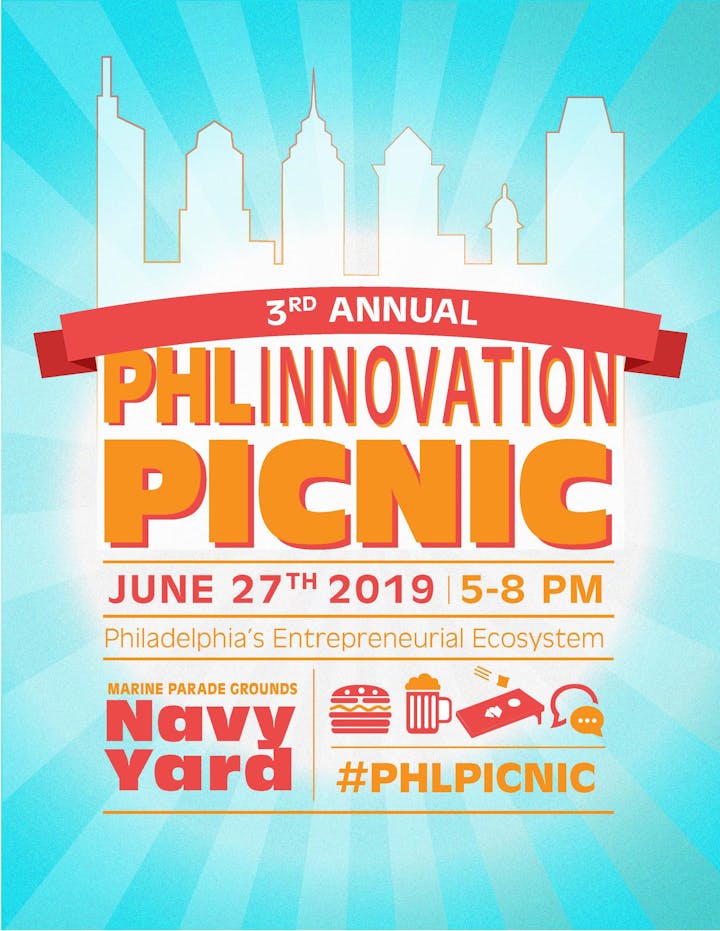 Are you a badminton badass, a sack race superstar, or a corn-hole connoisseur? Become a legend and give back to your favorite cause on June 27th. Up to 15 local companies with teams of 5 - 8 will compete in a classic field day showdown during the PHL Innovation Picnic. Make sure your company is one of them!
How Does It Work?
The PHL Innovation Games are a bracketed competition consisting of seven rounds of games and physical activities officiated by Broadpath. Each team will be randomly matched to compete in the first four games. Eight teams with the most points by the fourth game will advance to the last three rounds until a winner is announced.
The winner becomes the new reigning 'PHL Innovation Picnic Legend' and gets a trophy to prove it. The cost to participate is $250 for teams of 5 - 8. This comes with five tickets to the PHL Picnic (each includes three free drinks, free food, and more). Additional tickets can be purchased at the registration price. First come first serve, so get in the games ASAP!