Dieses Event ist beendet.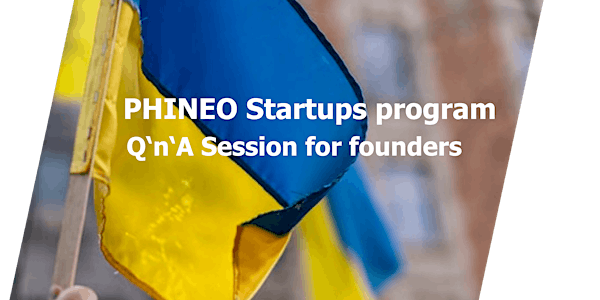 PHINEO Impact Startup Program - Q&A Session for founders (via MS Teams)
This Q&A Session is aimed for startup founders interested in participating in the PHINEO Impact Startup program.
Zu diesem Event
Join us for our last Q&A session before applications close on September 30. In this session you will learn more about the program as well as the application process. Furthermore, you will get to know two of the team members standing behind PHINEO's Impact Startup Program. We will dedicate time to address all of your questions on the program and the application process.
On this occasion we are pleased to co-organize the event together with Vitsche e.V., a Berlin-based Ukrainian organization that supports Ukrainians through volunteers, monetary donations and donations in kind (learn more here: https://vitsche.org/).
Social entre­pre­neurs­hip plays a key role in addres­sing the various, con­stant­ly chan­ging cri­ses and chal­len­ges we face in socie­ty. The team of the PHINEO Impact Startup Program seeks to con­tri­bu­te to this by edu­ca­ting and equip­ping a new genera­ti­on of com­mit­ted foun­ders with the necessa­ry exper­ti­se and skills to empower them to have a grea­ter impact.
We are looking forward to your participation!
Learn more about the program nd apply here: https://www.phineo.org/impact-startups