Philly's Best Single Party - Making XiaoLongBao/Pork Soup Dumplings
Description
Great News! Yin Meets Yang is gladly partnering with 2RedBeans to offer the best single party ever in Philly, making XiaoLongBao/Port Soup Dumplings at Original Dim Sum Garden!
2RedBeans is the biggest and most active Chinese dating platform that connects Asians and Americans in North America.
Yin Meets Yang, founded by a Wharton MBA, is the first ever platform in the Greater Philadelphia Area that is specifically designed and dedicated to uniting Eastern and Western singles who are looking for love. www.YinMeetsYang.com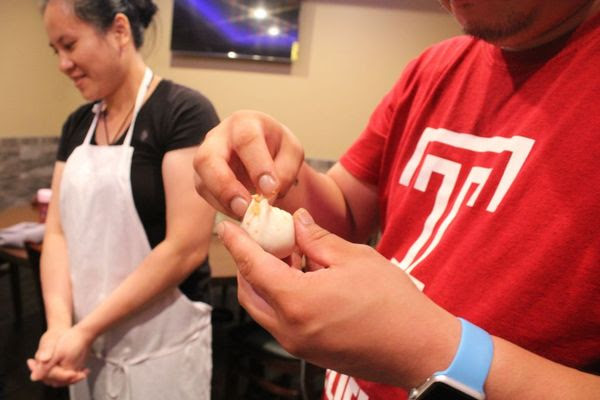 We all loved the original Dim Sum Garden - the xiaolongbao, the flaky scallion pancake, and the unassuming location in a fluorescent-lit spot under 11th Street's Hilton Garden Inn tunnel.
Xiaolongbao is a type of steamed bun (baozi) from the Jiangnan region of China, especially associated with Shanghai and Wuxi. It is traditionally prepared in xiaolong, small bamboo steaming baskets, which give them their name. Xiaolongbao are often referred to as a kind of "dumpling",
Tom's Dim Sum, (Original Dim Sum Garden) is a traditional Shanghai restaurant. They have traditional-style dumplings, fried bun, scallion pancakes and much more.

How This Works
Come to join us to learn how to make authentic Shanghai style xiaolongbaos at the original Dim Sum Garden! You will surely have a fun afternoon with other interesting singles and even better, in a real learning environment right at the well-known restaurant. Let's pursue tradition..
Guests will be placed into groups to compete with each other to see which team can make the best looking XiaoLongBao. Best opportunity ever to learn about each other's personality, compatibility, flexibility, communication style, and ability to learn new skill sets…
According to Tom, the restaurant's owner, they have had hundreds of workers who have been working on making XiaoLongBaos, but very few workers can actually make really good ones, because XiaoLongBaos are a very delicate dim sum. So, are you ready for the challenge? Who would be your best partner you can trust and team up with? At making XiaoLongBao or in real life?
PLACE: 59 N 11th St, Philadelphia, PA 19107, Tom's Dim Sum
TIME: November 19th Sunday, from 2pm to 4pm

WHO AND WHAT ARE THE AGE RANGES: Only open to singles. Male: from 40 years old to 60 year old; Female: from 37 years old to 55 year old

COST: $45/person prepaid, $55/person pay at door (CASH ONLY), including observing, learning, hands on making Xiaolongbaos, steaming the XiaoLongbaos (by the kitchen) you will have made, and eating one case (8 pieces) of the Xiaolongbao made by you, or made by your partner.

CANCELLATION POLICY: You will receive a full refund if:
- The event is canceled
- The event is rescheduled

CONTACT: 215-352-4324, Info@YinMeetsYang.com

NUMBER OF GUESTS ALLOWED: First sign up, first come. Please note that space is very limited. Tom's Dim Sum is a very popular restaurant in Chinatown. As a matter of fact, it is the first restaurant who made XiaoLongBao in Philly Chinatown. You will experience its tradition and legacy while connecting other singles...


HOW TO SIGN UP: