Philly Talks Trash: A Virtual Series on Waste
About this event
Philly Talks Trash: A Virtual Series on Waste is a monthly on-line program intended to educate and inspire you to participate in the imperative shift towards this new paradigm of zero waste that will replace our throw-away culture and help slow climate change.
The Series is a collaboration between the Philadelphia Neighborhood Networks' Environment Action Committee and the Plastic Reduction Task Force of Weavers Way Co-op, event hosts. Beginning January 20, and ending July 21, monthly programs will be offered featuring representatives from nonprofits, government programs, and businesses that are working to reduce waste and increase reuse and recycling in the Greater Philadelphia Region. Topics will include single use plastics, food waste and recovery, packaging, recycling, incineration, and litter and dumping. Each program will take place on the third Thursday of the month from 6:30 - 8:00 PM. Zoom links will be provided through emails.
June Program: Managing Food Waste at Home
June 16th 6:30 - 8:00 PM
We know that to reduce the impacts of food waste, like other waste streams, we must focus in large part on reducing the sources of that waste. Overproduction, overbuying, and unjust distribution, among other phenomena, have resulted in 40% of US food being wasted with 43% of it coming from our homes. We have decisions to make in the home kitchen to keep that 43% out of landfills where almost all of it goes, resulting in the release of climate changing greenhouse gasses and water pollution.
Join us on June 16th for an upbeat program that will provide a variety of strategies and ideas for keeping food scraps from your kitchen out of the landfill. "Managing Food Waste at Home" features cookbook writer and blogger Ann-Marie Bonneau, author of "Zero Waste Chef, and local business owners Max Hosey of Hosers Central Kitchen in the Market at the Fareway, and Coleen Falicki founder of Back to Earth Composting.
Schedule
January 20 Re-thinking Waste: The Story of Plastic and the Circular Economy | Recording
February 17 Food: Waste Reduction and Recovery | Recording
March 17 Philly's Trash and Recycling Crisis | Recording
Philadelphia History of Waste Management -- slides
April 21 Growing Circular Reuse Models in Foodservice and Grocery | Recording
May 19 Incineration: Why Philly Needs to Stop Sending our Trash to Chester | Recording
June 16 Managing Food Waste at Home
July 21 Litter and Dumping (Fugitive Waste)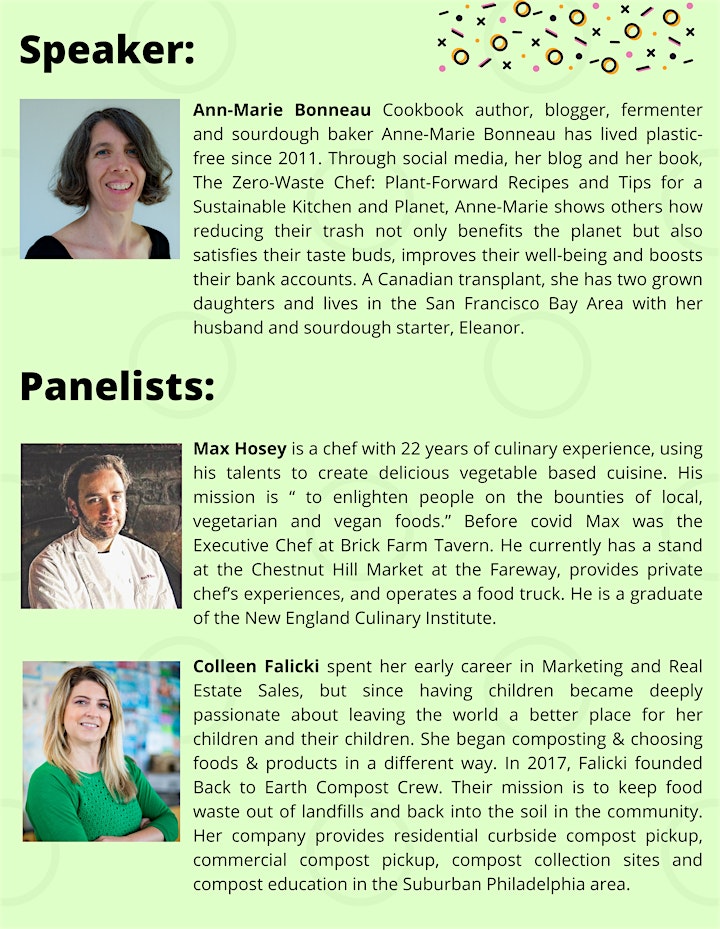 *Topics per date are subject to change. You will be notified in advance if you registered for a topic that is rescheduled.
Sponsors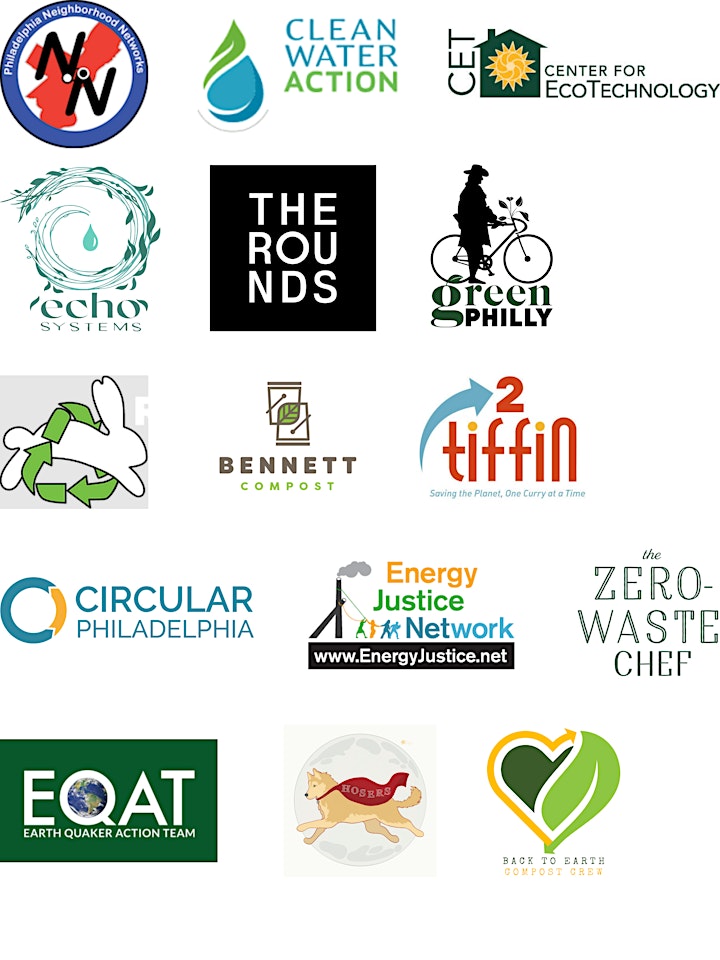 Organizations are welcome to be listed in this announcement as a sponsor. Please contact wastereductionphl "at" gmail.com for details.