Location
City Fitness
2101 South St
Philadelphia, PA 19146
Description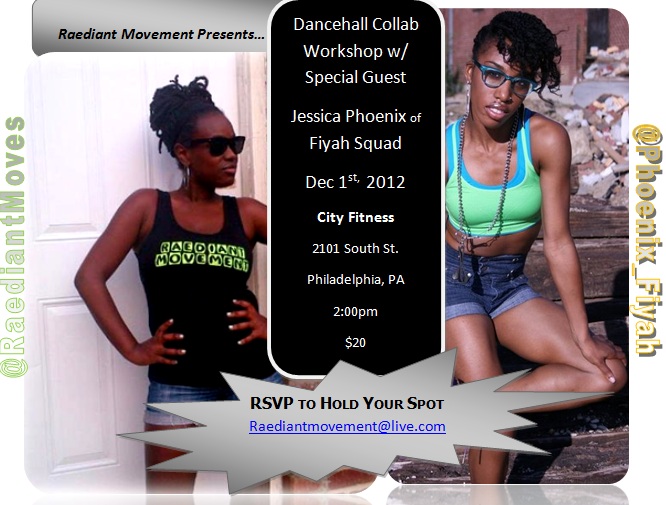 UPCOMING CLASS
SATURDAY, December 1st, 2012
ALL DANCE LEVELS WELCOME!
Special Workshop 2 Instructors
$20
$15 w/ Student ID
Cash Only Payments Will Be Accepted at the Door
RSVP IS ENCOURAGED
Email: RaediantMovement@Live.com to RSVP
DANCEHALL WORKSHOP COLLABORATION
JESSICA PHOENIX OF FIYAH SQUAD LADIES
(ATL)
Jessica Phoenix is the creator of dancehall performance group
featured on DanceJA, Dance Grind TV (ATL), and just recently in Jamaican Artist, Khago's new video, for Latonya Style's "Pretty Wine"
...
What Is Dancehall Dance About?
A Caribbean Street dance style derived from the music played at dances (parties) in Jamaica. The dance style is often coupled with popular songs and the movement is all about confidence, creativity, expression, attitude, and just plain fun. This style of dance includes elements of African, Hip-Hop, House, Zouk, Salsa, and Jamaican Folklore. The Music is called Dancehall and the style of dance is known as Flava. Dancehall dance can be seen in videos by artist such as Beyonce, Rihanna, M.I.A., and Sean Paul.
FIND OUT MORE ABOUT