Description

The Philippine Consulate General, Los Angeles and
The Philippine Trade and Investment Center, Los Angeles
in cooperation with the
Council on Trade and Investment for Filipino-Americans (COTIFA) and
Filipino-American Chamber of Commerce of Orange County (FACCOC)
Cordially Invite You to the

APRIL 23, 2013, 10 AM – 2 PM
Westin South Coast Plaza
686 Anton Blvd., Costa Mesa, CA 92626
With Distinguished Keynote Speakers
H.E. JOSE L. CUISIA, JR.
Republic of the Philippines Ambassador to the United States
HON. MARIA HELLEN BARBER-DE LA VEGA
Consul General, Philippine Consulate General Los Angeles
MR. ACHIMEDES C. GOMEZ
Trade Representative
and Philippine Business Delegation
BERNARDO M. VILLEGAS, Ph.D., Economist; Professor,
University of Asia and the Pacific
ROBERTO JUANCHITO T. DISPO

, President, First Metro Investment Corporation
ISIDRO A. CONSUNJI, President, DMCI Holdings, Inc.
RAINERIO "BONG" BORJA, President & Country Head, EGS Philippines
BENJAMIN PHILIP ROMUALDEZ, President, Chamber of Mines, Philippines;
CEO, Benguet Corp.
JESUS M. ZULUETA, JR., Chairman, ZMG Ward Howell
DAN LACHICA, President, Semiconductor and Electronics Industries in the Philippines
~~~~~~~~~~~~~~~~~~~~~~~~~~~~~~~~~~~~~~~~~~~~~~~~~~
The Philippine Investment Roadshow is generously sponsored by:
~~~~~~~~~~~~~~~~~~~~~~~~~~~~~~~~~~~~~~~~~~~~~~~~~~
Program
PART I - PHILIPPINE INVESTMENT ROADSHOW
feat. Philippine Business Delegation
Hosted by COTIFA and FACCOC
9:30 – 10:00 Registration and Coffee/Tea
10:00 – 11:30 General Session; Q&A
11:30 - 12:00 Q and A
12:00 – 1:00 VIP Luncheon
1:00 – 2:00 Roundtable Discussion, Networking, Photo Op
2:00 – 4:00 Break/Refresh
PART II - 4th ANNUAL SECRETS TO SUCCESS
feat. Young Filipino American Entrepreneurs
Hosted by FACCOC
4:00 – 5:30 Registration and Table Showcase
5:30 - 6:30 Reception and Networking
6:30 - 8:00 Secrets to Success Program feat.
Young Fil-Am Entrepreneurs
"How I (We) Made 6…7…8-Figure Business"
MENDRICK LEELIN, CEO/Founder – Yojie Japanese Fondue

MIA MCLEOD, CEO/President – McLeod & Associates Real Estate Brokers

MARY GRACE LAGASCA, Owner/Executive Director – InJoy Life Resources, Inc.

JAY BALDEMOR, President/Founder - GruvGear.com
RSVP to "Secrets To Success" can be made at:
SPONSORS: Email president@cotifa.org or info@faccoc.org for sponsorship opportunities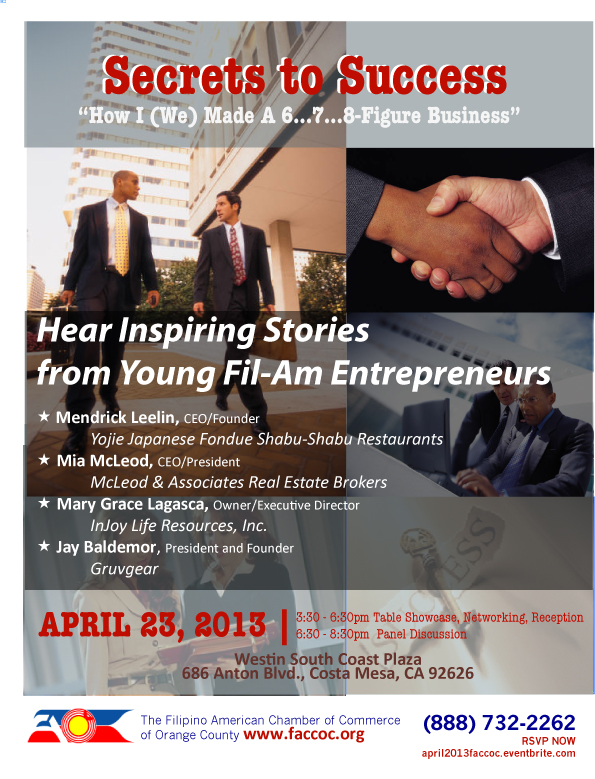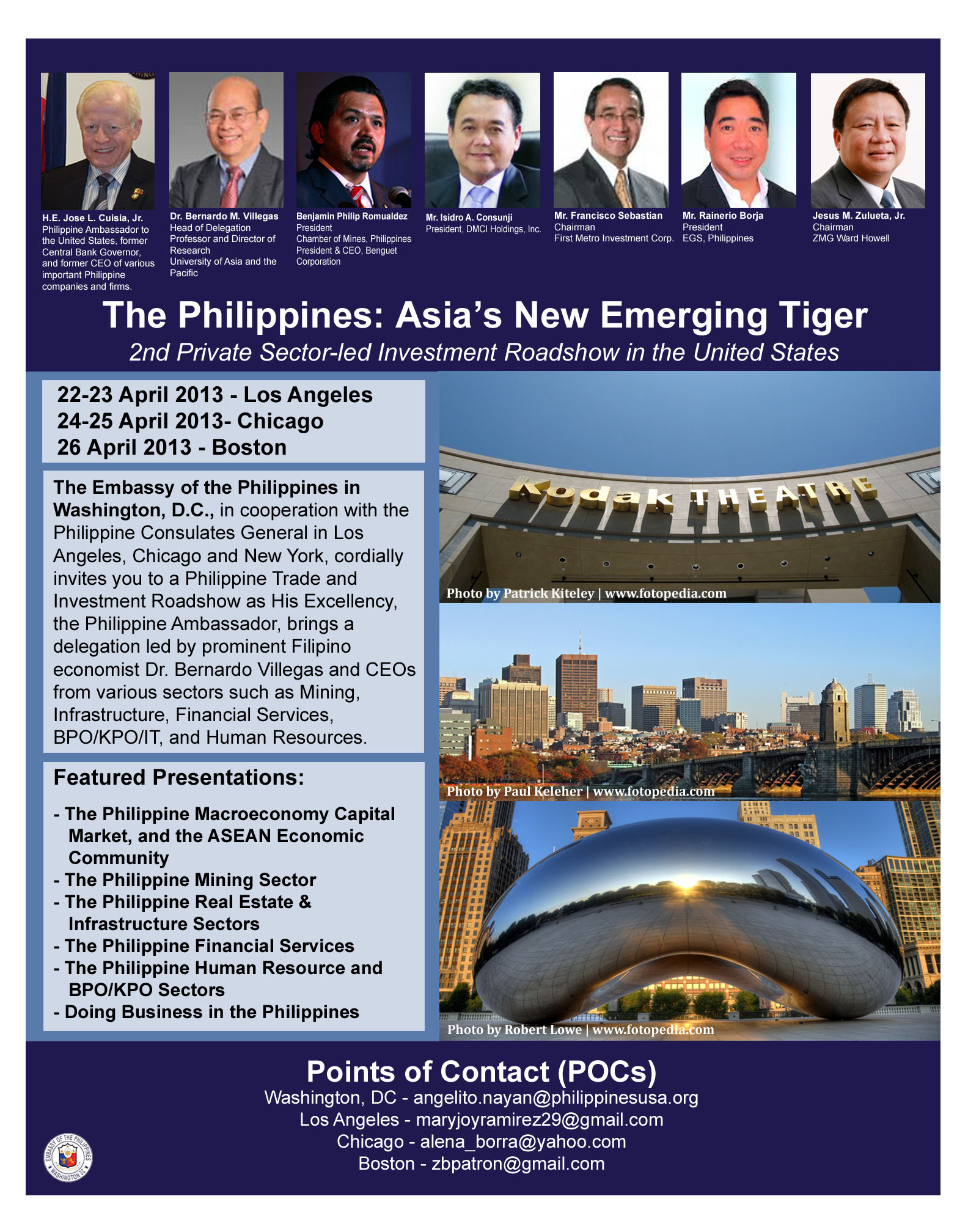 Organizer of Philippine Investment Roadshow
ABOUT COTIFA
COTIFA was formed by ten (10) well-meaning and business oriented Filipino Americans as an offshoot of the September 2011 trade and investment mission organized by the Philippine Consulate General through its Philippine Trade and Investment Center (PTIC) in Los Angeles. The primary goal of the organization is to serve as business advocate – educating, encouraging, advocating and facilitating active participation of Filipino-Americans in creating and building wealth that will benefit both the US and the Philippines.
COTIFA's mission is to identify, invite and facilitate the investment of US$1 million each from 1,000 Filipino-Americans in the area of agri-business, business process outsourcing, franchising, health and wellness and renewable energy.
The Philippine Trade and Investment Center, Los Angeles assisted in the organization of COTIFA.
Website:  www.cotifa.org
Mailing Address: 19611 Ventura Blvd., Suite 104 and 105, Tarzana, CA  91356
Phone/Fax: (818) 457-4790