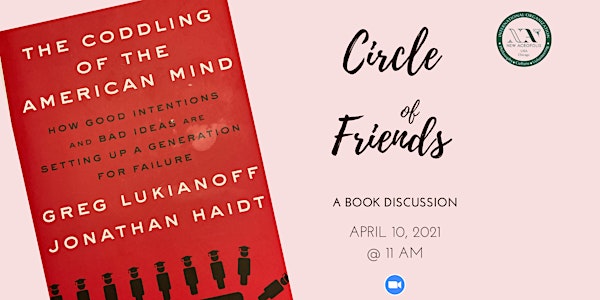 Philia - Circle of Friends: A Book Discussion
Our ideas affect our ability to face life's trials successfully. Join us for a book discussion and exploration of philosophical teachings.
About this event
The 2018 book "the Coddling of the American Mind" is about 3 "great untruths" that seem to have spread widely in recent years:
1. The untruth of fragility: What doesn't kill you makes you weaker.
2. The untruth of Emotional Reasoning: Always trust your feelings.
3. The untruth of Us Versus Them: Life is a battle between good people and evil people.
As an antidote to these untruths, the Stoics offer us "great truths" - life changing advice to help us build up our resilience, strength and clarity of mind to face the trials of life successfully.
How much are we influenced by these "great untruths"? What tools can we adopt from Stoicism and other philosophers to make ourselves more resilient, and to live life more authentically?
Join us to this lively discussion as part of our Circle of Friends activities.
P.S.
You don't have to read the book to participate in the event.
But you should read this book when you get a chance, it's really good...