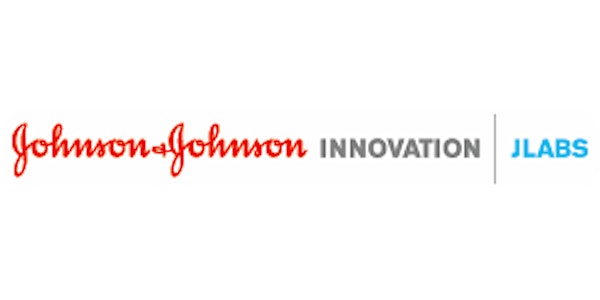 [Philadelphia session] Meet with Johnson & Johnson Innovation
By Johnson & Johnson Innovation, JLABS
Date and time
Thursday, March 23, 2017 · 10:30am - 12:30pm EDT
Location
Quorum at the University City Science Center 3711 Market Street, 8th Floor Philadelphia, PA 19104
Description

How can Johnson & Johnson Innovation (JJI) help you reach your goals? We know what you, the innovator, need to get your science to patients. It is because of you that JJI created regional centers that host a diverse team of science and transaction experts whose goal is to find high potential early-stage innovation and, if on strategy and a fit for Johnson & Johnson, create customized deal structures to help accelerate the science to the patient.

We are also supporting innovation in major life science clusters through the life science incubator, Johnson & Johnson Innovation, JLABS, with the ultimate aim of enabling commercialization of new healthcare solutions for patients. At Johnson & Johnson Innovation, we recognize that a good idea can come from anywhere, and we work with partners at all stages of research and development to nurture the innovation ecosystem and propel the best ideas into solutions for patients.

On March 23, hear from Johnson & Johnson Innovation leaders as they provide an overview of J&J Innovation goals and mission, highlighting how J&J Innovation interacts with the entrepreneurial community through JLABS, JJDC, and other J&J Innovation initiatives.

Speakers will also be on hand to meet with a handful of applicants one-on-one after the presentation.

Areas of interest include:

Consumer
Baby care
Beauty
Compromised skin
Feminine personal care
Oral care
OTC
Medical Device
Cardiovascular
Diabetes
Neurovascular
Orthopedics
Surgery
- Robotics
- Oncology
Vision care
Pharmaceutical
Oncology
Immunology
Infectious Diseases & Vaccines
Neuroscience
Cardiovascular & Metabolism












Event Partners:





Agenda:
10:30 AM | Registration Opens and Networking
11:00 AM | Presentation and Q&A
12:00 PM | Networking Lunch
1:00-5:00 PM | One-on-one Meetings*

*Companies must have applied for a one-on-one meeting ahead of time and be approved. The application period ends on February 23rd.


Participating Representatives:
Ibraheem Badejo | Senior Director, New Ventures, Johnson & Johnson Innovation read bio»
Stefanie Dhanda | Senior Director, Consumer Scientific Innovation, Johnson & Johnson Innovation read bio»
Kuldeep Neote | Senior Director, New Ventures, Johnson & Johnson Innovationread bio»
Samantha Lifson | Innovation Activation Specialist, Johnson & Johnson Innovation, JLABS read bio»


Fees:
Presentation & Lunch
FREE | General Public
FREE | Onsite
Includes presentation, Q&A, and lunch. All attendees must register, regardless of one-on-one meeting status. Pre-registration to attend the presentation, Q&A, and lunch will remain open until noon on March 22nd (or sold out).

One-on-One Meeting
FREE | Application
FREE | Accepted Companies
Companies must apply for a one-on-one meeting ahead of time. The one-on-one application period ends on February 23rd. Your application will be reviewed and you will be notified of acceptance by email. Acceptance of one-on-one meetings is not guaranteed as all applications must be approved.


About the Meet with... Series:
The purpose of the Meet with Series events sponsored by JLABS is to help start-up entrepreneurs, as well as the academic community, connect with potential partners, such as big pharma or other investment corporations, through one-on-one meetings. It is also a chance for the featured corporation to outline their specific business development goals and clarify what types of products or research they are interested in and how best to approach them to get the partnering process started. Past participants include the Wellcome Trust, Bill & Melinda Gates Foundation, MedImmune Ventures, NCI, Mercury Fund, DARPA's Biological Technologies Office, Correlation Ventures, Breakout Labs, New Enterprise Associates, Canaan Partners, Thomas McNerney & Partners, NCATS, NINDS, Johnson & Johnson Innovation, Poliwogg, California Institute for Regenerative Medicine, Astellas Venture Management, and OrbiMed.


Participating Representatives' Biographies:


Ibraheem Badejo, Ph.D. | Senior Director, New Ventures, Johnson & Johnson Innovation, Boston
Ibraheem (Ib) is Senior Director, New Ventures at Johnson & Johnson Innovation, Boston. He leverages his expertise in smart materials and biomaterials to support the medical device sector. From 2010 to 2013, Ib was a Research Fellow at Global Surgery Group of Johnson & Johnson, where he was responsible for external and front-end innovations and intellectual property for Ethicon Biosurgery. From 2006 to 2010, he was the Director of Applied Research & New Technology Assessment of novel biomaterials. Prior to that, he was the Chief Scientist of Closure Medical Corp (acquired by J&J in 2005). Prior to joining Closure, he held various positions at Bayer, North Carolina State University, College of Charleston. He currently serves as an Adjunct Professor of Biomedical Engineering at Drexel University. During his career, Ib has led teams in the development of commercialized biomaterials based products and new technology / products licensed or acquired. Ib received his BA degree in chemistry from Avila University. He received his PhD in Organic chemistry from the University of Toledo, where he was the Robert Whiteford Memorial Scholar for Outstanding Graduate Research and a Petroleum Research Fund Fellow. He is also the recipient of 24 US patents with others pending.
Connect with Ibraheem:




Stefanie Dhanda | Senior Director, Consumer Scientific Innovation, Johnson & Johnson Innovation

Stefanie is Senior Director of Consumer Scientific Innovation at Johnson & Johnson Innovation, Boston. Stefanie leads Consumer sector efforts to grow and maintain a portfolio of innovative external partnerships, collaborations and investments for the benefit of J&J's Consumer businesses, which currently reach across broad and diverse sectors such as oral care, compromised skin, baby and maternal health, personal care and beauty, an OTC platform anchored in pain relief, cough/cold, and digestive health, as well as digital health platforms. Previously, Stefanie was a Managing Director at Stonebridge Associates, a Boston-based investment banking firm that she helped found in 1996. She has over 20 years of experience in providing strategic and financial advisory services to small and midsized family-owned and growth companies in the consumer and healthcare sectors. Within that role she led mergers and acquisitions engagements, raised capital, defined business and financial strategy, performed complex due diligence and negotiated strategic alliances. In addition, Stefanie was independently consulting with several innovative startup and early-stage companies focused on the nutrition, health and wellness sector. Prior to Stonebridge, she worked at the Bank of New York. Stefanie has a Bachelor of Science degree in Finance and Operations & Strategic Management from Boston College
Connect with Stefanie:

Kuldeep Neote, Ph.D. | Senior Director, New Ventures, Johnson & Johnson Innovation, Boston
Kuldeep is Senior Director of New Ventures at the Johnson & Johnson Innovation, Boston. He focuses primarily on the areas of Oncology and Immunology. A trained molecular biologist with an extensive background in drug discovery, Kuldeep has been focused on the areas of Immunology, Inflammation and Oncology and has a passion for implementing cutting edge scientific discoveries into practical drug discovery programs. Formerly, Kuldeep was Research Advisor/Director in Global External R&D at Eli Lilly. Prior to Eli Lilly, he was a Discovery Scientist at Pfizer, where he initiated the chemokine receptor drug discovery platform that led to the discovery and further development of several clinical candidates. Earlier in his career, Kuldeep also cloned one of the first chemokine receptors while at Genentech. Kuldeep earned his BSc. in Microbial and Cellular Biology at the University of Calgary, and a Ph.D. in Human and Molecule Genetics at the University of Toronto, where he was a major contributor in the understanding of the molecular basis of lysosomal storage diseases, in particular Tay Sachs and Sandhoff's disease.
Connect with Kuldeep:


Samantha Lifson | Innovation Activation Specialist, Johnson & Johnson Innovation, JLABS
Samantha is the Marketing and Events Manager with Johnson & Johnson Innovation, JLABS, working out of the Boston Innovation Center. Sammy is responsible for event planning and digital marketing on the East Coast. Her role includes coordinating high-quality, diverse and distinctive programming ranging from one-on-one investor meetings, workshops and large panel series to networking and social events.
Prior to joining JLABS, Sammy served as the Community & Online Organizing Coordinator at Planned Parenthood Hudson Peconic, assisting with communications, government relations, and social media advocacy. She holds a B.A. in Advertising and Women's & Gender Studies from Syracuse University.
Connect with Samantha:



Location:
Quorum at the University City Science Center
3711 Market Street, 8th Floor
Philadelphia, PA 19104

Venue Info:
A credit-card only parking garage is located at 3711 Market Street, with the entrance in the rear on Filbert Street. Driving west on Market, turn right onto 36th Street and make the first left onto Filbert. The garage is about ¾ of the way up the block on the left. More information can be found here:
sciencecenter.org/explore.
About the organizer
About Johnson & Johnson Innovation, JLABS
Johnson & Johnson Innovation, JLABS (JLABS) is a global network of open innovation ecosystems, enabling and empowering innovators to create and accelerate the delivery of life-saving, life-enhancing health and wellness solutions to patients around the world. JLABS achieves this by providing the optimal environment for emerging companies to catalyze growth and optimize their research and development by opening them to vital industry connections, delivering entrepreneurial programs and providing a capital-efficient, flexible platform where they can transform the scientific discoveries of today into the breakthrough healthcare solutions of tomorrow. At JLABS we value great ideas and are passionate about removing obstacles to success to help innovators unleash the potential of their early scientific discoveries. JLABS is a no-strings-attached model, which means entrepreneurs are free to develop their science while holding on to their intellectual property. JLABS is open to entrepreneurs across a broad healthcare spectrum including pharmaceutical, medical device, consumer and healthtech sectors. The JLABS flagship opened in 2012 in San Diego at Janssen's West Coast Research Center, and since then has grown to ten global locations including the Bay Area, Boston & Lowell, MA, Houston, Toronto, Beerse (Belgium), New York City, and with Shanghai opening in 2019. For more information please visit www.jlabs.jnjinnovation.com or follow @JLABS.