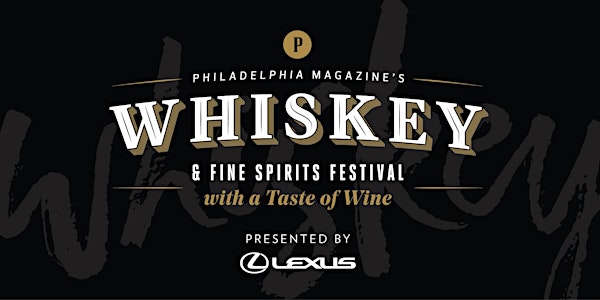 Philadelphia magazine's 2022 Whiskey & Fine Spirits Festival..with Wine
Join us October 13th to experience over 250 premium spirits at Philadelphia magazine's Whiskey & Fine Spirits Festival presented by Lexus.
When and where
Location
Lincoln Financial Field 1 Lincoln Financial Field Way Philadelphia, PA 19148
About this event
Join Philadelphia magazine's Whiskey & Fine Spirits Festival presented by Lexus…with a taste of wine. Sip over 250 premium distilled spirits including whiskey, scotch, vodka, gin, rum, tequila, cordials and handcrafted cocktails. Plus, sample over 40 wines to taste what to expect at our Wine Festival 2023. Savor bites from Philly's favorite restaurants while enjoying interactive spirit lounges, games, entertainment and more!
For more event highlights and information, please visit www.phillymag.com/whiskeyfest. 
Philadelphia magazine will comply with all CDC regulations at the time of this event. In the event the festival must be cancelled due to increased COVID-19 concerns, all tickets will be refunded. The event is intended for guests 21 years of age or older. No guests under the age of 21 will be permitted entry. Ticket refunds will not be offered. The 2022 Festival will be held indoors this year.
By purchasing a ticket for this event, I agree:
To receive event notifications and more from Philadelphia magazine and select partners, as well as to be photographed.
By purchasing a ticket to this event, I acknowledge that Philadelphia magazine and select sponsors of the event may send me information, samples, or special offers it thinks may be of interest to me about its publication, future events, or other complementary goods offered by Philadelphia magazine and/or information and special offers of sponsors or other companies it may carefully select. I understand that in the course of participating in the event, photographs or videos may be taken of me. I grant permission for the use of my name and/or image and information in any broadcast, print publication, web, social media, photography or video. I hereby authorize Philadelphia magazine to make, reproduce, copy, sell, exhibit, publish, distribute, and otherwise use for publicity, fundraising, advertising, or any other lawful purpose such photographs or films. In consideration of being accepted as an entrant in this event, I hereby, for myself, my heirs, executors and administrators, release, and discharge Philadelphia magazine and any and all sponsors from all claims, damages and rights of action, present or future, whether they are resulting from, arising out of, or incident to, my participation in this event.