Sales Have Ended
Ticket sales have ended
Thank you for buying tickets to Philadelphia 2040.
Sales Have Ended
Ticket sales have ended
Thank you for buying tickets to Philadelphia 2040.
About this Event
Philadelphia 2040 brings together young leaders from the worlds of business, philanthropy, and politics to ask what our city will look like twenty years from now—when Millennials and Gen Z are at the helm. How will the arts and our cultural lives evolve between now and then?
Philadelphia 2040 is presented by Philadelphia Theatre Company and Headliners, the Company's young professionals group. Headliners hosts one-of-a-kind networking events for young professionals who are passionate about culture and civic engagement. Philadelphia Theatre Company's commitment to producing theatre that is as provocative as it is entertaining and developing an audience of open-minded theatregoers would be impossible without this next generation of Philadelphians.
Panelists Include:
Katherine H. Christiano, Vice-Chair, William Penn Foundation
Tucker Roberts, President, Comcast Spectacor Gaming & Philadelphia Fusion
Kellan White, Chapter Director, New Leaders Council-PHL
Monday, November 25, 2019
5:30pm: Networking Reception
6:30pm: Panel Discussion and Q&A
Suzanne Roberts Theatre
480 S. Broad Street,
Philadelphia, PA 19146
Become a Headliner!
Join Headliners today by adding a $50 tax-deductible donation to your Philadelphia 2040 ticket purchase. As part of an exclusive offer underwritten by Comcast Senior Executive Vice President & Chief Diversity Officer and PTC Board Chair David L. Cohen, your gift entitles you to a Headliners Starter Pass—that's four anytime tickets (a $207 value) and a season's worth of cocktail parties and networking.

About the Panelists:
Kathy Christiano (Hanrahan) is an active philanthropist and serves on a number of nonprofit boards in Philadelphia: she is Co-Vice Chair of the William Penn Foundation, Chair of the Stoneleigh Foundation, and sits on the boards of Opera Philadelphia and West Philadelphia Alliance for Children. Her primary philanthropic passions are access to quality early childhood education and literacy. Formerly the Development Manager at the Ed Snider Youth Hockey Foundation, Kathy is currently home with her 6 month old daughter. In addition to overseeing development and fundraising during her 8 years with Snider Hockey, she coached youth of all ages and skill levels, focusing primarily on the girls travel teams. Prior to Snider Hockey, she taught preschool at Wilmington Friends School. When not in board meetings, Kathy can be found on the ice playing hockey with her husband Drew, volunteering with West Philadelphia Alliance for Children, or running around the city with her two huskies. Kathy earned a Master of Public Administration from Villanova University and a Bachelor's degree in early childhood education from the University of Delaware.
Tucker Roberts is the President of Comcast Spectacor's Spectacor Gaming division and the company's Philadelphia Fusion esports franchise that competes in the Overwatch League. In this role, Tucker is responsible for driving the sustained success of Comcast Spectacor's esports business, as well as the Fusion's day-to-day operations in Los Angeles.
Reporting directly to Comcast Spectacor Chairman and CEO Dave Scott, Tucker leads the organization's strategic growth within the esports space. In 2019, Tucker advised the company's expansion into global markets and League of Legends, the most popular esport in the world. In addition, Tucker has guided the creation of Fusion Arena in the Philadelphia Sports Complex, which will open its doors in 2021 and stand as the largest new construction, purpose-built esports arena in the Western Hemisphere.
Tucker joined Comcast Spectacor as a strategic advisor in September 2017, shortly after the company announced the establishment of the Philadelphia Fusion, which is one of the 12 original teams that competed in the Overwatch League's inaugural season. Tucker was named President of the Fusion in January 2018 and since that time, he has played an instrumental role in formulating the Fusion's international roster of players and coaches, as well as the creation and launch of the team's brand.
Prior to joining Comcast Spectacor, Tucker acquired several years of experience working in competitive gaming with industry leaders Activision Blizzard and Electronic Arts. Tucker first developed his interest in the rapidly growing space during a summer internship while studying at The Wharton School.
Tucker earned a B.S. in Marketing and Management from The University of Pennsylvania in 2013, and currently lives in Los Angeles.
Kellan White, a third generation public servant, Kellan believes true community empowerment lies at the intersection of government, politics and the communities those two entities serve. Kellan has dedicated his career to uplifting communities and building strong coalitions to solve the city's most pressing problems.
Kellan has served as the Chapter Director for the Philadelphia Chapter of New Leaders Council since 2013. The New Leaders Council's (NLC) is the national hub for well-trained, politically astute and progressively minded millennials committed to building better, safer and thriving neighborhoods by running for offices, serving our community and being entrepreneurs.
Kellan rejoined public service as the First Deputy City Controller in January 2018 serving as the senior advisor to Controller Rhynhart. His portfolio includes strategy, policy and data analysis, community engagement, communications and intergovernmental relations. Prior to the Rhynhart Administration, Kellan served as the national political director for New Leaders Council and for the historic campaigns of Katie McGinty, Judge Carolyn Nichols and Rhynhart.
Kellan serves on several non profit boards including Leadership Philadelphia, Playworks and the Philadelphia Youth Sports Collaborative and was the chartering president of the Philadelphia Young Democrats.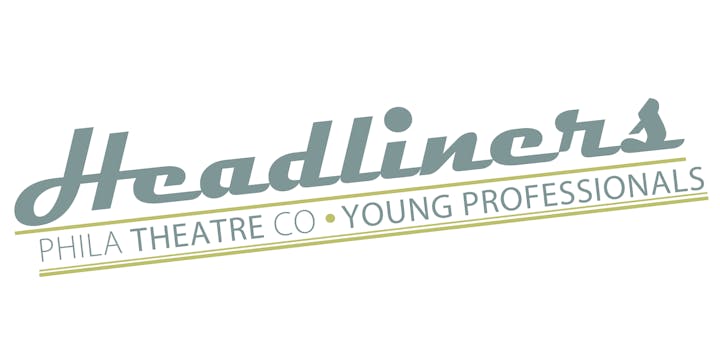 This event is hosted by the Headliners, Philadelphia Theatre Company's Young Professionals. The Headliners program offers opportunities to network with other culturally- and civic-minded young professionals. A year-long roster of events centered around PTC's productions are tailored to engage the young and social, including pre-show receptions, happy hours, and other curated events. We Play Right!
To learn more about how to join the Headliners, visit philatheatreco.org/headliners

Philadelphia Theatre Company is dedicated to presenting the Philadelphia and world premieres of major works by contemporary playwrights with an emphasis on American drama. We seek to develop an audience of open minded theatre-goers across cultural, ethnic, and social lines by producing drama that is at once challenging, entertaining and imaginatively staged. philatheatreco.org