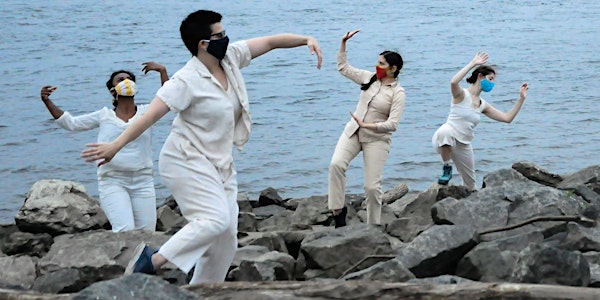 Philadelphia 2021 Global Water Dance
Event Information
Location
Penn Treaty Park
1301 North Beach Street
Philadelphia, PA 19125
Refund policy
Refunds up to 1 day before event
Eventbrite's fee is nonrefundable.
An inspirational and educational dance performance about the necessity, beauty, and concerns of water in Philadelphia and globally.
About this event
Vervet Dance directed by Loren Groenendaal presents Philadelphia 2021 Global Water Dance on Saturday, June 12, 2021 7pm at Penn Treaty Park, 1301 N Beach St, Philadelphia, PA 19125 with tickets $0-$10. This is an outdoor, live, kid-friendly performance with covid precautions. The show runs about 40 minutes.
In the case of light rain, the show will go on. In the event of highly inclement weather, we will change to the rain date of Sunday, June 13. This will be announced by 10pm on Friday, June 11.
The area of the park that we are using for the audience is wheel chair accessible. Please make a note of your wheelchair when you reserve your ticket.
The Global Water Dance is presented simultaneously in many communities around the world. The performance is comprised of both local and global choreography, with each community making their own version and weaving in the global choreography. The work highlights the universal beauty and concerns of water.
About the Global Water Dance:
Global Water Dances directed by Vannia Ibarguen uses the international languages of dance and film to promote awareness and a behavioral shift toward solutions for water preservation and conservation through community engagement. The global sections of the Global Water Dance have music composed by Marylee Hardenbergh and Nicolás Soto Urrea.
About the Local Tidal River Dance:
The Philadelphia 2021 Global Water Dance is directed by Vervet Dance Artistic Director Loren Groenendaal. Groenendaal choreographed the local dance with support from original music composed and performed by Andy Thierauf and collaborations from the cast which includes Jena Rose Barton, Loren Groenendaal, Lindsey Huster, Kimya Imani Jackson, Katherine Kiefer Stark, Shari Kornelly, Chloe Marie, Isabella Mojares, Kate Seethaler, Jenny Roe Sawyer, Jonathan Stein, Margot Electra Steinberg, and youth dancers of Vervet Dance.
For the local dance, they highlight the abundance of water in our region, which is often a blessing, but due to the large quantity of hard surfaces and the older combined sewer systems, heavy rainfall causes much storm water run-off which overwhelms the sewage system and thus pollutes the Schuylkill and Delaware rivers.
Environmental Stewardship:
We acknowledge that the land on which we dance, live, and gather water are the ancestral lands of the Lenni-Lenape people.
The dance event itself is a call to appreciate and care for the water. We put on this event as sustainably as possible. Dancing in relation to water helps us empathize with nature and feel more inspired to give it care. We hope you feel inspired too.
We encourage you to consider how you can slow rain's return to the rivers by catching the rain in a barrel or on a soft surface like a garden instead of hard surfaces like pavement that cause so much run-off. We also encourage you to take action to create less physical waste and to minimize your carbon footprint by working towards sustainability, using durable reusable products, and minimizing the use of fossil fuels.
A portion of the proceeds from ticket sales will be donated to the Lenape Nation of Pennsylvania in honor of the stewardship to the land and water of the Delaware River Valley that the Lenape provided for so long and the education and support the Lenape Nation provides for the future and to The Schuylkill Center for Environmental Education who both care for the Schuylkill river and its surrounding ecosystem as well as educating people how to do so themselves.
Tickets:
$10 per chair or bench seat
$5 per person to reserve space for bringing your own blanket
Free/suggested donation for standing room
10 person cap per order. Everyone in your group must get the same ticket type.
When an audience member reserves a ticket they are agreeing to abide by the COVID protocol below.
Acknowledgements:
Thanks to Penn Treaty Special Services District for financial support, Philadelphia Dance Projects, and The Friends of Penn Treaty Park for their administrative support
Photo by JH Kertis of Chloe Marie, Kate Seethaler, Margot Electra Steinberg, and Loren Groenendaal.
More information:
htttp://Vervetdance.org
http://globalwaterdances.org/
Covid operating Plan:
To prevent Covid-19 transmission, the Friends of Penn Treaty Park, Vervet Dance, and all of their performers, staff, volunteers, and the audience will follow a covid operating plan for the Global Water Dance event on June 12, 2021, at Penn Treaty Park. The audience must join us in some of this plan to maintain a safe event for everyone involved.
Please note our protocol is stricter than what the CDC currently recommends to abide by more comprehensive City of Philadelphia and Parks and Recreation regulations and protect some children who are not vaccinated yet, adults who may not be fully vaccinated yet, and other vulnerable children populations.
Covid protocol for the audience:
Audience members should only reserve a ticket and attend the event if they are willing to follow this protocol.
Do not attend the event if you or anyone in your household has been diagnosed with COVID-19, has been exposed to anyone with a confirmed case of COVID-19 in the past 14 days, or has developed recent symptoms of COVID-19 including cough, shortness of breath, difficulty breathing, fatigue, muscle aches, loss of taste or smell, chills, sore throat, or temperature of 100.4 F or higher.
If you reserve a ticket and cannot attend due to COVID-19 related reasons, let us know, and we will issue you a refund and open up your spot to someone else.
At the event, people may not congregate in groups larger than ten people. Thus the maximum number of tickets any one person is allowed to purchase is 10.
Upon arrival, please check-in at the Global Water Dance welcome desk, which will be down the path, past the sculptures and trees in honor of the Penn/Shackamaxon Treaty, but before the performance area, which is near the flagpole by the Delaware River.
To check-in, only send one member of your group to the welcome desk.
You will confirm your ticket-holding status with a non-contact interaction with the Box Office Manager or volunteer at the check-in.
The audience must be masked at the event. Masks must be at least 2-ply, should not have gaps, and should not fall below the nose. Face shields are not a replacement for a face mask.
The audience should social distance; be 6 feet apart or more from people not in their previously established group.
There is no alcohol permitted in the park.
There is no food, alcohol, or picnicking permitted at the event.
Audience members may only remove their masks to drink and may only do so once seated in the audience area distanced from other audience, performers, and park attendees.
Audience members agree to comply with distancing and other instructions from the Box Office Manager and the volunteers at the event.
Other Notes:
The audience is encouraged to arrive 5-30 minutes early to keep check-in distanced. The earlier you come, the better spot you can get!
The show will run for under an hour.
There is no bathroom at this park. Please take care of your bodily functions off-site before or after the event.
Parking in the official park's parking lot is not recommended after 6pm. There is a chance that your car will be towed! There is much free street parking on Beach Street just past the park near the old PECO building and in the nearby neighborhood streets. With all of this and the environment in mind, please consider walking, biking, taking public transit or carpooling with someone who lives near you.
In the case of light rain, the show goes on.
In the event of inclement weather, we will postpone the performance until the rain date, expected to be the following day, Sunday, June 13, 2021. We will announce this by Friday, June 11 night. We will follow the same policies if this date is needed.
Date and time
Location
Penn Treaty Park
1301 North Beach Street
Philadelphia, PA 19125
Refund policy
Refunds up to 1 day before event
Eventbrite's fee is nonrefundable.