Phila. Locz Hairshow and Business Expo 2022
live bands, Speakers, Workshops, Comedians, Child Activities, hair show, fashion show & Afr. Marketplace & foods & Hair Contest, Biz contest
When and where
Location
Temple University Student Center 1755 N. 13th St. Room 200 entrance in middle of block Philadelphia, PA 19122
Refund Policy
Contact the organizer to request a refund.
About this event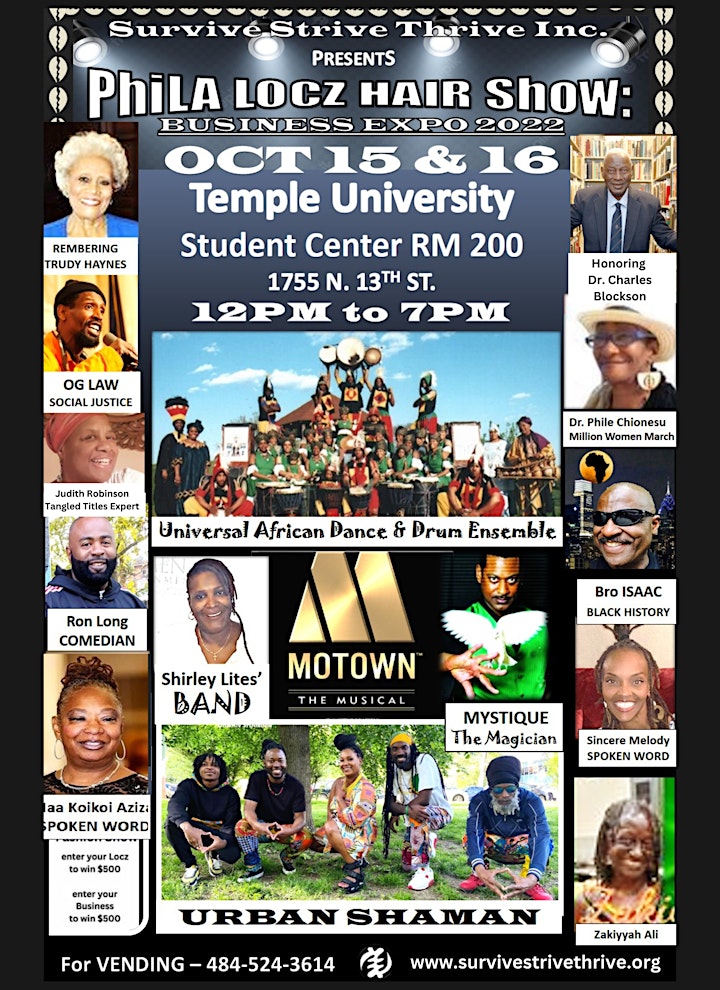 Celebrating BLACK HAIR, BLACK BUSINESSES. Please register for FREE tickets. You must have a ticket to enter. This event does not exclude any nationality. This is an opportunity for your business to introduce itself to the African American Community and to learn about and enjoy the beauty of the African Culture . We have planned 2 floors of activities and vendor marketplace on the campus of Temple University.....Enjoy Universal African Dance & Drum Ensemble, Shirley Lites Band, Urban Shaman, Motown the Musical, Cinema for children. Enter the 'Your Crown is Awesome' LOCs and Natural Hairstyle contest for a $500 grand prize. Enter your business in the 'Favorite Business' contest. Business with the most votes wins. Entry for all contest are located at www.survivestrivethrive.org. Prices on all vending spaces increase 10/04 or when discounted spaces are gone. Which ever comes first. Food vendors must submit License and Certificate to Temple once space has been paid for. For more info, text 484-524-3614 or email huriyyah6410@gmail.com
GLIMPLES of Day one at the Phila Locz Hairshow & Business Expo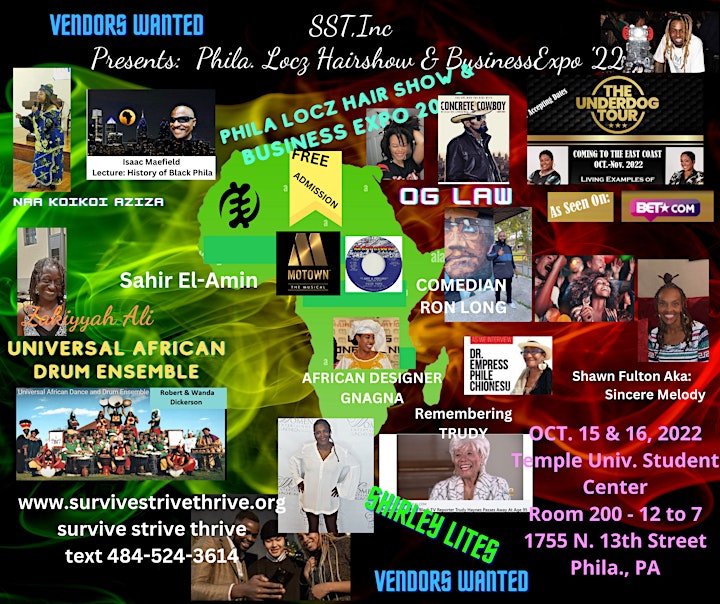 Be sure to check out our NATURAL HAIR CONTEST and FAVORITE BUSINESS CONTEST....enter your photo or nominate someone for a chance to win one of 3 prizes ($500 grand prize $300 2nd prize $100 3rd prize)....go to www.survivestrivethrive.org to enter contest. Then, spread the word and tell everyone to vote for your nominee.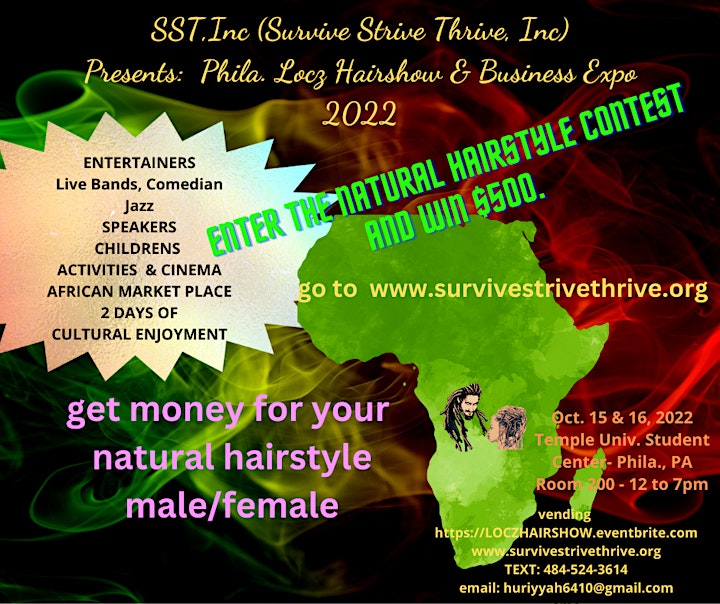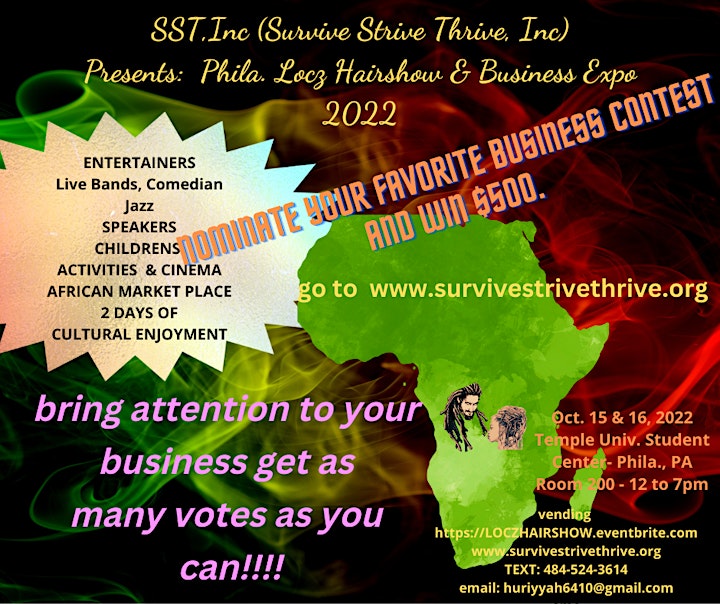 About Survive Strive Thrive, Inc activities in the community....below: Celebrating MED week (Minority Enterprise Development) Oct. 10, 2019. A panel discussion at the Platinum Grille with Mercer Redcross of October Gallery, Everett Staten of Black History Showcase at the PA Convention Center, Akosua Sabree of the International Locks Conference and myself; Huriyyah Amatullah-Bey of Survive Strive Thrive, Inc and The Shoppers Paradise Black Expo and NKQ Black Business Convention and now Phila Locz Hairshow and Business Expo 2022
One of our previous events held Dec. 4th & 5th 2021 at Temple University. The NKQ (Nubian King Queen ) Black Business Convention where we gave out $2000 in prize money to our Nubian King and Queen winners. We hosted over 70 businesses, 2 live bands, a comedian, and speakers. We gave away 300 brand new coats to the community courtesy of the One Warm Coat Foundation. Our attendees enjoyed good food, dancing and music along with the opportunity to shop til they dropped
Your Host Huriyyah Amatullah-Bey founder of Survive Strive Thrive, Inc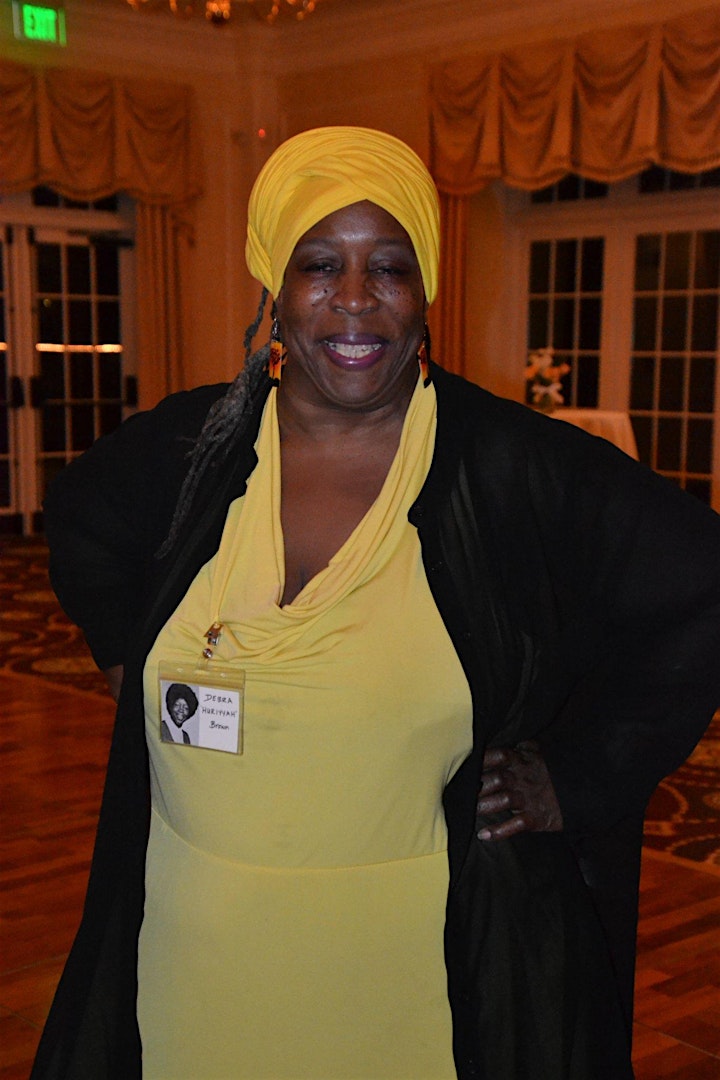 Meet our team. Exploring business opportunities in Jamaica....Part of our Stop the Violence program is to keep young people involved in business. This group of youth earned a cruise to Jamaica as a gift for graduating high school.