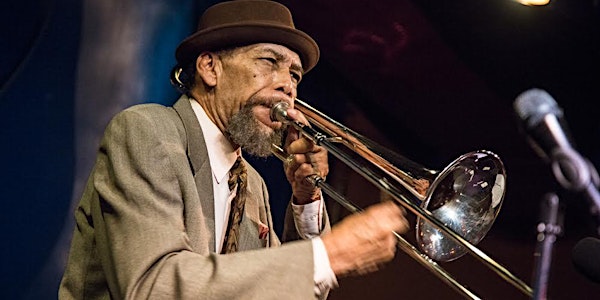 PHIL RANELIN & TRIBE RENAISSANCE
Location
Zebulon
2478 N Fletcher Dr
Los Angeles, CA 90039
Phil Ranelin & Tribe Renaissance
About this event
Join master trombonist/composer/arranger PHIL RANELIN & TRIBE RENAISSANCE with Special Guests in celebration of his 80th Birthday and the release of a new three disc vinyl box set on Wide Hive Records! Ranelin is extremely excited about this birthday concert, the kick-off for his year-long International 80th Birthday Tour!
DJ sets by Mark Maxwell
Live Music by PHIL RANELIN & TRIBE RENAISSANCE with opening sets from BLACK NILE and THE KABASA DRUM & DANCE ENSEMBLE
----
PHIL RANELIN is loved and respected around the globe as a master trombonist of the J.J. Johnson tradition, a former Freddie Hubbard sideman and as co-founder of Detroit's famed TRIBE Records. Over the years, he has shared bills with Sonny Rollins, Wayne Shorter, Pharoah Sanders, Archie Shepp & Jimmy Smith, among many others. A Los Angeles resident since 1977, Ranelin has been designated by official resolutions as a "Rare and Valuable Cultural Treasure" and as a "Cultural Ambassador throughout the Nation and to the World Audience" by several legislative bodies, such as Los Angeles City Council, Los Angeles County Board of Supervisors, California Senate and California Assembly. During the mid- to late-1990's, Ranelin, along with Jazz Advocate  Dalili Pierson,  implemented a Los Angeles Jazz  Appreciation Series that honored such Los Angeles Jazz icons as Dexter Gordon, Charles Mingus, Hampton Hawes, Melba Liston, Harold Land, Horace Tapscott & Eric Dolphy.
with TRIBE RENAISSANCE: Michael Alvidrez, Mahesh Balasooriya, Pablo Calogero, Don Littleton, Mekala Session, Michael Session, Aaron Shaw and featuring Derf Reklaw & Najite Agindotan
----
Photo credit: Mark Sheldon