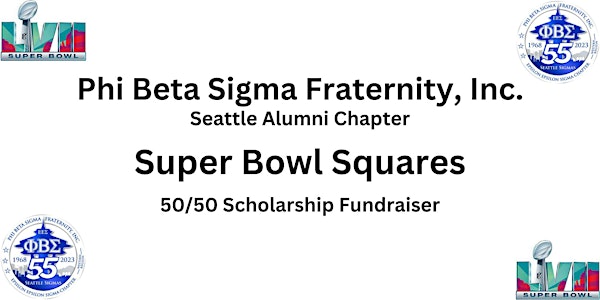 Phi Beta Sigma - Superbowl Squares Scholarship Fundraiser
WELCOME TO THE PBS 2023 SUPER BOWL LVII 50/50 SCHOLARSHIP FUNDRAISER POOL!!! 50% OF THE PROCEEDS WILL BE PAID OUT TO THE WINNERS!!!
About this event
Phi Beta Sigma Fraternity, Inc., Epsilon Epsilon Sigma Chapter | Seattle, WA is dedicated to fulfilling the dream of our Most Honorable Founders high ideals of Brotherhood, Scholarship, and Service. Our motto is "Culture for Service and Service for Humanity." Providing scholarship fundraisers like this allows our fraternity to continue supporting young scholars dedicated to furthering their education. Every dollar makes a difference! All proceeds from this fundraiser go directly to funding high school scholarships for Fall 2023.
How it works:
THERE ARE 100 SQUARES AT $50. EACH. EACH SQUARE WILL GIVE YOU FOUR CHANCES TO WIN BIG!!! BUY AS MANY AS YOU WANT!!!
THE NUMBERS FOR THE FOOTBALL SQUARES WILL BE AUTOMATICALLY GENERATED ONE HOUR BEFORE THE SUPER BOWL START.
Once all the squares have been selected, the website will randomly pick numbers from 0-9 for each team in the Super Bowl, and assign that number to a particular row or column. These numbers represent the last number in the score of each team. In other words, if the score is CHIEFS 17 - EAGLES 14, then the winning square is the one with a CHIEFS number of 7, and an EAGLES number of 4.
WINNER TAKES ALL EACH QUARTER
End of 1st Quarter: 10%
End of 2nd Quarter: 10%
End of 3rd Quarter: 10%
End of Game: 20%
***Very Important: You will be directed to the website to select your square(s) after making your donation.