Phi Beta Kappa Key Connections - New York Professional Development Panel
Description
Attention Phi Beta Kappa Members!
Are you a recent Phi Beta Kappa inductee in the New York area? Are you new to New York and looking to network and connect? If so, join us for a Key Connections event sponsored by The Phi Beta Kappa Society and the New York Phi Beta Kappa Association!
Key Connections - Professional Development Panel, September 3, 7:00 - 9:00 p.m.
The Phi Beta Kappa Society and the New York Phi Beta Kappa Association, along with its Young Professional Committee, are hosting a Professional Development Panel with mid-career PBKNY members including Kate Elle Griffin (Account Director at AKQA), Will Bachman (Co-founder of Umbrex, Management Consulting Firm), and Beth Stebner (Editorial Recruiter at Hearst Magazines) who will discuss career growth, how the liberal arts has helped with their career path, and how young professionals can pursue their career passions with a liberal arts degree. We will follow the panel with a reception and time for networking. Don't miss this great opportunity to connect!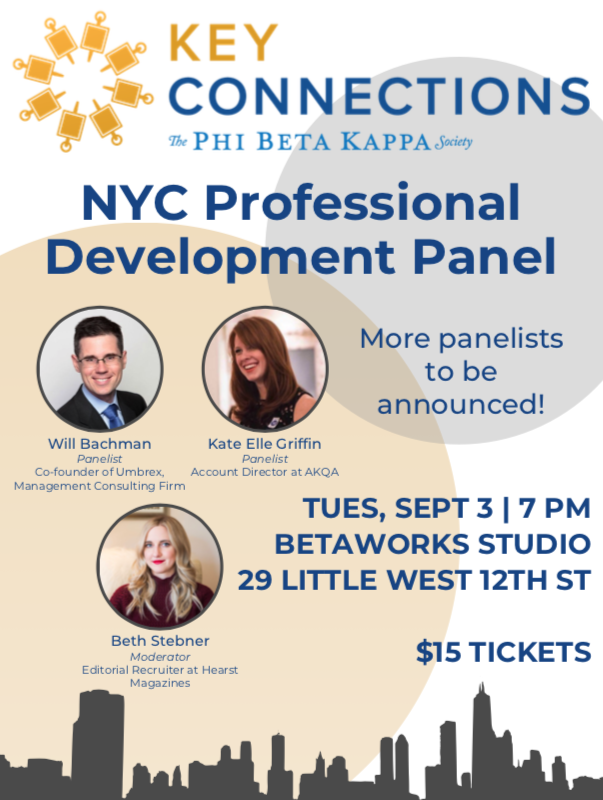 About Phi Beta Kappa Key Connections Events
This September, Phi Beta Kappa will host its third annual Key Connections event series designed to welcome recent Phi Beta Kappa members in over 20 cities across the country. Hosted by Phi Beta Kappa alumni associations, these events will offer recently inducted members a chance to network with their peers and get to know other Phi Beta Kappa members in their community. Local associations provide an opportunity to expand professional connections, take advantage of cultural opportunities, learn about a wide array of topics in engaging and creative ways, and give back through scholarship programs and other activities. Learn more and see all participating cities at www.pbk.org/KeyConnections.
About New York Phi Beta Kappa Association
The New York Phi Beta Kappa Association offers many events throughout the year to connect with fellow Phi Beta Kappa members and enjoy the New York area's many social and cultural offerings. The association also strives to recognize and encourage scholarship and promote teaching excellence through a robust scholarship and awards program. Visit the website to learn more!