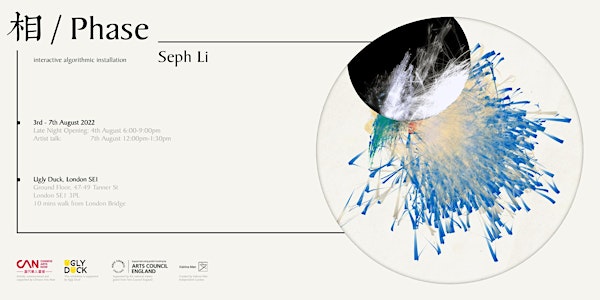 相/Phase Exhibition - Late Night Opening Event
Location
Ugly Duck
47/49 Tanner Street
London
SE1 3PL
United Kingdom
Join us for a late night opening event to celebrate and experience '相/Phase' exhibition, Thursday 4th August, 6-9pm!
About this event
We invite you to join us for a late night opening of Seph's alluring, interactive work, 相/Phase, to experience the installation in a social setting with drinks.
Please register for a free slot to ensure entry.
Any questions or queries, please contact Katrina via katrinamanprojects@gmail.com or Seph via https://solid-jellyfish.com/#/contact
We look forward to seeing you!
Seph and Katrina
*****
相/Phase Exhibition
An exhibition of an interactive, algorithmic installation by Seph Li, artist, curated by Katrina Man, independent curator.
相/Phase is an interactive, algorithmic artwork, exploring how the abstract, mathematical and basic rules of physics evolve into our infinitely varied, macro and observable/tangible world of organisms and things. To express these enigmatic notions, Seph uses the aesthetics and fluidity of Chinese ink painting, translating this ancient medium into a contemporary digital form. As visitors use the small device to interact with the installation, a mesmerising cosmic experience unfolds within the painting in front of them.
Dates & Times
Wednesday 3rd August, 12pm - 6pm
Thursday 4th - Saturday 6th, 10am - 6pm
Sunday 7th, 10am - 3pm
Late Night Opening: Thursday, 6-9pm
Artist Talk: Sunday, 12pm - 1:30pm