Description
"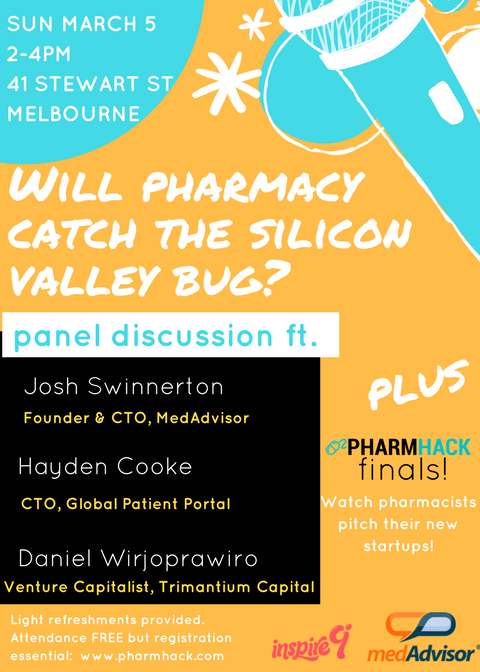 To register for the PANEL DISCUSSION + PHARMHACK FINALS event ONLY: select a Finals ticket.
To register as a PharmHack participant for the whole weekend (this includes all meals and entry to the Discussion+ Finals events where you will pitch your prototype): select a Participant ticket.
Tickets to the Finals event on Sunday March 5th are FREE, but registration via Eventbrite is essential.
----------------------------------------------
Have an app or product idea that would revolutionise pharmacy but aren't sure how to build it? Then this hackathon is for you.
PharmHack is the world's first hackathon purely devoted to innovating the community pharmacy industry. With all the changes happening in the industry and the incessant talk about innovation, this is the perfect time to come together and come up with some fresh, new ideas for changing the way we do pharmacy in Australia.
A hackathon is a weekend event where people with an idea, designers and tech developers come together to build something really awesome in a very short space of time. It's the fastest way to build a potentially game-changing product/business and test it without the risk.
Hackathons are a fantastic way to innovate & develop prototypes. Most other industries in Australia have run them. It's about time pharmacy did too.
PharmHack is the brainchild of Australian pharmacists & industry experts who are tired of the status quo and want to catalyse a new wave of change in the pharmacy industry globally. Be a part of that change.
Don't want to participate but interested to see what ideas come out of the hackathon?
Register your attendence with a free ticket!


Weekend Itinerary
Sat 4th 9am:

Registration

Sat 4th 9:30am: Intro & kickoff. Meet your fellow Hackers, look for teams to join or begin persuading others to join your team, with introductory pitches, mini-workshops and ice-breaker sessions.

Sat 4th 11:00am to Sun 12:00pm: Build build build!!!

Sun 5th 1.30pm: Registration for Panel Discussion + Finals event and networking.

Sun 5th 2-4pm: "Will pharmacy catch the Silicon Valley bug?" Panel Discussion and PharmHack Finals pitches.