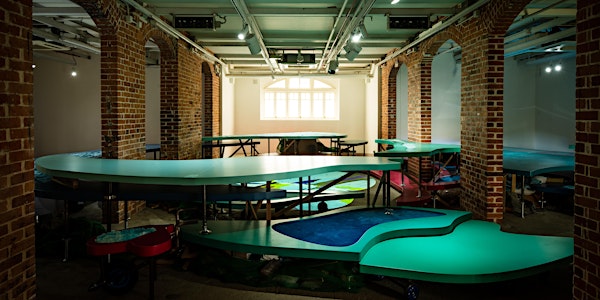 油街在地《幻影島》城市速寫工作坊 Phantom Island — City Sketching Workshop
【油街在地駐場藝術家展覽 Oi! OnSite Exhibition of Artists in Residence】
When and where
Location
油街實現 Oi! 北角油街12號 12 Oil Street, North Point Hong Kong, HKI Hong Kong
About this event
《幻影島》城市速寫工作坊
藝術家曲淵澈自2015年起創作關於城市形態及歷史研究的作品,並漸漸發展出以速寫作為觀察城市及記錄研究過程的方式。
此次工作坊中,藝術家將分享《幻影島》等作的的研究過程,以及介紹其常用的繪畫工具及使用方法。在藝術家的引導下,參加者將在炮台山及北角一帶進行觀察及速寫,並透過挑選物料和題材,鼓勵大家嘗試建立個人的繪畫風格。
日期 : 4.12.2022 (星期日)
時間:上午10時至下午1時
地點: 油街實現及附近一帶 (於油街玻璃屋地下集合)
人數 : 12 (必需報名,名額有限,先到先得)
對象 : 16歲以上、對城市發展及速寫/繪畫有興趣的人士
*工作坊將以粵語進行。成功登記者將獲發確認電郵。
關於藝術家 曲淵澈 :
新媒體藝術家曲淵澈, 主要以聲音視覺作為創作媒介, 包括聲音視覺現場演出、劇場、電腦動畫與繪畫。她的視覺作品結合了技術與她的藝術實踐, 以再現和轉換城市景觀為一個集成的虛擬體驗, 引導觀眾在符控流域旅行。作品當中多重的紋理與我們感知的多個感官相連, 重新介紹視頻作為一種媒介的潛力。她的作品注重敘事性,跨媒介的敘事手法是藝術家表達觀念的重要方式。尤其是混合出現的圖紙,3D 打印物件與計算機遊戲美學的視頻作品,顯示了藝術家運用的多種媒介與材料來視覺化她的研究型作品。
Phantom Island — City Sketching Workshop
Vvzela Kook has created many works on urban morphology and historical research since 2015, gradually developing her method of using sketches to observe the city and record the research process.
In this workshop, participants will be able to take a glimpse of the research process of Phantom Island, as well as the artist's other recent works. The artist will also share her usual drawing tools and how to use them. Under the artist's guidance, participants will observe the Fortress Hill and North Point neighbourhood, sketch in the city, and develop their own style by choosing the materials and subject to work with.
Date: 4.12.2022 (Sun)
Time: 10am - 1pm
Venue: Oi! and neighbouring area (Gather at G/F, Oi! Glassie)
Quota: 12 pax (registration is required, first-come-first-served)
Target: Aged 16 or above, interested in urban development and sketching/drawing
*The workshop will be conducted in Cantonese. Successful registrants will receive a confirmation email.
About the artist Vvzela Kook:
Vvzela Kook is a new media artist who mainly works in audio-visual mediums, including performance, theatre, computer graphics, and drawing. Kook's video works combine technology with her artistic practice to reproduce and convert urban cityscapes into an integrated virtual experience, guiding the audience on a cybernetic journey. The condensed textures in her works connect with sensual levels in our perception and reintroduce the unexplored potential of video as a medium. The narrative plays a vital role in her work, and transmedia storytelling is part of her artistic concept. The mixing of delicate drawings, 3D printing and video game optics in her videos, in particular, shows the wide range of media and materials the artist uses to visually translate her research-based projects.
請按此了解《油街在地駐場藝術家展覽》詳情。
Please visit here for details of the Oi! OnSite Exhibition of Artists in Residence.