Phantasm 2017: Halloween at the Armory. 'The Hall of Mirrors' with Hot Sinc...
Event Information
Refund Policy
Refunds up to 1 day before event
Description
Saturday, October 28th : Halloween at the San Francisco Armory

Opel & Vau de Vire present : Phantasm 2017 - The Hall of Mirrors
Halloween in San Francisco is at it's best within the massive haunted castle setting of the legendary Armory for Phantasm. It's Music, it's Art, it's Performance, it's Spectacle, it's Big, it's Intimate, it's Kinky, it's Sexy and it's back for year 3 to give you and friends an amazing night.
What will you see in the Hall of Mirrors? Take a peek: https://vimeo.com/229797314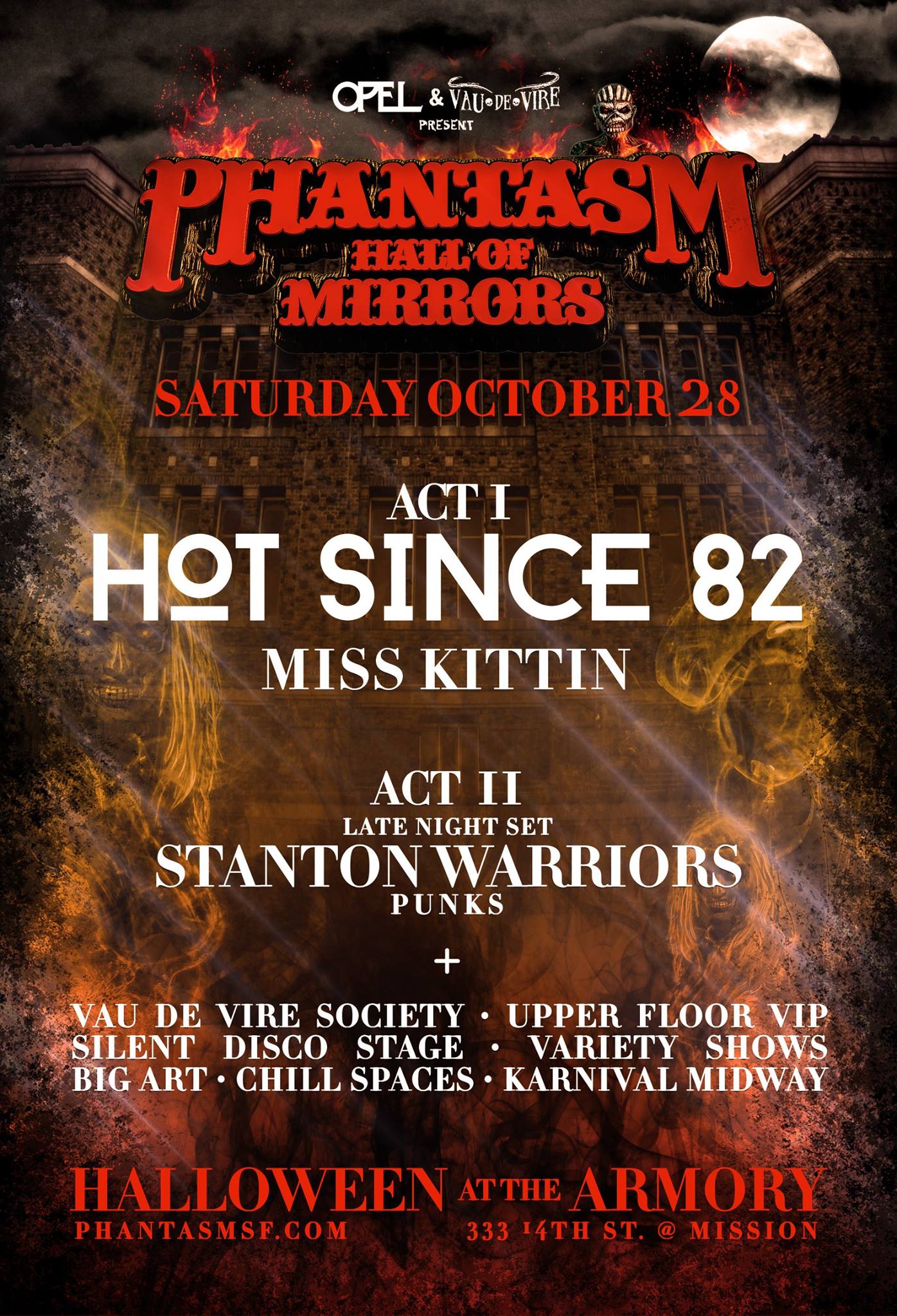 Music & Performance from:

:: HOT SINCE 82
(Knee Deep in Sound, UK)
hotsince82.com
facebook.com/hotsince82
soundcloud.com/hotsince-82

:: STANTON WARRIORS
(Punks, UK)
stantonwarriors.com
facebook.com/stantonwarriors
soundcloud.com/stantonwarriors

:: MISS KITTIN
(Paris, France)
misskittin.com
facebook.com/misskittin
soundcloud.com/misskittin

:: THE VAU DE VIRE SOCIETY
facebook.com/vaudeviresociety
vaudeviresociety.com
:: SYD GRIS (Opel / Opulent Temple)
facebook.com/sydgris
soundcloud.com/syd-gris

+
:: Kerry Auret (Cruz Colaition, LA)
soundcloud.com/djkerryboberry

:: Alvaro Bravo v Chad Clubb (Dusty Rhino)
soundcloud.com/djchadclubb

:: Billy Seal (Opulent Temple)

:: Sychosis (Punks)
soundcloud.com/sychosis

:: DJ Hil (Yerba Buena Disco)
:: Conandrum (Vau de Vire)


& Much more TBA

Special VIP Party in the General's Quarters at the top of The Armory with the 'special' range of talents you've come to know and love up there.

Video montage from last year: HERE
Loads of amazing pics from last year: HERE

You and all your friends will help stir the spirits in the Drill Court and a higher level of risque options up in the General's Quarters at the top of The Armory, for those wanting the VIP level of kink laced Halloween faire with talent from across that spectrum.

It's from the production minds behind such stellar and forward thinking fun offering such as New Bohemia NYE, Opulent Temple, Edwardian Ball, Masquerotica, Hell in the Armory, Night of the Living Bass, the Soiled Dove & so much more.

Step into a midway of careening colors and karni oddiities, surrounded by big beats and dangerous performers where you're not quite sure where the audience ends and the show begins. The haunted halls of the Armory will come alive on Halloween as we co-write the next chapter in epic spooky avant garde gatherings.

Plenty of bars, private seating options, new and improved ventilation at the Armory, expanded bathrooms (no lines, we promise), larger smoking area, and coat check area.

The Armory
Corner of Mission st and 14th in the heart of SF
Enter on 333 14th st, SF
9:00pm-4:00am
21+ only - must have ID

contact us with questions or to volunteer: info@phantasmsf.com

Website: http://www.phantasmsf.com
Facebook: http://www.facebook.com/phantasmhalloween
Date and Time
Location
Refund Policy
Refunds up to 1 day before event