Description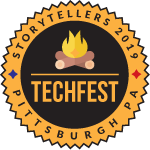 Pittsburgh TechFest is a one-day event on Saturday, June 8, 2019 where software development professionals from Southwestern Pennsylvania and surrounding areas will get together to talk and learn about perfecting our craft.
Topics will include coding, tools, agile, project management, etc. All development disciplines (devs, testers, PMs, DBAs, BAs etc.) and all development stacks (Ruby, Java, .Net, JavaScript, Python, SQL Server, Oracle, etc.) are welcome!

AGENDA: (Subject to change)
8:00 am: Registration Opens
9:15 am: Opening Remarks
9:30 am - 11:30 am: Sessions
11:15 am - 1:45 pm: Lunch & Sessions
1:45 pm - 4:15 pm: Sessions
4:15 pm: Closing Remarks
4:30 pm - ?: After Party @ Federal Galley (2 drink tickets per person are included)
For more information, visit http://pghtechfest.com/
---
Early bird pricing: $30 per ticket until May 18
After May 18, ticket price increase to $40
Registration will close Friday, June 7, 2019

Thank you to our Event Sponsors!
Welcome: Philips
Main Event: Avanade | CGI | Softwriters
Platinum: Aerotech | Omnicell | Project Brilliant | SDLC Partners | Turnitin | UPMC Enterprises | Virtix IT
Venue: Nova Events
Supporting: Tech Elevator
Wi-Fi: Rivers Agile
Lanyard: IQ, Inc.
---
GETTING HERE/ PARKING:
Parking in Garage: Enter Gate 4 on S Commons (currently under construction; enter via Visitors side). Take the elevator to the Plaza (P) level; the event will kick-off inside the main concourse.

Car Service: use address 200 Children's Way - follow outdoor signage to the inside concourse.
*** Parking is included for the event. 1 ticket per vehicle that will be distributed upon check-in. Parking ticke ts are valid for day of event only.
---
Pittsburgh TechFest is dedicated to providing an outstanding conference experience for all our attendees, regardless of gender, sexual orientation, disability, physical appearance, body size, race, religion, financial status, hair color (or hair amount), platform preference, or text editor of choice. For more details, see our Code of Conduct.